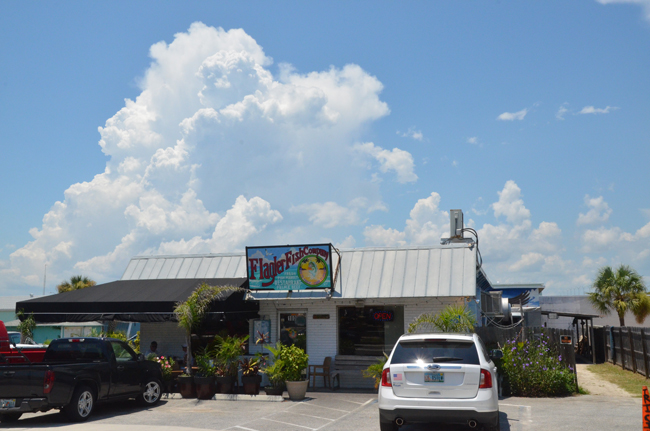 The Flagler Fish Company, the Flagler Beach restaurant specializing in gourmet seafood and located at 180 S. Daytona Ave., just completed an awning and enclosure expansion of the restaurant's front patio. 
"We always knew that we wanted to expand the outdoor dining area," says owner Chris Casper. "The canvas awning gives shade to the outdoor tables while still catching the sea breezes all day long."
The new outdoor dining area is pet friendly. According to the American Pet Products Association's bi-annual pet owner survey, in 2009-10 there were 71.4 million homes with a pet. That's 62 percent of all U.S. households. "We wanted to offer pet owners an option to bring their pet to Flagler Fish Company, either by car of while they are out for a walk," Casper said.
The awning allows diners to sit outside even in inclement weather. Heaters are available during the colder months, giving the patio year around usage. The patio has a tropical look and feel to it, with tropical plants strategically placed in and around the patio.
The Flagler Fish Company will celebrate its six-year anniversary in the fall. "We would like to thank all of our loyal customers who have helped us reach this milestone," says Casper. The restaurant's tag line: "Food To Knock Your Flops Off."
Flagler Fish Company offers fresh fish and shellfish selection. The selection includes grouper, flounder, code, salmon and tuna. The restaurant also carries certified Angus beef brand USDA prime hand cut Rib-eye, filet mignon, and New York Strip. The indoor and outdoor restaurant offers a variety of seafood dishes complimented with creative gourmet sides to po boy and Cuban sandwiches, seared tuna, steamed Maine lobster, full plate salads and creative soups and chowders.
Flagler Fish Company is open Monday thru Thursday from 11 a.m. to 9 p.m., Fridays from 10 a.m. to 9 p.m., and Saturdays 11 a.m. to 9 p.m. The restaurant can be reached at 386/439-0000.