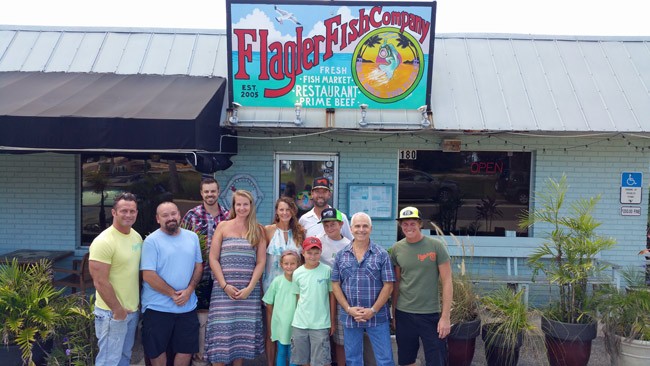 Flagler Fish Company just announced the celebration of a decade in business in Flagler Beach. this year!
"Ten years is a milestone in any business," said owner of Flagler Fish Company Chris Casper. "We are proud that we have stayed true to our goal of providing only the freshest seafood in our restaurant and retail market." Casper attributed much of their success to the restaurant's success to loyal local customers, visitors, and long-time staff.
In addition to celebrating their 10-year anniversary this year, the restaurant earned TripAdvisor's Certificate of Excellence Hall of Fame this past year. The award celebrates hospitality excellence and is given only to establishments that consistently achieve outstanding traveler reviews on TripAdvisor. Additional criteria of the award include the volume of reviews received within the last 12 months.
Flagler Fish Company was opened by Chris and Carolyn Casper in 2005 in Flagler Beach. The restaurant offers a wide selection of fresh fish and shellfish, choice meats, appetizers and dinner specials in an indoor-outdoors environment. They are a Slow Foods recognized restaurant, meaning that they source and use a good deal of local products. They are also registered with the "Fresh from Florida" program as a restaurant that uses Florida fish, shellfish, and produce. They offer approximately 30 different wines that are constantly evolving, as well as a selection of premium and domestic beers. FFC prides themselves on being 'green'. They recycle daily, pay more to be able to use recyclable take out containers (no Styrofoam), and carry only recyclable straws, to-go containers, drink cups, and cutlery.
Flagler Fish Company continually supports local charities such as The Tommy Tant Scholarship Fund, The Turtle Patrol, Rally for a Cure, Friends of A1A, church organizations and many more. They continually strive to live up to their slogan – "Food To Knock Your Flops Off." The restaurant employs a staff of 23, including three managers. They are located at 180 South Daytona Avenue in Flagler Beach. They are open Monday through Thursday and Saturday from 11 am to 9 pm, Friday's from 10 am to 9 pm. They can be reached at 386-439-0000 or online here and on Facebook (https://www.facebook.com/FlaglerFishCompany).