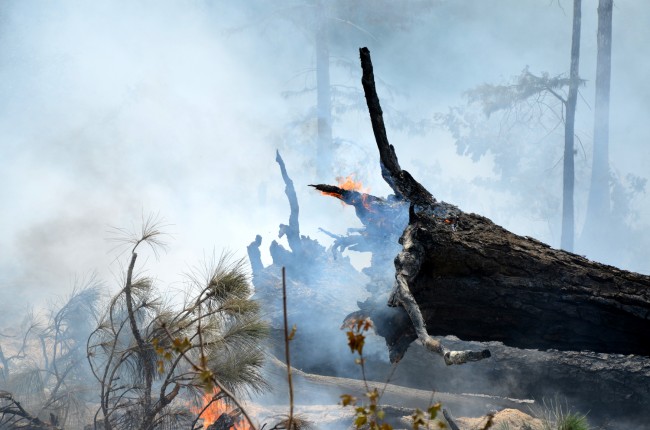 The day—today, Monday—wasn't supposed to end this way.
It had been another long, exhausting slog against six fires, one of them—the Espanola fire—growing to monstrous proportions and refusing to be tamed, but at least heading away from inhabited areas. For now, anyway: that may change in a couple of days, when a high pressure system moves in and pushes winds from the west. You'll smell that smoke. (Take a video tour of the Espanola fire with Lt. Richard Bennett. The photo gallery of Monday's fires is here.)
At 5 p.m., another fire declared itself, likely from a lightning strike, deep beyond County Road 305, in the Lake Disston area, not far from the Volusia County line. Distance and isolation don't make a difference: before long the Division of Forestry had nine tractor trailers and their bulldozers down there, the county had five fire units, including volunteers from the Bunnell Fire Department and firemen from the Flagler Beach Fire Department. Fire Flight, the county's helicopter, was dumping buckets, and the Division of Forestry's spotter plane kept buzzing around, looking for places where the fire was spotting, or spreading. There were many. And for every spot, a bulldozer has to be dispatched to contain it, and a water truck to douse the flames in water, if it's available.
You could see it from County Road 305, a brackish column of smoke above the tree line. You could see it deeper in the woods, though firefighters couldn't get to it yet. Its flames had gone up 120 feet at one point before buckets from Fire Flight pushed them down. But by 7 p.m. it was already judged to be a 70-acre fire. No small thing. And not controlled. All on the property of a cattle rancher who, like other property owners in the regions affected by the fires, could be seen patrolling his property, making it as easy as possible for the fire fighters to wend their way in. Whatever it takes.
"This is not what we needed right now," said Lt. Richard Bennett, the county's operations chief for all its fires: he's the one ensuring that every fire has the resources and firefighters it needs. "This is going to take a lot of our resources away from us. Just another fire to add to the numbers."
The sun was going down on another day that, all told, had lost more acreage to fire, with more like it ahead, though still not a single home, not a single structure, and not a single injury to speak of. Still, the more fire declare themselves, the higher the odds of that saving grace going by the wayside. That's why the Lake Disston fire was bad news. It's like the fire in the northwest quadrant of the county—the Yelvington Road fire, near Flagler Estates—and the Dog Pen fire, north of Espanola: these things are draining the firefighters' capacities, and ignoring them is not an option.
"One of the questions that I keep hearing people say is if this fire is out in the middle of nowhere and it's not affecting any resident in Flagler County, why are we spending so much time fighting this fire?" Flagler County Fire Chief Don petito was asking the question rhetorically this morning, when he appeared before the Flagler County Commission to update them on the situation. "My answer is that we're trying to keep this fire where it is because in a wind shift, if it decides to go another way, this will come right into Palm Coast like it did in 1998 and 1985, and that's all the reports that were put out about the big fires of '85 and '98 were that we didn't pay attention to these fires that were way out west in the middle of nowhere, not affecting anybody. I can tell you that Putnam County doesn't feel that way because they've been smoked in by this fire for about three weeks. I talked to the fire chief in Putnam County and they have their own fires. They have two 3,000-acre fires. So he asked me not to send this one to him."
So none of these fires can be ignored, not even the Disston fire that flared up late Monday afternoon. (That's not its actual name: the Division of Forestry assigns the names to the fires, and when firefighters were trying to devise a strategy against this one, the division hadn't had time to Christen it yet).
"As soon as DOF gets a line punched around it," Bennett said of the Disston fire, referring to the Division of Forestry's bulldozers smashing lines toward the fire, "we'll go in and try to black-line it, cool down the perimeter of the fire, and then probably leave it for the night and come back first thing in the morning to try to get the whole thing cooled down. Obviously it's 70 acres, so it's a decent-sized fire, and a number of spot-overs as well that we have to address, and they're scattered out a quarter mile from the fire."
Several of those spotting fires could be seen in a crescent around the fire, on its southwestern flank, where all it takes is a single ember to start a new fire. Bennett spots one, though a bulldozer had already dug a line around it. But it was flaming up considerably. He calls for a water truck. It appears within two minutes.
Earlier in the day, the focus was on the Espanola fire, that indomitable mass that has now consumed more than 1,500 acres and was jumping every line dug against it. A drive north on East Grade, a private road on a vast property that belongs to the owners of Austin Outdoors and Sonny's Barbecue, makes the point. The road was supposed to be the boundary of the fire. Today that looked like wishful thinking. It was the fire's boundary: the fire was burning right up to it—to a barbed wire fence—but it was very unlikely to stop there.
And other wishful boundaries were falling. For days, firefighters had been fighting the Peterson fire, just north of the Espanola fire. Alan Peterson, the chairman of the county commission, joked this morning that he had nothing to do with that fire. By late today or tomorrow, there was to be no more Peterson fire—not because it's been put out, but because the Espanola fire was devouring its way there, and gobbling up what had been the Peterson fire. Some of the burning was controlled—intentional, a way for the firefighters to keep as much of a lid on the fire as possible, to keep it from running away. But even the controlled burns, within the larger context of the fire, as admissions that the thing is not controllable for now, and may not be controllable until heavy rains help. The resources currently on the ground simply aren't enough to battle back the flames, only to control them, and only up to a point.
You can see it all around the Espanola fire and within it. The devastation is war-like. Where there once was a healthy green forest, only stumps, ash and vast expanses of nothing—or smoke—remain. As great a danger as shifting winds and temperamental flames firefighters face these days inside the Espanola fire is the falling trees. You can hear them every few minutes, like dead bodies falling from above, crashing on the forest floor in a crackling thump, a 20, 30, 40-year old tree, slumped over from burned out roots, some of them still aflame.
Petito had explained that, too, to commissioners in the morning. "Because it's so dry, the dirt is actually burning," he said. "I know it sounds kind of weird but all the organic material gets in that dirt and the dirt actually burns, burns around the roots and then the trees start falling, so we're going to run into problems with that. Once the trees fall into the fire, then they're going to catch on fire, so we're going to get what's called a re-burn. So we're going to be out there for a while. And that's what's going on with a lot of the smaller fires that we have."
And the big fire. Firefighters have to be on their toes.
"There's an education process behind brush fires," Bennett explains. "it's not as simple as you go out in the woods and shoot water. You have to understand fire behavior, you have to understand how fire moves, you have to understand the weather patterns when different fronts come in, how that's going to affect your fire. You have to plan ahead of the fire. You have to think 12 hours, 24 hours ahead of it, to make sure that you're on the right tactic to accomplish what you need to accomplish, never mind the safety aspect of it. You have to understand that that fire may at any time change direction on you and blow across the line right on top of you. Our guys are very educated, they're constantly going to school and getting educated on fire behavior. There's a lot more to it than going out in the woods and shooting a water hose."
That was one of the tactics Petito explained to the commission in the morning—and that got blown out of proportion. "They began to do the back-burn on the Espanola fire down in the southern quadrant of that fire," Petito said, referring to work firefighters were doing last night, "and it spotted out to the north, so they had to abandon that tactic and move up north to try to keep it where it was at, and it started spreading every which direction, so they had to evacuate. So they never go the burn in." But they returned to the southern quadrant later. They never evacuated the whole fire, only a small section of it.
Inside the guts of the fire zone on Monday, it was a scene that might elicit words like eerie and surreal if, all told, it wasn't also a very natural scene: forest fires are part of nature's cycle. They're disturbing only to the extent that they disturb the artificial, not the natural, order of things, particularly when they threaten life and limb. Other parts of the county may have been sunnier. The fire zone was wrapped in a thick, gray fog drizzly with ash, as in the aftermath of a nuclear explosion: you could see in the distance because few trees are left standing, but all you saw was smoke, and all you heard was the whine of bulldozers, far and near, digging lines that seemed increasingly futile, because the other thing you heard, and saw, was the crackle of fire, the sudden burst of a bush or a bunch of palmettos into orange flames, the certainty that what ridge of trees you were looking at at one moment would be gone an hour later, or certainly a few hours later.
Meanwhile Volusia County has 42 fires of its own, St. Johns 22, leaving Flagler seemingly on its own, though Volusia County assisted on the White Eagle fire along U.S. 1 last week. Which begs the question: why hasn't the state declared the region a state disaster area?
That's important for a few reasons, including firefighters' pay and the resources the county is expending. For now, firefighters are on 36-hour shifts—36 hours on, 36 hours off. A 36 hour shift consists of 24 hours spent in a fire station, working on the normal calls that firefighter-paramedics serve on every day—medical calls, car crashes, car fires, structural fires. Then they spend their next 12 hours on the fire lines in the forest. Then they take the next 36 hours off. There's a lot of overtime along the way. But firefighters for the past month and a half have been filling out form 214: that's the reimbursement form for a lot of those extra costs—should the state declare the region a disaster area.
That may happen soon. It's a matter of acreage burned and other criteria.
The county has requested financial help from the Division of Forestry. As of now, no such reimbursement is available. The division has two helicopters taking off from the Flagler County Airport (and buying fuel from there). But those helicopters can be attacking fires in several surrounding counties, not just Flagler. There are also three bulldozer strike teams in Flagler, also buying fuel from the county. The county has been working toward getting the disaster designation. There's not much urgency from the public because winds have been pushing the smoke west, rather than into Palm Coast, making the fires more distant than they really are. But in reality, it's a mere matter of miles between the disaster area and the inhabited portion of the county.
"I went out to the fires on Saturday just to see for myself what was going on," Milissa Holland, the county commissioner, said this morning. "As Chief Petito alluded to, when you're in Palm Coast you're somewhat removed from what's going on in the western portion of our county." She added: "Unless you're out there seeing what the men and women are doing day in and day out for hours at a time, I don't think you can really can appreciate the level and the time and how  much they've put in to keeping our residents safe."
[A photo gallery posted here.]