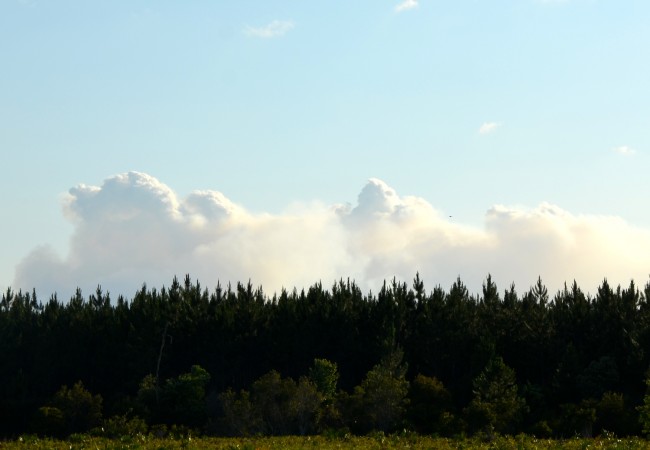 At midday Wednesday, the Espanola fire, some eight miles west of the city as the crow flies, looked as if it was billowing at the western edge of Palm Coast Parkway, just beyond U.S. 1: gray-white heaves of smoke rising in enormous columns looked that close–or looked to some as if a new fire had started closer to the city.
One did, but later in the day, and not that close: in late afternoon, a new wildfire broke out in an inaccessible portion of forest about a mile west of U.S. 1, just south of the Flagler-St. Johns County line, south of County Road 204. Firefighters needed help from the county's Fire Flight helicopter to wend their way toward the blaze to dig lines around it and contain it. They did so by way of Hargrove Grade before taking a 15-minute ride in, according to Mike Beadle, Palm Coast's fire chief.
By sundown the fire had burned some 30 acres but Beadle said it was contained. Crews would be out there until 9 or 10 p.m tonight, then back out in the morning. Wildfires in this region have tended to calm down during the night as heavy humidity lowers their intensity. As the humidity lifts in the morning, so do the fires.
St. Johns County and Bunnell crews also helped on that new fire.
Palm Coast crews have also been mopping up the White Eagle fire, which is still producing hot spots. "Staffing levels are up and crews are working 12-hour shifts," Beadle said of the Palm Coast Fire Department. "Guys and gals are doing a phenomenal job." There are 58 city firefighters and 20 to 25 volunteer firefighters on the Palm Coast side. The county has more than 70.
The Espanola fire's breadth wasn't an illusion. "It ran pretty good today, it's up to John Campbell Drive," Flagler Fire Chief Don Petito said. "That thing is huge now."
John Campbell Drive is not far from Crescent Lake. The fire had grown to 1,700 acres by Wednesday morning. It was likely quite larger than that by evening, Petito said, though he hadn't received an acreage update yet. But easterly winds were continuing to push that fire to the west, shielding Bunnell, Palm Coast and Flagler Beach residents from the smell of smoke.
There are three new fires in the southwestern end of the county, two of them having broken out on Monday evening north of County Road 305. They're the Strawn I and Strawn II fires. The first had grown to 75 acres by this morning and grew bigger during the day. The second is about 11 acres. The Tattoo West fire is the third one, west of State Road 11 before it hits the Volusia County line.
That's in addition to a half dozen other fires the county is battling in smaller spots–Yelvington, Dog Pen, Spalding, Old Brick Road.
"We've been running around like chickens without heads," Petito said.
The silver lining: for all that, the county has yet to lose a single structure or record a single fire-related injury. And Flagler is not Arizona.