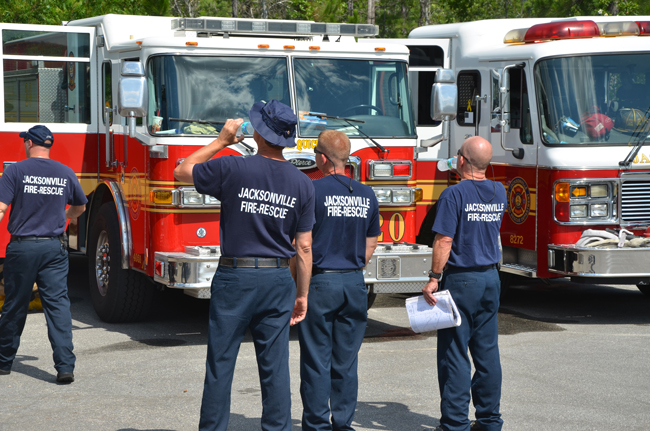 Last Updated: 4:11 p.m.
3:45 p.m. Alert: The National Weather Service issued a severe lightning advisory for the Easpanola area, among other areas. Details here.

Commanders have been warning that the extra help Flagler County has been getting–from Volusia, Clay and Duval counties in particular, if not from the Division of Forestry as well–is not permanent. Later today, the three structure-fire fighting trucks and personnel from Duval will be leaving Flagler. Clay's firefighters have already left. And Volusia's help is "day to day," says Don Petito, the Flagler County fire chief and overall commander of the ongoing wildfire crisis.
Until yesterday, Duval and Clay had no fires of their own. Now they do.
On the other hand, some extra help is arriving in the next one to three days from other southern states, namely Virginia and Mississippi–specialized Type 6 brush trucks that can get deep in the woods and carry out mop-up operations. Each state is sending a strike team of engines, each team consisting of 10 to 12 firefighters.
Meanwhile, the Espanola fire, the largest in the county, has added almost 1,000 acres in the last 24 hours. That huge jump is not entirely due to the fire itself devouring that much more acreage, but due to better data: the Division of Forestry, which is now in exclusive command of the fire, has generated the most precise delineations of the fire's extent, which suggests that its previous measurements may have been under-counted.
There were no new fires overnight and into Sunday in Flagler proper.
But residents near the Espanola fire, along John Campbell Drive, are worried: they've been warned to be ready to evacuate, but they're in a shadowy state of uncertainty, trying to decide between leaving and staying, since an actual evacuation order hasn't been handed down.
Marty Senterfitt, the Northeast Incident Command Management Team's commander, addressed the matter this morning, speaking directly to one of those homeowners: "You're in a situation where, as we get easterly winds, that fire is awful close to you, and this is a fire that's been known to run a mile, mile and a half, two miles real quick, that's why we went out and talked to all the families and homeowners there. We want you to be prepared. Right now, they've been putting so many resources on this fire, they've been holding it. They've been holding it pretty well. Now it's still growing a little bit. But it's not growing at the rate that it could grow. Folks, I've seen these fires jump from a few thousand acres to start being counted in the tens of thousands of acres, and we think it's important that you know that you're in the front of this right now, and that's what we want you to be aware of. The good news is that with the winds calming down from the east, for you, that's going to slow the spread toward your direction. Of course it's going to mean it spreads in another direction, so we're watching that real close. We made the decision not to do evacuations just because we knew we had some time. I'll tell you, this is the challenge we always face, is if you get out in front of one of these fires and you talk to the homeowners and you give them fair warning and you tell them, then they're sitting on pins and needles for several days and nothing comes to fruition. On the other hand, if you don't, if you're so concerned about stressing the community that you start holding information back, then what happens is the fire flares up, it makes a run and then all of a sudden we're giving you a few hours' notice that you have to be out of your house. So the decision was made earlier in the week was that the right thing to do was to give the homeowners as much notice as possible. We understand that it creates a little more stress, that we put you in an awkward information."
"Right now, watch the winds. If we start getting heavy east winds, then that's still a big concern for you," Senterfitt added. "And that's for the whole community. If you've got a fire near your home, pay attention to it. Awareness is so important at this stage of the game. With these fires, whether it's the Dog Pen fire, whether it's the White Eagle fire, any of them can, if things start going bad, the winds start changing, things start shifting, these fires can break loose, that's why this is such a big deal. We've got resources coming in from Mississippi and Virginia for a reason. These aren't your everyday fires. These fires take a lot of resources, federal forestry is bringing air assets into the state. I would also urge you to keep in mind that this is happening across the state."
Flagler County's firefighters, who have been fighting all fires in the county other than Espanola, are still on 36-hour shifts (36 hours on, 36 hours off). "We're trying to elicit some help so I can give my guys some rest," Petito said. Flagler Beach and Bunnell's departments are embedded with county units throughout.
But help is actually leaving the county, just as matters may get more critical: winds are about to shift.
"We've been talking to Division of Forestry. They're bringing in a larger type of incident management team that will eventually phase out Marty's team" Petito said. That team is overseeing logistics for all but the Espanola fire. "We're going to go from there."
Drift smoke is already coming over Palm Coast, generating concern among residents, who sometimes associate smoke with nearby fires. Fires are nearby: the Espanola fire is only seven miles west of Palm Coast. But Petito cautions: residents should not be calling in reports of fires unless they see flames, or are relatively certain that what they're seeing is a fire, as opposed to merely smelling the smoke that can travel miles from other fires.
That smoke will become more intense as winds, which had been pushing west, will begin pushing in a more easterly direction later today and particularly Monday and Tuesday. "We're a little concerned about that," Petito said.
On the other hand, the Division of Forestry's Daniel Stanley said, it's also possible that the winds will blow the fire back on areas that have already burned, essentially denying the fire new fuel, which could work to the firefighters' advantage–unless the fire picks up fuel on its unburned flanks. And old, smaller fires, including the White Eagle fire in the Seminole Woods subdivision–still the only fire in a residential area–are still a continuing concern.