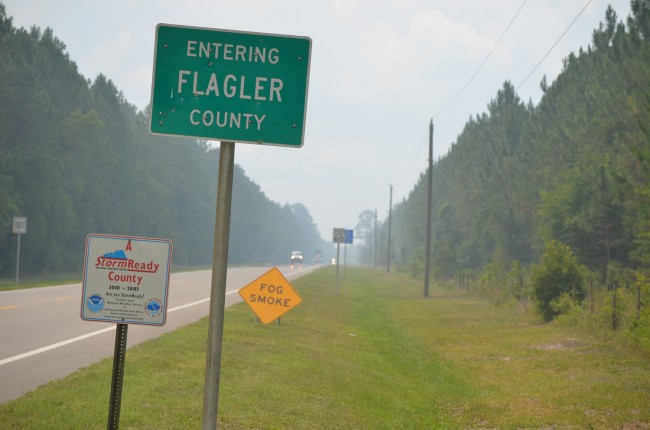 Last Updated: 5:05 p.m.
Alert: At 4:45 p.m., the fire was again active, producing a lot of smoke, and the fire itself was backing, very slowly, toward Slogan Court, which ends in a cul de sac onto the swamp. Slogan Court is an offshoot of Slogan Place, which runs parallel to Seminole Woods Boulevard. There's a swampy, wooded area between Slogan Court to the northeast and the several driveways branching off of Squaw Place, west across the swamp. Firemen had positioned an attack truck at the end of Slogan Court, and at least one property owner there was given a courtesy call about the latest developments.
The homes, however, did not appear in danger: firemen were preparing to battle the fire through the night. There is only one home on the dozen or so lots along Slogan Court.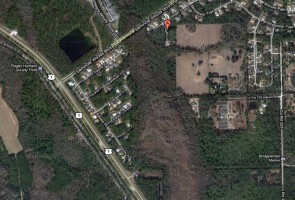 Click on the image to the right for a larger view of the location of the fire.
By 3:20, firemen had the situation seemingly under control, but units were standing by for monitoring.
At 2:53 p.m., Fire Flight was reporting that most of the flames were knocked down, with "a couple of spots" still flaring near a home–and water buckets heading there. Tractor crews were digging lines around the spots.
Alert: At 2:30 this afternoon, the White Eagle fire at U.S. 1 and Seminole Woods Boulevard was flaring again, close to residences. Firemen were deploying at the cul de sacs at the end of Squanto Place, Squadron Place and Squash Blossom. Trees are falling in the area. Two units were on Squanto, 250 to 300 feet apart. Fire Flight was dispatched to the area. Two woods units and a brush unit have also been dispatched. One was going down Squirrel to check for spotting fires. Two houses were in danger, according to firemen at the scene. Water was being dropped on their roofs.
Squash Blossom closed to traffic.
As an example of the challenges firemen are facing today, from actual fires and from being dispersed to feared fires, several fire and rescue unites were just dispatched (at 3:37 p.m.) to 25 Frontier Drive on a report of a house fire, only to discover that there is no home there–and that the report emanated from 44 Frontier Drive, where someone was cutting concrete and producing what looked like smoke.

By the time you get to the Flagler-Putnam County line on State Road 100, the sun isn't shining so much as bleeding a sickly yellow glow through a fog of smoke. A gray pall hangs over the area's fields and thick woods, it irritates lungs and eyes, and it doesn't bode well: it's the smoke from the Espanola fire, which grew by almost 1,000 acres in the last 24 hours, to at least 2,500 acres by this morning. It is still growing fast, leaping past fire lines, past every attempt to contain it, let alone beat it back.
It's getting so bad that fire crews from Duvall, Clay and Volusia counties were dispatched to Flagler this morning, including three structure-fire-fighting trucks from the Jacksonville Fire Department. Why fire engines to battle structural fires, when it's all been wildfires so far? Because the fire is approaching inhabited areas on its southwestern flank–18 homes that, on Thursday morning, were getting word that they should be ready to evacuate, should the order come.
Some of those homes are along John Campbell Drive which, like most roads away from the highway in this area, is a four-wheel-drive only sand-pile. A man in his pick-up truck who lives at along on Campbell said this morning that the fire department had been out there to work with him and others and that, obviously, concern was "very high."
The Espanola fire is expected to grow more today. But it's pushing west, and will keep pushing west until next week. There is a fear that next week winds may reverse course and start blowing east, pushing smoke into Palm Coast.
"We're staring to face about 18 structures being threatened," County Administrator Craig Coffey said this morning after a briefing. "What we're doing today is going out and trying to make contact with each and every homeowner, we're placarding their houses with notices, kind of like a pre-evacuation warning, saying hey folks, the fire is kind of coming your way, start getting your belongings together, stuff like that, and if you're not home, we're going to put up a notice on your door and we'll start making phone calls. We've got the sheriff's department helping us with that, we've got the city of Jacksonville, and we've got some local guys that know–because there's different residents out there, a variety of–" at that point Coffey trailed off, not wanting to specify that some of the residents who live in that area don't like anyone treading on their property, whatever the reason.
"There are some bigger houses, but there are some folks that don't want anyone around," he said.
Beyond that, there are fewer and fewer structures, and there's Crescent Lake–as long as the winds cooperate and keep the fire from shifting, say, south, where Daytona North (the Mondex) would be threatened.
The command structure for Flagler's fires has also changed. The Northeast Florida Incident Management's "Gray Team" has taken over coordination of logistics–how many people to feed, how much equipment is need, where it's staged (at the county's Emergency Operations Center), what paperwork has to be filled, where resources and individual firefighters are deployed, and how to parcel out resources the moment new fires break out. The incident commander is Marty Senterfitt, Duvall County's fire chief, whose vast experience with large and frequent fires is benefiting local commanders. The Operations chief if Flagler County Capt. Jamie Burnsed, and his deputy is Richard Bennett.
With more command comes more control–at every level: Coffey was unhappy with top firemen in the department, disseminating information without going through the "chain of command," and asked Fire Chief Don Petito to put a lid on information, which the county is attempting to channel through another new face: Clay County's John Ward, a public information officer who's also a member of the incident management team.
"Our primary concern right now is the Espanola fire," Ward said.
Flagler County's public information officer, Carl Laundrie, is on vacation.
Firefighters' vacations have been cancelled for now. All the county's 70-some firefighters are on mandatory 36-hours-on, 36-hours-off shifts.
Firemen in the field described the fire as behaving very dangerously because it's become very erratic. It devoured an additional mile of woods on Wednesday as blazes "run" in matters of minutes. That's what has firefighters concerned for the rest of the county, as new fires continue to pop up, though for now still in uninhabited areas.
What was called the Pellicer fire, which broke out northwest of Palm Coast late Wednesday afternoon, is now called the Ranch fire. It's mostly contained, with units from the Palm Coast Fire Department and the St. Johns Fire Department monitoring it.
"Our resources are being exhausted right now," Coffey said, referring to the infusion of fresher firefighters, who have been on those 36-hour shifts since last month. "Our guys have been doing overtime, double-shifts and all that kind of stuff, and we're at the end of our rope as far as being able to fight effectively and contain all these fires."
[nggallery id=69]