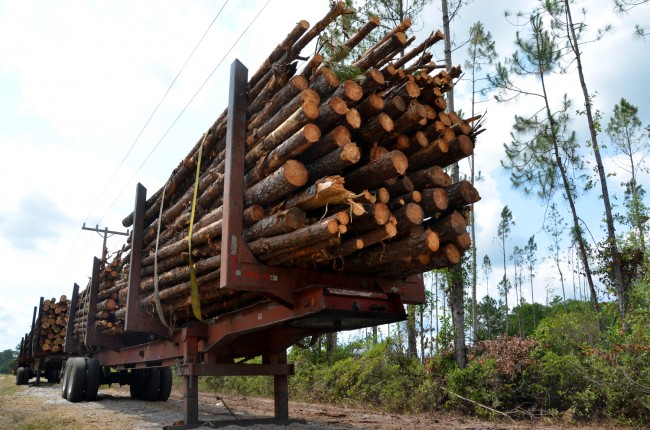 Last Updated: 5:43 p.m.
5:28 p.m. in Flagler Beach: In an incident unrelated to the fires, a live electric wire was down, and across State Road A1A, just south of Beverly Beach near the campground–at 2719 A1A, to be precise. The Flagler Beach Fire Department was responding. All hazards were removed by 5:42. Florida Power and Light had removed the wire from the road and re-connected it to the utility pole.
4:22 p.m. alert: a column of smoke was spotted west of U.S. 1, by the railroad tracks, on a 3-foot-by-3-foot fire. Fire Flight was dispatched to reconnaissance the area and ensure that there are no additional spots in the area. Fire Flight reported at 4:35 p.m. that the area was clear: no smoke.
But the original spot west of U.S. 1 was keeping firefighters busy enough that at 5:40 p.m., a couple of Fish and Wildlife Conservation trucks were dispatched to the scene to help get the situation under control faster.

Just as the wildfire "management team" was kicking off its inaugural 11 a.m. news conference this morning at Flagler County's Emergency Operations Center–a planned daily, public Q&A meant to disseminate information from the closed but more comprehensive 9:30 a.m. "stakeholder briefing"–the Dog Pen fire north of Espanola jumped its lines briefly. It was the first fire in more than 24 hours to misbehave. The jump was efficiently controlled, though it made the point that Marty Senterfitt, the incident team leader, made at both 9:30 and 11 a.m. briefings: complacency is the enemy.
"Many people may ride by some of these fire and feel like the fire is out," Senterfitt, a Jacksonville fire chief, said. "We recognize the fire is not out, it's just contained, and contained fires can become uncontained very quickly, so we take this serious, and until the ground is cold and wet, we're not going to stop. Our goal here is to protect every house, every structure."
News of the Dog Pen jump hadn't reached either briefing, which proved mundane but logistical details: the Division of Forestry has taken over command of the Espanola fire–now approaching 3,000 acres–essentially replacing county units there. The division is sending two more heavy bulldozers to the fire, according to the division's Mike Kuypers, along with yet another strike team: the level of nervousness over that fire remains high, particularly in light of unstable weather conditions. Pre-evacuation flyers and warnings are spreading along State Road 100 from John Campbell Drive to the Flagler_putnam county line.
In all, the Division of Forestry–which is also helping on 20 fires in St. Johns and more fires in Putnam–has 75 people in Flagler County and 60 pieces of equipment. Those 75 people are staying ion local hotels and motels, on two-week assignments, a minor silver lining for the local economy. Signs of hurried logging are visible along State Road 100 as land owners harvest what lumber they can salvage ahead of the flames, should those flames head that way.
Kuypers, who has some of the freshest information on the fires, was not in the 11 a.m. briefing, which was led by Senterfitt, on Petito, the Flagler County fire chief (regarding whom Senterfitt strained at both meetings to refer to as the overall leader of the operation), and John Ward, the Clay County-based public information officer. There were just two reporters in the room, including the News-Journal's Ann Geggis, the paper's health care reporter. The county will be televising the 11 a.m. Q&A's through its county channel.
A couple of minor fires (each a tenth of an acre) broke out last night–one across from the Espanola Cemetery, one at the intersection of County Road 2006 and County Road 305, neither with serious consequences. But the White Eagle fire along Seminole Woods and U.S. 1 continues to pose challenges. The Division of Forestry is assisting the Palm Coast Fire Department on that one, conducting back-burns and battling re-burns. Other fires, with the exception of Espanola and Dog Pen's brief burst, are under control.
How long that will last is in question. "Every day that goes by without rain, the conditions get worse," Senterfitt said. And little to no rain is in the forecast: 20 percent chance of rain doesn't mean much, especially when it may be accompanied by lightning, which starts fires.
The worry right now is an uptick in winds today and tomorrow, and a shift in wind direction beginning Sunday, when winds, during the day, are forecast to blow from the north (that means the Espanola fire's smoke will engulf Daytona North), then from the south-southwest overnight, then from the west-southwest on Monday  and Tuesday: that's when Palm Coast may get a taste of the smoke.
The quarter-hour Q&A at 11 a.m. was mostly a reiterated explanation of the command structure–who's doing what and where, with a key detail from the earlier meeting left out: while many resources have come in from other counties and the Division of Forestry, those are not, by any means, permanent resources even as the fires rage: they get rotated out, and the constant challenge is to find replacements, especially as other county fires are still flaring, or starting new.
The persistent question was asked: what about the state's declaration of an emergency? The governor of Kansas just requested a drought declaration for 25 of his counties. President Obama just declared disaster areas–freeing federal funds–in Alaska and 21 New York counties, following actions by governors there. Florida Gov. Rick Scott, however, has yet to ask for such a declaration for Florida counties struck by wildfires, even though just such a request has been submitted by the state Division of Emergency Management.
"The message we got loud and clear from the state is they hear us," Senterfitt said.
Just in case they don't, County Manager Craig Coffey (who was not at the 11 a.m. as a participant, though he popped in, but attended the 9:30 meeting) asked Flagler County commissioners to raise their voices to the state.
"One of the challenges with the proposed State Declaration is the fact that there are counties such as Levy County who also have large fires (4,000 acres) and have not declared a local state of emergency or initiated a burn ban," Coffey wrote. "It may be the feeling that this lack of action on the part of Levy County may hold up the Governor's action even though Flagler County has instituted a burn ban."
He added: "In an effort to encourage the Governor's signature on the Executive Order and State-Wide Emergency Order, we would appreciate individual Commissioners reaching out to our state delegation to inform them of the current situation and ask for their assistance in getting the Executive and Emergency Orders signed."
Residents have also wondered why the state declaration has not come through–or what residents could do to push for it. Coffey included contact information for the governor's office and other key leaders for commissioners. Here's the list:
Gov. Rick Scott
Phone:  850-488-7146; Fax:  850-922-4292
Florida Emergency Management
Bryan Koon, Director
Phone:  850-413-9900; Fax:  850-488-7841
Email:  [email protected]
Senator John Thrasher
Personal Phone:  904-607-2226
Office:  904-727-3600
Email:  [email protected]
Aide:  Darla Kubacki;  [email protected]
Representative Fred Costello
Phone:  386-736-5100
Aide:  Linda White:  [email protected]
Representative Bill Proctor
Personal Phone: 904-669-2018
Aide:  Alison Johnson:  [email protected]
Phone:  904-823-2550
Senator Tony Hill Email:  [email protected]
Phone:  904-924-1646
Aide:  Cynthia Appling:  [email protected]
Phone:  850-487-5024