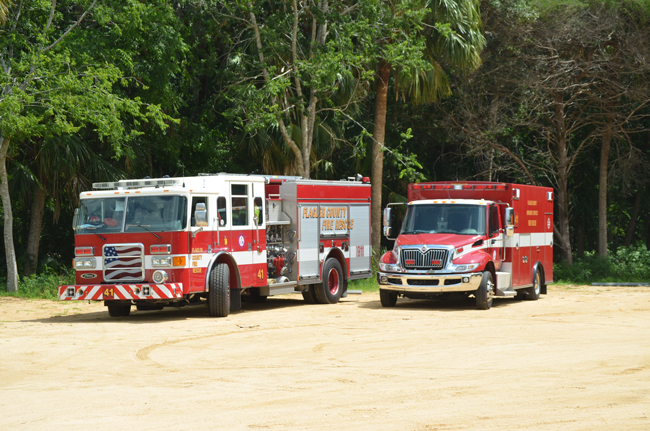 For the past several weeks word has been spreading that Flagler County Fire Rescue is cutting the number of firefighters on engines from three per engine to two. The concern has rippled through emails to county commissioners and the county administrator, at community association meetings, especially in the Hammock, in a strong-worded appearance by the firefighter union's president before the county commission earlier this month, and a in "cease and desist" letter from that president to Don Petito, the county's fire chief.
In fact, starting on May 20, the county has made a significant but limited tactical change in its staffing formulas: it is, on occasions, reducing the number of firefighters on fire engines from three to two at Station 41 in the Hammock and at Station 16 near Halifax Plantation. Engine 92 at the station of that number by the county airport remains with three firefighters.
But the change is not a "cut" in personnel. It is designed as an expansion of ambulance service throughout the county. It has enabled the addition of a seventh ambulance unit, thus reducing response time throughout the county, providing for more sustained coverage of the perennially underserved west side (with an ambulance stationed at Espanola called east less often), and reducing the number of times the county has had to call on Volusia and St. Johns rescue units for aide.
"In theory you still have the same amount of staffing on shift, but you're reallocating them from an engine to an ambulance," Petito said. "The situation were in now is not the ideal situation, but it's the best fix we have at this point. He added: "The med calls have increased tremendously over the past year,  we have to start covering them somehow."
Adding Three Firefighters in 2015
And the change is temporary. Whether because of union or public pressure or because it was part of the county's strategic plan all along, County Administrator Craig Coffey is recommending that the commission approve the addition of three new firefighters next year, at a cost of $210,000, and hopes of adding three more the year after, thus restoring all engines to three-man status.
"There was a concern about taking someone off an engine," Coffey told the commission earlier this week. "The reality is, you're not. There's a misnomer out there, the public I think in some cases thought we were cutting somebody. We're not cutting a single person. We're just reallocating resources to about 85 percent of your calls, which is medical, and this," meaning the hiring of three additional firefighters this year and possibly three more next year, "will essentially put one person back, and slowly adjust that."
Flagler firefighters in 2013 answered a total of 14,062 calls. Of those, 12,374, or 88 percent were medical calls, according to the fire department's annual report (see the full report below). The rest (1,688) were fire calls. The number of fire calls has remained relatively steady over the past 10 years, averaging 1,700 a year. The number of medical calls have been surging. Last year's total was an 11 percent increase over the previous year, and a 33 percent increase over the total in 2004.
"You don't want to have resources sitting back at the station when you have real-life emergencies every day," Coffey said, citing the fact that with over 85 percent of calls being medical, the number compelled the switch of personnel to address the area of greater need.
The two-man staffing of fire engines officially started on May 20, but the department had been doing it by necessity before that because it's been down by five positions, forcing the shuffling. Even so, the reduction isn't always a constant: today, for example, there are three firefighters on Engine 92 at all times, three on Engine 41 for half the day and two the other half, and two all day at Station 16, Petito said.
The Union's Stance on Safety
Appearing before the county commission earlier this month, Stephen Palmer, president of the Flagler County Professional Firefighters Association, the firefighters' union, described the addition of an ambulance unit at Station 31 in Korona and acknowledged the growing number of medical calls. But, he said, the union believes the addition of an ambulance unit "is being facilitated in a dangerous manner." Staffing Station 31 as the county is doing now "is not only irresponsible, it is unsafe and places the citizens and the crews at greater risk," he said.
The reason: numerous studies and experience have shown that reduced staffing on fire engines reduces the effectiveness of firefighting, with five-person crews being the most effective way to fight fires (in Florida, only Miami and one other fire department have five-person crews). But innumerable fire departments, including Volusia's, have gone to two-men engines, simply because of budgetary constraints and the need to provide maximum coverage with limited resources. "Statistically, we are already overmatched, and now it is being suggested we do even more work with fewer people," Palmer said.
The three-man minimum has a lot to do with firefighting techniques at fire scenes, where an engine of three firefighter allows two of the firefighters to go into a structure on fire, leaving one behind to supervise the scene, whereas it would be unsafe for the firefighters to either have one go in alone or to have two go in without a third outside. The administration does not dispute those techniques, nor does it expect the techniques not to be applied at fire scenes. But "the reality," Coffey said, is different, when fires typically and routinely draw the response of both county and city fire engines, often of two cities, sometimes three, thus enabling the firefighting to be conducted efficiently and safely, with numerous firefighters at the ready.
To the union, that does not account for the emergency situations where immediate action may be necessary by the first engine at the scene, when early action is critical. "We fully support the addition of a rescue," Palmer said. "However, we must nor support placing lives at risk and decreasing the level of protection we can safely provide. We cannot support standing in front of a burning home waiting fo the backups because we do not have the manpower present to initiate an attack. Decreasing staffing is a huge step backwards for this agency in efficiency, safety and overall morale."
Palmer provides this analogy: "That's like telling a family of six going on a trip that removing one of their seat belts is an acceptable risk."
Coffey says the analogy is incomplete. "The reality," he said, the reality "is you're leaving three or four unbuckled on the medical side." He added: "If you're facing cancer and a common cold, which one are you going to address first? The one that's going to kill you," cancer in this equation being the number of medical calls that dominate firefighters' logs.
Palmer's position has found support from Frank Meeker, the county commissioner.
"My position has been for a long time, I kind of agree with the NFPA guidelines, I like three and two, three on an engine, two on an ambulance," Meeker said, referring to the National Fire Protection Association. "I think there's reasonable ground to insist that we get back to that standard throughout the county." He added: "If I'm looking at an engine, I prefer to see three. Now, I'm one of five votes, and having gone through two major fires since moving here," in the 1980s and 1998, "I know the value of having good support from the fire department."
Ideal vs. Reality
He addressed the matter in an email to a resident, Tonya Gordon, who sent a critical letter to the commissioners, saying that "cutting fire and med unit [personnel] isn't going to help our county. […]And we don't need one of our men getting hurt, just because we don't want to pay more taxes, or feel other things are more important. There has to be something that can be done."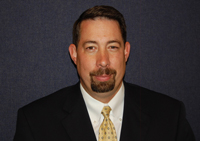 Rejecting the notion that anyone is being "cut," Coffey said that in absolutely ideal situations, 11 firefighters should be responding to a fire, with a minimum of five people on an engine—something unfeasible in Flagler. "The Chief has told me the officers believe this is the best current solution, with the resources available, to address the most serious problems we face. Everyone involved would like more people (Commissioners, Me, Fire Leadership, Union)," Coffey wrote. "However, what we have tried to do is phase in more personnel over time so that we can minimize tax impacts and provide the best service we can."
With the Flagler County Sheriff about to ask for a $1 million increase in his budget, the county is limited in how many firefighters it can add to its staff of 75.
The relationship between the union and the county administration has been cordial and effective, and this issue, despite the cease and desist letter, is not changing that. There are no plans afoot to be more confrontational, but Palmer is not giving up. "What we want is three-men engines, exactly what we had before," he said, "and two men rescue, and obviously we need that other rescue added online, we've acknowledged that, but to rob peter to pay Paul to do it is not the way."
The pressure may be working, if it's led the administration and commissioners to concede that an additional ambulance is needed—and additional firefighters as well.
A New Station For the West Side
The county commission is approving plans for a new, complete fire station on the west side. No site has been found for it, but the administration has been looking. One place it's looked is the Eva Richardson property at the corner of State Road 100 and County Road 305, not far from the Mondex. The property has a barn-like building on it, but the building doesn't have utilities, and the property owner's asking price is $1 million—"way too high," Coffey said, even though the property, ideally situated, may still be an option. The building, he said, "could be converted, but not for $1 million, it's not cost effective. It won't work."
Meanwhile, Coffey said the county may work toward temporarily retrofitting Station 71, St. Johns Park, south of the Mondex, to make it inhabitable and fully staffed within six months, until a more permanent home for a west-side fire station is built or found.
Of the more immediate issue of staffing to make that additional station possible, the county administrator said: "No one disagrees with the general premise of we can always use more personnel and that we should staff at least three on these rigs. No one disagrees with that if resources were plentiful and unlimited. But the reality is we have to do this incrementally over time so we don't grow an overly large department because we're not yet out of the woods with our economic situation."