"I got my license in the mail," the manic, wild-haired barber says to the customer, spraying him in the face with window cleaner before delivering the questionable trim to music purposely melodramatic. The unfortunate customer is sitting in the crazy man's basement only because his wife warned him that if he doesn't get a haircut, he'll never have sex again.
It's a scene near the end of "Sexcut," the 29-minute comedy standout by Matt Florio, and one of the films featured at the second annual Flagler Film Festival, which ended Sunday at the Hilton Garden Inn in Palm Coast. Florio was the winner of last year's festival best comedy award.
Organizers of the three-day film festival—which included horror, comedy, anything goes, drama, and documentary blocks—seemed to have a better handle on the event than the dubious barber: This year's audience attendance appeared to be up by 20-25 percent in spite of inclement weather, according to Kathryn Barry, a co-founder of the festival with her husband James and Orion Christy.
Two movie-goers impressed by the festival were Elliot and Aurora Beltran, both in their 70s, who also attended the inaugural festival last year. "We enjoyed it tremendously," Aurora said. She thought the films were better this year than last. Elliot, an artist himself, was particularly impressed with a gorgeous and surreal Turkish animation short, "A Strange Man." He called it "fantastically intricate" and marveled at the amount of work it required.
On the other hand, "Little Things," a United Arab Emirates film about a woman caught up in a difficult relationship and contemplating suicide was too depressing for either his or Aurora's tastes. "Well, life is like that sometimes," he said. "But the question is, why dwell on it?"
At film festivals, movie-like scenes aren't limited to the screenings.
Once Florio had finished his Q&A session he was approached by an older gentleman outside the conference viewing room. The man had a story of his own he wanted to share, and it sounded like one with potential for a Florio skit. He spoke of a young man who had graduated Yale Law School and was making over $200,000 a year as a "very successful" attorney. "One day he comes home and says I don't want to do this anymore," the man said. "I want to make a film."  He looked at Florio earnestly and asked: "What should I tell my son?"
Florio said that, while on the one hand, "his son only had one life to live," he wouldn't recommend quitting his job, not yet, at least. He suggested starting film "as a hobby."
The comedy block was followed by the horror block, featuring "Deadtona," about the not entirely implausible story of a zombie outbreak in nearby Deltona. It was filmed in the low-budget but horror-effective "Blair Witch Project" or "Paranormal Activity"-style of shooting that gives the impression of a factual documentary. Inevitably, an audience member asked director and actor Scott Mena, 28, if the movie was based on a true story. The viewer added that, if anything, the movie made Deltona seem more "lively."
The final movie in the horror block was "Kick," a UK soccer horror thriller, produced by Palm Coast-based Kjell Larsson. It may very well be the first depiction of soccer as a blood sport (though soccer's distantly historical origins may very well have involved the kicking around of severed heads). The story follows two friends who buy their way into an after-hours football (soccer) game on the hallowed stadium turf belonging to a premiere London team. However, soon they find themselves locked in a stadium, engaged in a new game in which they're being hunted by some mysterious man-predator.
Afterward, one audience member could be heard saying to another that "Kick" was the best film the festival had to offer that evening, while another woman went up to festival founder Kathryn Barry and described the movie as "sick," adding that she'd never watch a movie like that of her own volition, though something compelled her to stick around for all 75 minutes.
Saturday kicked off with a special guest presentation by Laura Tyler, winner of Syfy Network's Season 5 "Face Off," a reality make-up artist competition. Tyler was brought in by another festival sponsor, Palm Coast-based 10th Voyage Studio, which had brought its own custom zombie-fighting mobile, the Zombie One, to the event. Tyler, who had worked with 10th Voyage Studios on its signature studio project, "Zombie Cleanup," used her time to morph Timber Weller, the Florida Forest Service public information officer, into a flesh-eating zombie.
Much of the science, or art, of what Tyler does involves not just makeup wizardry but prosthetics, the use of which came into vogue with Mel Gibson's 2004 "Passion of the Christ," to create the whip wounds of the film's namesake, she said. As she painted a bullet hole into Weller's forehead, she spoke about the movie that inspired her to become a makeup artist: 1984's "Amadeus," a biopic on Mozart, which she saw as a child.
"The first scene, you see an older gentleman, and he's telling the story of Mozart. And I'm watching the movie and saying 'ok, cool.'" She went on to say the scene switched abruptly to one revolving around a young man. "And then I'm like, 'what does this younger gentleman have to do with anything with the story? Then I realize, half-way through the dialogue, 'Oh. That older guy is the younger man. They must've used two different actors." But that wasn't the case. "My mind got completely blown," she said. The man, young and old, had been F. Murray Abraham.
Her advice for anyone seeking to break into the business: "The more pre-production you do before the movie, the better the movie will be," and "Join the union."
Later in the day, during the Drama Block, a short drama that got a lot of hype was Tim Guinee's "One Armed Man." The screenplay was originally written by Horton Foot, best known for his adaptation of Harper Lee's "To Kill A Mocking Bird," The late Phillip Seymour Hoffman was the executive producer for this festival offering.
Leading into Sunday's documentary block, filmmaker Ruth Hellerman had the Hilton conference room packed. A contingent of the "Ship Wrecks," a local music fan group for entertainer and singer Capt. Nick, came to support her. The group has over 3,000 participants around the world, according to Hellerman, whose documentary was called "Water."
One of the "Ship Wreck" members was Sherry Epley, 67, who met Hellerman through "Save Flagler Beach," a nonprofit created to save the beaches and dunes from erosion. Epley, who's lived in Flagler Beach since 2005, complained about the local enforcement code that prohibits signage, which would have helped direct people to the festival.  "If you don't cover it (or promote it), you can't create it," she said of culture.
"Water" is about the precarious relationship between water and the planet. "This movie was made to honor Dick Holmberg, who is the most knowledgeable hydrologist in world," Hellerman said, mentioning a man whose history in Flagler Beach has itself been, to put it mildly, controversial: Flagler Beach government hired Holmberg to study beach erosion and propose a solution (for $50,000), only to be presented with what amounted mostly to a cut-and-paste job of questionable substance, which led to disaffection and recriminations on the part of the city government. County government had a similar experience with Holmberg, who was at the festival. He had taught Hellerman everything she knows about erosion, she said.
Another documentary to draw a big response was Stewart Lippe's "A Good Short Life," which recounted the final months of the late journalist, writer, and gay rights activist Dudley Clendinen as he suffered through the last stages of what's commonly known as Lou Gehrig's Disease. Despite his decline, he tries to finish one last book, though he ultimately can't.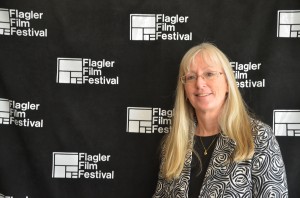 "I admired him and I had a fondness for him, but I really kept a wall, a distance, because I knew what the end of the line was," Lippe said of Clendinen, not only to protect himself but also to preclude his movie from getting too sentimental.
Barry, the co-founder of the festival, is now looking ahead to year three. One thing she'd hoped to do this year, but couldn't, was to start later and end earlier each day, "because it's a really long day, and a lot of people want to see everything. I never expected people to want to see everything, but I've seen people at every single block.
"But I get so many good films, I have to squeeze in as many as I have room for. When I get the submission, I say, 'I have to start at 12, because I can't turn this down; it's just too good." The same thing is likely to happen again next year, she says.
In addition to the movies, the festival included a number of booths set up by various artists, including local authors Heather Chalmers and Marybeth Jeitner who co-authored "Saving Libbie the Lobster" and Becky Pourchot, author of "The Hungry Ghost" series. Musician Vern Shank had a booth selling CDs of his band "The Cherry Drops," a "retro power pop group" whose song "Outta Sight" was once named by Little Steven (Steven Van Zandt from Bruce Springsteen & the E Street Band) the "Coolest Song in the World."

2015 Flagler Film Festival: The Winners
Audience Choice Awards:
Audience Choice/Drama – The Conversation
Audience Choice/Comedy – Dirty Justice
Audience Choice/Documentary – You Belong to Me
Audience Choice/Horror – Kick
Audience Choice/Animation – Big Bag
Audience Choice/International Comedy- Runner
Audience Choice/International Drama – The Little Things
Festival Jury Award – Indigo
Festival Spirit Award – Scott Mena (Deadtona)
Flagler Film Festival Award Winners:
Anything Goes/Shorts – The Cherry Drops Outta' Sight
Best Ensemble Cast – Visionary
Best Actor Comedy – Matt Florio (Sexcut)
Best Actress Comedy – Christina Carmona (Dirty Justice)
Best Actor Drama – Charlie Haid (One Armed Man)
Best Actress Drama – Cherise Boothe (Contamination)
Best Student Comedy – Tough Case
Best Student Drama – The Drowned Man
Best Foreign Film – Pechorin
Best in Florida – You Belong to Me
10th Voyage Studios Award – The Debt
Best Production – Visionary
Best Director/Drama – Tim Guinee (One Armed Man)
Best Director/Comedy – Dean Bruggeman (Knock Her Socks Off)
Best Director Documentary – Stewart Lippe (A Good Short Life)
Best Horror/Thriller – Kick
Best Director Horror/Thriller – Trent Duncan (Inhabited)
Best Comedy – Stop Leak
Best Cinematography – One Armed Man
Best Drama – One Armed Man
Best Documentary – That's Not Funny
Indie Auteur – TL Westgate (Dirty Justice/M-Theory)
Blitzkrieg Award -Christina Carmona and Nando Roman