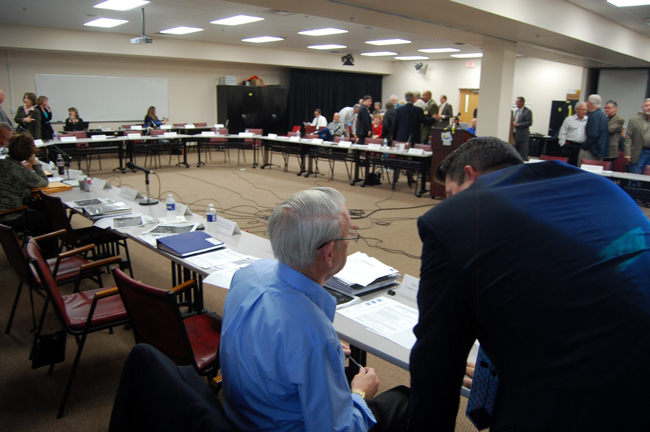 The unexpected did not grace an economic development gathering of Flagler County's local governments under the makeshift gavel of County Commission Chairman Alan Peterson this evening. (For a minute-by-minute account of the summit, read the archived live coverage here.)
After 137 minutes of presentations by the county, the school board, each city, the chambers of commerce and Enterprise Flagler, plus speeches by a few members of the audience and some elected officials and a few pleas for a breakthrough—including by an unemployed man—the only common ground the summit produced was agreement to meet again for a longer summit. With one difference: the next summit is to be mediated by an independent "facilitator" unaffiliated either with the chambers of commerce or any single private business, but paid for by the County Commission. In other words, elected officials are turning over the job to a professional therapist who can cut through the dysfunction and disunion.
And it will again include all local government representatives, not delegates.
"We are either open for business, or we don't have our act together," Colleen Conklin, a school board member, told the group, herself acting the facilitator at that point, almost two hours into the meeting. "You need an outside facilitator." Conklin's proposal to turn over the next summit and the facilitator's job to the Flagler County Chamber of Commerce, however, was shot down rather swiftly, the chamber not being a disinterested party in the deal.
By turning the management of their next meeting to a facilitator (a suggestion first floated by County Commissioner Barbara Revels weeks ago), the local governments were conceding that no single leader among them, and no single government, could mediate the process or explore possibilities of agreement between governments. That's not unusual when politics and deep disagreements are in play. And both are very much in play. The elected officials didn't find that out Monday evening. Separately, they suspected or knew it was the case: they read the news, they hear each other talk. Even the county commission was rife with disagreements, and the Palm Coast City Council was clearer about what it did not want to do than about what it was willing to do differently. Monday's meeting validated those suspicions, certifying that if local government leaders are serious about developing a plan, they have to look beyond themselves.
Enter the facilitator.
The meeting also confirmed where those disagreements are. First, there is no single, strategic plan anyone agrees on, even as every single elected official agrees that something must be done to foster more economic activity. Should Flagler County market itself more to out-of-state companies? Should it invest more in existing local businesses? If it did so, would it help a local business to have more employees if consumers aren't ready to buy, and visitors aren't visiting in large enough numbers to sustain increased economic activity? If it's about recruiting, who would do the recruiting, and with what incentives? Should Flagler build more infrastructure? Further develop its eco-tourism? Should Flagler re-brand itself according to a new, or at least better defined, identity?
None of those questions was answered Monday evening, and none is about to be, even as the county put forward its structural plan on how whatever strategy was adopted would be administered. But there's no agreement on that, either.
The county itself appears in general agreement over structuring an economic development organization that would draw representatives from each government and from business, and would be funded by a new sales tax. Bunnell is going along with that plan, but only if it has an equal seat at the table—not a voice proportional to its population. Palm Coast is categorically opposed to the plan. So is Flagler Beach. Also, neither of those cities supports a new tax, though it wouldn't be up to them to decide to levy one. That would be the county commission's job, which can do so two ways: either by a super-majority vote (of at least four commissioners) or by placing the proposal on a popular referendum.
The super majority proposal might as well be dead for now: County Commission Chairman Alan Peterson and commissioners Barbara Revels and Milissa Holland don't favor it anymore than a majority of elected representatives do (including Beverly Beach's mayor, though that city's commissioners haven't yet hashed out anything related to economic development plans). At most, there's agreement that if a tax must be imposed, it should first get the electorate's approval.
County commissioners and the county administration will draw up a list of potential facilitators and foot the bill (think a few thousand dollars). The list would be circulated among local governments to win agreement on a facilitator before moving to the actual summit, which would last a day or two (officials, whose impatience could be glimpsed—or heard through glum silences—Monday evening, are unlikely to agree to a two-day summit). Peterson hopes to have those matters settled within 30 days.
But don't expect the next summit to take place before early spring. Nor will the next summit necessarily settle fundamental differences, as much as settle on a few areas of common ground—two vastly different things that mean any vision of a comprehensive, county-wide economic development plan remains more wishful than credible for now.
And it does so because the two largest entities in the county—the Flagler County Commission and the Palm Coast City Council—might as well be West Side Story's Jets and Sharks, minus the Shakespearean love angle.