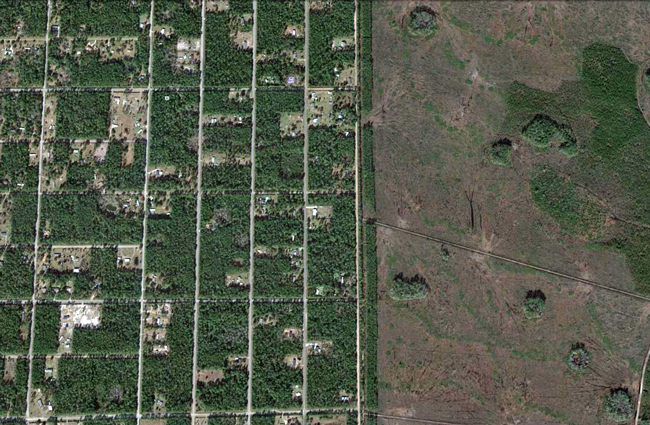 It was an odd request that generated a spirited discussion this morning between Flagler County commissioners about what to do with some of the 1,939 parcels that form the nearly worthless and vacant subdivision known as Flagler Estates, in the northwest part of the county. The most attention the subdivision has garnered lately is as the dumping ground of murdered individuals on two separate occasions.
Jeffrey Cohen is a New York resident who bought five 1-acre parcels in Flagler Estates in March 2012, for a total of $10,000. The combined value of the parcels is $1,500. The combined taxes Cohen last paid on the properties total $25. He now wants to donate the parcels to the county.
County Administrator Craig Coffey recommended to the commission that the county accept the donation, though he said it could cost taxpayers up to $5,000 for title, survey and closing costs.
A divided commission rejected the proposal, 3-2, with Nate McLaughlin leading an adamant opposition that showed no interest in unburdening private property owners who made poor investments, or setting the county on a course that has no clear objective.
"I am absolutely going to vote no on accepting these. I don't see the short or the long-term public purpose of these lots," McLaughlin said. He conceded that the tax value is almost nonexistent at the moment, but that may not be the case in the future. "Without a clear public purpose, this commissioner has no interest in these lots," he said. He later added: "To me there is a private property owners situation out there that the private property owners need to solve, if they need to come for land use changes, then they need to come for land use changes, then they need to come and make those requests. We have a system in place to accommodate. But to me this is not an issue for us to solve. It's a private property issue, and these folks have purchased these properties."
He was joined by commissioners Charlie Ericksen and Frank Meeker. Commissioners George Hanns and Brabara Revels voted to accept the donation, though it wasn't made clear why the county might benefit.
"We have accepted some over the years and some we have not, for various reasons, maybe it's different mindsets of different boards," Coffey said. "I know we accepted 10 acres basically swamp land out in the middle of nowhere about, I want to say, three or four years ago, and we own currently 10 to 20 of these lots."
Revels favors slipping into tax bills a note saying that Flagler County is accepting donations of these lots, "because the more of them that become just conservation lands, the more people will be here, wanting to have a building permit on inaccessible land."
"That's staff's approach to this," Coffey said.
"I'm not advocating we take a bunch of properties off tax rolls," Revels said. "We're talking about a total of $25 in taxes here for five parcels, and just the fact that this is a subdivision of lands that you cannot get to anywhere from Flagler County, and that there are no services, there's no water management system, you can't get a septic tank permit, you cannot do anything with the property at this time, and it's been that way for 20-plus years."
Initially, Revels had not taken note of the $5,000 expense to the county to take ownership. "I would never agree to that either," she said. The land doesn't need to be surveyed, she said. "I don't see the need to do any of those things. I see take title, and I would still be in favor for the more we can eliminate these problem parcels of people that have expectations that we can't deliver and aren't going to deliver as a government, it continues to narrow down the problem."
Coffey said the one reason the properties would be surveyed is to get a title insurance policy. But there was little clarity about larger goals.
"There is no mass accumulation of parcels, we would not go out and propose taking of lands or doing anything real aggressive like that," Coffey said. "But there could be cause for coming up with a program where we go out and ask everybody if they'd like to donate their parcels and explain those conditions. But amassing, you're not going to necessarily get a bunch of cohesive parcels, they will be checkerboarded initially until you swap parcels with other parties, then at that point you can survey 10 in a row or 20 in a row or something and swap with someone else."
"To what end though?" McLaughlin asked. "To a park that no one is going to go to?"
"No, not to a park necessarily," Coffey said, "but you'd be providing, basically, the hodgepodge of development, It's a long-term problem, it's going to require a long-term solution, otherwise you're going to have a big mess out there."
Meeker was interested in studying the matter of land donations in the future, if it was to serve a public purpose. He doesn't see that purpose yet.  "I can't see spending $5,000 for property that's worth $1,500. Financially it just doesn't make sense to me now," Meeker said. "If I'm going to have an environmental reason to do this something like this, then it's got to be a larger piece of property, all contiguous with each other, all under common ownership that I might be able to do a mitigation bank in the future without worrying about flooding on some individual piece of property that we don't own."
Local governments (including Flagler County) have acquired lands to use as such "mitigation banks"—valuable environmental lands that can be sold to developers who must replace wetlands they're destroying in one place with preserved wetlands in another. But mitigation banks have a speculative component: they don't always pay off.
Coffey said he'd gladly submit the outline of a bigger program of land donations, but he didn't get clear direction from commissioners to do that. To McLaughlin, the plan was not a fit with the county's comprehensive plan, and if private land-owners were looking to donate their land, they could do it through non-profits rather than through government.