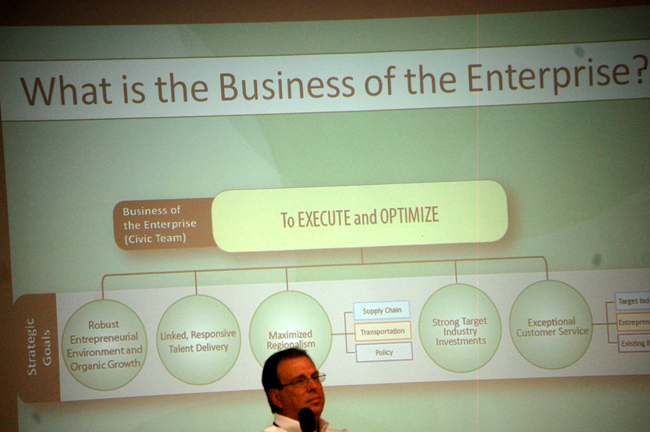 If there was economic development in talk, Flagler County would rival growth in some of China's smaller provinces by now. This kind of talk cost county taxpayers $22,000 only to yield a consensus for more talk—for another $7,000 a day (not including expenses).
On January 31, almost every politician in the county, along with business representatives, met to figure out how to move Flagler County forward economically. The goal: lower the 16 percent unemployment rate. They couldn't agree. Cities and the county had different agendas, different constituencies, different ideas. After 137 minutes, they decided to hire a "facilitator." He'd help figure out a plan at a subsequent meeting, how to pay for it, and who would lead it.
The group of 60-some people has since met for 20 hours over three separate days in March—the latest of those today, starting at 8 a.m. They had little trouble hashing out a general, five-point "strategic plan" that sums up with plenty of bullet points all sorts of aspirations and optimistic ideas, though without associated costs. They did that on the first day, and have been expanding on it since.
"Since we have a consensus of things we all would like to see happen in the county, I'd like to see if we can come up with a method of funding that everyone will agree to," Alan Peterson, chairman of the county commission, said on the eve of the meeting.
It didn't happen. They still don't know who will pay for any of it or how. They still don't know who will lead it, if anyone.
They know one thing: they'll hold more meetings. Every quarter. The next one: May 13. They'll pay Don Upton, the same moderator—from Tampa-based Fairfield Index Inc.—another $7,000 to lead that one, too, because they don't feel they have the wherewithal to do it themselves.
That lack of self-confidence is indicative of the county's fault lines: Handing the job to a politician –a county commissioner or a city commissioner—would imply a leadership role that has yet to be agreed upon. Handing it to a business owner or representative would shift the balance of authority disproportionately toward one interest group over others. The fault line demarcates how far apart the group's "family" members (as that facilitator refers to them) still are, lavish talk about collegiality aside.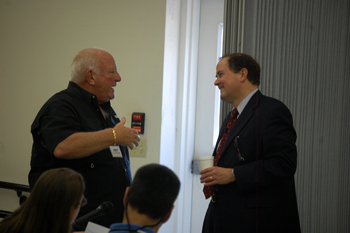 An indication of Friday's sprawling, unfocused session, and Upton's frailer control of it for chunks of the day, was its latter hours, when Upton hurried through issues of funding and governance—the issues presumed to have been at the heart of today's session—only to shunt them aside and come up with what he termed a more crucial set of "action items" right now: future meeting schedules that will fill more details on those "strategic" goals. At one point School Board member Colleen Conklin was reduced to quoting the Dalai Lama from a phone utility in hopes of inspiring the assembly to more cogent achievements.
It was just before 1 p.m. that Upton delivered his news flash to the assembly: The objective of the summit, he told them, "was never how much and who's in charge." In a lunchtime interview two weeks earlier, on the second day of the summit—when participants were also wondering when those matters would be raised—Upton said those objective very much were on the agenda, but would be tackled later that day. They never were, though the third session starring Don Upton—today's—turned from "if necessary" to a scheduled certainty.
"Unless we talk about who's going to do what and how and when," County Commissioner Milissa Holland said at one point, referring to governance, only to be interrupted by Upton, who said he didn't  see governance as "all that meaningful, but I don't want to be disrespectful." At that point he more heavy-handedly seized control of the meeting to redirect it on "action items" he could control—namely, meeting dates and subcommittee heads—as opposed to questions he did not want to answer.
Which left Friday's substance to a re-statement of the previous meeting's goals. None of those goals and aspirations is controversial. Each represents the sort of goal few people would dispute: link and leverage local talent with educational opportunities and workforce oriented services; partner with regional and state economic development agencies (public, private or both), identify transportation assets such as rail and ports (think Jacksonville) and find ways to take advantage of them. But ideas and plans are not in short supply. Develop a marketing campaign, target specific industries that should be enticed to move to Flagler, go to trade shows, join regional organizations, and so on. The more local focus on "customer service"  commanded plenty of attention as the business groups in the room pressed it against increasingly impatient politicians, whose perception of customer service in their cities and counties isn't as jaundiced.
Before the May 13 meeting, five subcommittees will hold an indeterminate number of meetings to put details and dollar figures to each of the "strategic goals" agreed upon. The May 13 meeting should provide a clear picture of the plan's cost. Today's meeting should have provided that picture too. It's possible the May 13 meeting will leave a bottom line unclear.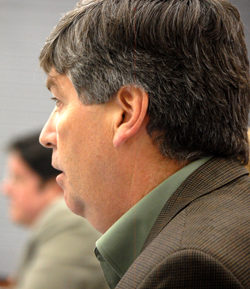 What is becoming clearer, in spite of the group's obfuscations, is this: as Palm Coast Mayor Jon Netts and County Commission Chairman Alan Peterson agreed in a post-summit conversation this afternoon, none of the goals is particularly costly, though all of them together might add up to several hundred thousand dollars. What that suggests is that while the desire for more taxes may not be there—and isn't, from Palm Coast's and Flagler Beach's perspective—it may be possible to do what Palm Coast does with its existing, $330,000 economic development budget: focus on certain areas and reallocate existing dollars rather than go after new ones.
John Walsh, publisher of the Palm Coast Observer and a participant in the meeting, pointedly asked Jim Landon, the Palm Coast city manager, to describe the city's version of economic development (a plan it calls Prosperity 2021). Similar but "broader" goals than those drawn up by the summit participants, Landon said, with more focus on eco tourism (witness the city's development of trails and parks), and revitalization of older neighborhoods, which would keep property values from falling, for example. (The "broader" part is not quite accurate when compared to the summit's ambitions.) The city council made clear, Landon said, that "funding needs to stay within our existing means, and to shift funding within economic development as opposed to creating new funding for economic development has been our economic development strategy."
Without having to say so, the city most people in the room would refer to as the elephant in the room set the tone for the kind of permissible economic development that will take place: lower cost, more targeted benefit. And when it comes to customer service, Palm Coast doesn't think it has a problem beyond the fact that any service can always be improved.
The two "summit" meetings earlier this month drew more than 60 participants each. Today's meeting drew just under 50, according to a headcount around noon. None of the meetings drew a public audience of more than five or six. It was, beyond the walls of the extension service assembly hall, a beautiful day, and participants took advantage of it by escaping outside in steady clusters, with cell phones for hall passes.
says he doesn\'t know who added the monicker to his nameplate.
(© FlaglerLive)"]