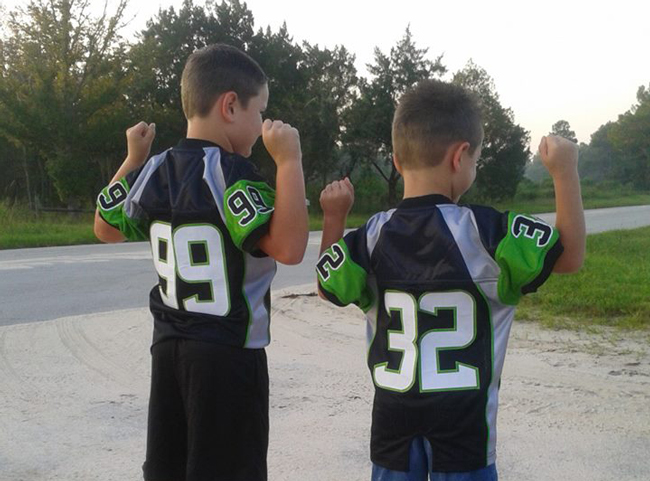 By Michelle Taylor
At about 9:05 this morning, I got a phone call from Bunnell Elementary School informing me that my two sons—they're in first and second grade—were pulled from their classrooms for violating the schools dress code. They were wearing their PAL football team jerseys. I was told my sons would not be allowed back in class until I delivered a dress-code approved collared shirt.
There are several issues with this.
My children were singled out, discriminated against due to their attire, removed from their classrooms and denied their right to receive educational instruction.  The fact that my children were denied classroom time due to their clothing, on a test day no less, is outrageous and is the antithesis of what educators and administrators should be promoting and trying to achieve: education and equal treatment.
I am a stay-at-home Mom with 4-month-old twins, who happened to be napping at the time. I live 15 minutes from the school. I was willing to bring the shirts. But it was not possible for me to accommodate the school's request right then. I informed an assistant principal that I would not be able to bring over the shirts for an hour and a half to two hours. But I did not want my children to be left in the office and miss classroom instruction meanwhile. But according to the assistant principal, that is exactly what would have happened.  What if I did not have a vehicle?  What if I was short of gas money or had other hardships, as I'm sure some parents face these days?
I suggested that if the jerseys were that serious a violation, the school could lend a shirt from the nurse's office for the remainder of the school day. I was told that there were no shirts to be loaned out, even though shirts are always on hand for a variety of situations, from inadvertent rips, tears, spills, accidents, and yes, even inappropriate clothing. In fact, another parent with a child on my son's PAL team was offered a shirt from the nurse's office, 30 minutes after I was deceived and made to believe shirts were not available.
Then there's the matter of the school district's own inconsistency on the matter.
Children were allowed to proudly wear their PAL football team jerseys on "Spirit Fridays" last year, with no incidents or alienation. This year's dress-code policy, revised only a few weeks ago, is somewhat ambiguous and unjustified in my opinion. The administrators' actions today promoted discrimination against the PAL organization, its players and apparel.  There was no harm in the jerseys last year. What is the harm this year?
The Police Athletic League is a local organization. It promotes community involvement through athletics, volunteer work and commitment to a positive group activity. Academic success and proper discipline is mandatory to earn and maintain participation in the program. Is it silly to assume that the Flagler County School Board would want to promote a program like PAL—a program that uses its facilities and volunteers, that encourages our students to take pride in their community and their school, that promotes success, structure, education, self-esteem and responsibility?
Instead, it's an order to go "to the office."
These boys had been practicing four days a week, two and a half hours per day for several weeks before school resumed. That sort of commitment involves learning to balance school work and long hours of practice and game participation. These boys have earned the right to proudly wear their jerseys and should hold their heads high, just as the school should be recognizing and commending their dedication—by letting them wear it on their sleeves, rather than punishing them.
The PAL Team Mom spoke with a district administrator in pupil services last week and got verbal authorization that the boys were allowed to wear their jerseys to school on "spirit Friday." Authorization was not submitted in writing. The same administrator is now passing the buck by claiming that a secretary provided incorrect information while the administrator herself had not been directly contacted about the matter.
Persecuting these young children because they are wearing their teams' jerseys (which happened to be green and black, Bunnell Elementary's dress-code colors), is damaging to their self-esteem and emotional well-being. They're essentially being bullied by administrators and staff over their parents' wardrobe decisions.
The school's subsequent handling of the matter is also unacceptable. These children were ushered to the front office as if they had committed a crime, and made to feel that they had done something terribly wrong. Their parents were contacted by phone, in front of them. They were forced to listen to the verbal barrage of policy violations and expectations, as well as an argument that ensued between me and a school staffer.
Our children should not be privy to disagreements between parents and school staff, or any other adults for that matter. They are innocent beings in this debacle of fashion tyranny, and end up being treated like collateral damage as school administrators flex their muscle to assert control, establish uniformity or make a point—if not an example.
"Do as I say, not as I do" comes to mind.  Teachers, staff and administrators are enforcing a dress code that they themselves do not abide by. "Lead by example" comes to mind, too. Did Joan and Melissa Rivers move to our district to correct fashion faux pas or are our leaders being a little ridiculous as they cram their definition of "spirit" down our children's throats?
The policy is silly enough and we could disagree over it until the end of times. But that valuable educational time is being stolen from these children, after a first infraction no less, by isolating them in a front office until a parent arrives is reprehensible. Children go to school to learn. They should never be denied their education for such ridiculous circumstances. My two sons did learn something today: they may not be able to use the words to say it, but they saw how petty, how mean, how irrational and disproportionately silly a rule can be.
A petition will be created and passed around at football practices for parents to sign requesting that these athletes be allowed to wear their team jerseys on "Spirit Friday." Together, our collective voices will be heard loud and clear by our elected school board members and hopefully, a change will be made regarding this area of the dress code policy. Please contact your school board members to help affect change and remind them that above everything else, every child deserves an education, regardless of their attire.
Some school board members have been contacted today about this issue, as well as the bigger issue at hand. Two agreed to "try" to place this concern on the agenda for an upcoming meetings. I plan to be there, and I hope that other parents will join me. A child does not need to be singled out and ostracized to a "reflection room" (a detention, of sorts) because of a minor infraction of an ambiguous dress code policy. And a child should never be removed from the classroom for that reason. If the violation is severe enough to warrant a phone call to the parents to elicit corrective actions, then so be it. But let's keep matters in perspective–and our children in class.
After an hour of frustrating arguments between me and the assistant principal, she sent my children back to class—with their jerseys turned inside out. That created another issue of embarrassment for them, causing more of a classroom distraction than wearing the shirts the right way. Another example of a school rule taking precedent over logic. My children are now angry with me because I picked out their outfits and they were embarrassed at school and in front of their friends.  Should tears really have been shed by these children because of a PAL team jersey?
Mission accomplished and point made, BES.

Michelle Taylor is a stay-at-home Mom. Reach her by email here.