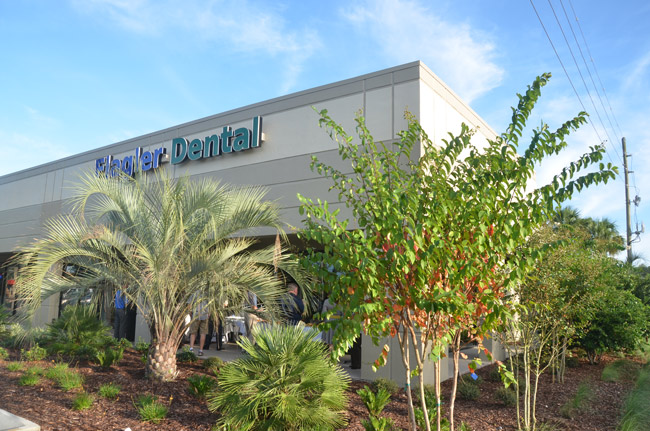 It all began when Doctor Benjamin Lacy opened up his dental practice in Bunnell in February 1968. The practice was located in Dr. John Canakaris's old office building off State Road 100 in the heart of the city. Door knobs and pliers aside, there was no dentist in Flagler at the time.
Today Flagler Dental Associates consists of 23 staff members and four dentists–Drs. Ben Lacy, Erik J. Olson, Jeremiah Mahoney and the newest addition to the team Ryan Smith. Flagler Dental Associates is currently the oldest dental practice in town celebrating 45 years in 2013. Clients became familiar with its Clubhouse Drive location at 30 Office Park Drive, across from Sterling House, the assisted living facility. That office is still there.
But last month Flagler Dental opened its newest location, at 97 Flagler Plaza Drive. It's in the same building as Woody's, the barbecue restaurant. This new state-of-dental-art office is equipped with the latest technology, said Flagler Dental South office manager Dr. Jeremiah Mahoney. "Everything is brand new and was chosen based on their ratings by the independent rating companies we use in the dental industry."
That technology includes digital X-rays, soft tissue lasers, intraoral cameras (a fancy way of describing a camera that goes in your mouth), and in-house whitening. Mahoney explained that the practice spends a good deal of time in continuing education and research the new technologies through the consumer reports and from there determines which products would benefit their patients.
Both Flagler Dental Associates offices, North and South, use only modern technology and have been using digital record-keeping for five years–X-rays, charts, scheduling, recordkeeping and paperwork.
Dentistry, the bane of hygiene, has come a long way to make patient checkups more comfortable, with  new digital technology results immediately displayed on screen for patients, and with safety benefits. "It gives us crystal clear images while greatly reducing the radiation exposure to the patient," Mahoney said. "It is the safest way possible to get the information we need to effectively care for our clients."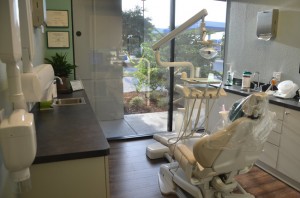 It also allows the office to streamline paperwork for patients and staff, and allows both offices to communicate in real time, through a private, dedicated network (no risk of privacy leaks).
Lacy's almost half-century career at the helm of the practice has known the challenges of keeping up to date with new equipment, technology, facility and marketing updates. It's not just about teeth. "You have to keep growing any business and we needed to grow," he said. "The new office is located at a different location with a different demographic. A great place for a dental office." In a sense, the dental practice is taking a page out of Florida Hospital Flagler's strategy. The hospital just opened a satellite clinic in the north part of town, recognizing that demographic and competitive advantage. Flagler Dental is doing the same thing, going south.
"We felt like the bulk of the county's future growth will be south of State Route 100 and, in turn, we needed to get closer to that growth," Mahoney said. "Between our two offices, we now feel like there's nowhere in Flagler County that we can't be easily accessed."
When young Doctor Lacy opened up his practice in Bunnell no one could have visualized the remarkable changes destined to take place in the practice of dentistry over the following five decades, with his dedication as a constant. Technology changes, but Mahoney said the practice thrives on its institutional experience through Lacy. "We all call this community home and our only concern is to do our best to help this community in the best ways we can," he said.