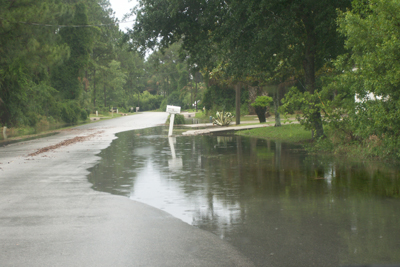 A weather story? Why not. Light up the candle: A commemorative storm of diluvian rains and dangerous lightening Monday marked the anniversary of the first day of a week of flooding rain that wiped out more than $6 million in potato crops in Flagler County last year.
More than four inches of rain fell on parts of Flagler County Monday, according to the emergency management's Bob Pickering.  Periods of torrential rain through the morning and early afternoon overran drainage and swale systems in Palm Coast, causing temporary street and partial lot flooding in some areas until the system could catch up. And for all the repaved "beautification" of several streets in Flagler Beach, State Road A1A was again, and typically, waterlogged during the storm.
Despite dark skies heavy with last year's memories Monday, Flagler County officials said they didn't expect a repeat of floods and washouts, attributing the fortune (so far, anyway) to the last few weeks' dry conditions. "We're getting a lot of calls, but nothing significant," County Fire Chief Don Petito said.
Flagler County fire crews responded alongside Volusia and Ormond Beach crews to an early afternoon structure fire on Pineland Trails just south of the Flagler County line. A mobile home was destroyed after reportedly being struck by lightning.
The soaked Palm Coast school children who ran and rode bikes to class through waterlogged local neighborhoods, and the motorists who navigated through flash flooding at intersections and along low-lying streets during the heaviest downpours of the day, by late afternoon were soaked in sunshine again. No repeat disaster. Weather forecasters are predicting a 20 percent chance of rain each day for the rest of the workweek.