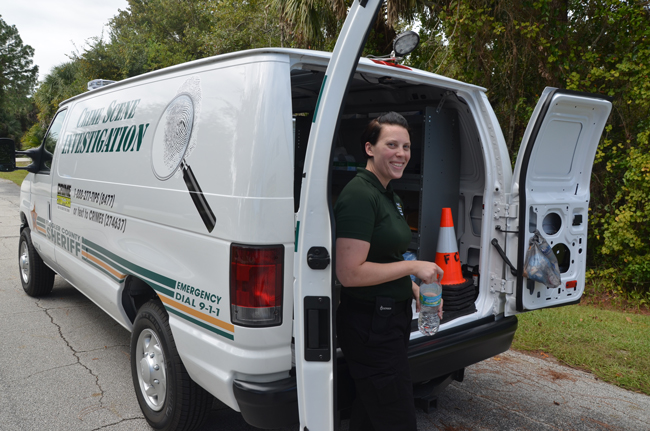 Undersheriff Rick Staly was blunt. The Florida Department of Law Enforcement's Crime Scene Investigation labs may not be around forever. Last December when Gov. Rick Scott asked government agencies to provide budget cuts he could act on, FDLE's $4 million proposal included eliminating the state police agency's mobile crime labs, which responded to 424 crime scenes in in 47 counties in 2011, including several cases in Flagler County in the last two years. FDLE is also considering shutting down some of its permanent labs.
"At some point it's going to end, so now is the time we start doing our own CSI with a true CSI unit, properly trained," Staly said Monday.
The Flagler County Sheriff is already a good distance of the way there. In August it hired Laura Pazarena, a 31-year-old former crime scene investigator in Washington, D.C., whose stints included collecting DNA samples from roadside bombs in Afghanistan when she worked for Ideal Innovations, a Pentagon contractor, in that war theater for two years. She is a civilian employee for the sheriff's office, at a salary of just over $37,000 a year (Pazarena's position was made possible by reducing the Sheriff's Office's accreditation office to a single individual), and is the nucleus of what Staly said may become and indispensable part of local law enforcement investigative operations. "At some point FDLE is going to say, we're not responding, and we need to be prepared for that. That's why it's here," Staly said. (Pazarena will report to Steve Cole, who heads the Sheriff's Office's investigative division.)
The Sheriff's Office invested $35,000 in a van and equipment, essentially Pazarena's lab. And it has just sealed a $75,000 one-year deal with DNA Labs International, a Deerfield Beach-based private lab that will provide DNA tests exclusively in burglaries and property crimes. Testing is very expensive, can be very slow, and at times unattainable: because the FDLE's crime labs have a limited budget, they focus on violent crimes–with homicides, attempted murders and rapes among their priorities–and will continue to do so for the Flagler Sheriff's Office.
"FDLE simply can't process the volume and they can't concentrate on the burglaries," says Christine Harris, director of business development for DNA Labs. By contracting with the private lab, the Sheriff's Office will have a relatively swift way of also focusing on a major area of concern locally–property crimes–and doing so with DNA testing relatively fast: the typical turn-around time will be about four weeks between submission of evidence and a written report.
Deputies, of course, won't be able to send for testing without going through rigorous steps first: each test costs roughly $200 (for starters), though the costs can be higher, and add up fast, on a single case involving a lot of evidence. The new contract with the sheriff equates to an allowance of around 400 DNA tests, Harris said, though for the Sheriff's Office, much investigative work continue to be performed through FDLE.
Monday afternoon, Harris was at the Sheriff's Office, providing some training to almost two dozen detectives and other sheriff's personnel–among them Pazarena–on becoming conversant with the techniques of DNA collection. (The Sheriff's Office invited members of the media to sit in on the training session.)
The session sought to dispel common misconceptions about DNA. Though it's more reliable than fingerprints, and the likelihood of a DNA match applying to two people is so remote as to make it virtually impossible, securing a valid DNA sample and matching it to a suspect can itself be very difficult.
"There's never a guarantee that we're going to be able to get you a DNA profile," Harris said. DNA samples can be very easily contaminated, stored improperly, too degraded by the time they're found, if it's found. "We don't have a magic wand in our lab, you don't have a magic wand at the scene, sometimes it's just not there," she said. And as far as DNA left at property crime scenes, it's the much more elusive "touch" kind–the kind that is left behind by a suspect turning a door knob or drinking from a bottle or holding a television that somehow is left behind.
Collecting that sort of DNA takes patience and smarts, Harris said, down to the need to swab the given surface not for a few seconds,but for a couple of minutes. And going back and doing it again. Burglars don't leave behind the traditionally reliable DNA samples (blood or semen) but they can leave behind saliva or sweat. So do investigators, Harris said, which requires them to approach a crime scene with extreme care not to contaminate it by so much as talking: that projects DNA samples that can ruin a suspect's samples. "Touch" DNA samples account for 89 percent of all DNA evidence collected, according to one survey conducted by the Palm Beach County Sheriff's Office Forensic Biology Unit, based on 1,286 property crime cases it outsourced to a private lab from 2009 to 2011. Most of the rest of the samples were from saliva.
"We think it's important to bring the technology of the 21st century into the agency, so that's why we're doing the touch DNA," Staly said. (Curiously, the emblem on Pazarena's mobile CSI unit remains two standards of the pre-DNA age: the fingerprint and the magnifying glass.)
The Flagler Sheriff's Office's venture into broader DNA testing does not, for now, cross civil liberties boundaries: the DNA is collected only at crime scenes. All DNA results will be entered into DNA Labs' growing database (which includes databases from some 140 police agencies, more than 100 of them in Florida), and samples that meet the FDLE's standards may be conveyed to the FBI's Combined DNA Index System. But while all convicted felons are required to provide DNA samples, others may do so only with their consent, as DNA collection is still considered a search under Florida law.
That could change: Florida could join 28 states that routinely allow police to collect DNA samples from people merely arrested and suspected of crimes, but not yet convicted. It's a controversial practice civil liberties advocates have long opposed. But in a divided 5-4 opinion just last spring, the United States Supreme Court ruled the practice legal, saying (in Justice Anthony Kennedy's majority opinion) that cheek-swabbing is not that intrusive, so it doesn;t rate under the 4th Amendment's protections.
Today's training session also leaves unclear another gray area. Since property crimes are by definition committed in violation of individuals' property rights–in homes, in cars, in offices–numerous DNA samples will be collected and databased that will belong to law-abiding citizens, rather than to suspects.