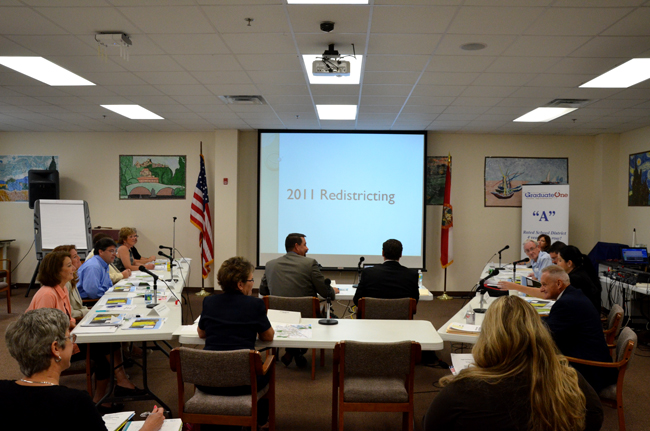 Like a boy-girl arrangement at a dinner party but with political office for gender, seating alternated county commissioners and school board members to emphasize cooperation and co-mingled voters: Flagler County's two most powerful boards met Tuesday afternoon to talk redistricting, the decennial exercise that political jurisdictions must go through to draw new voting boundaries in accordance with new census results.
The exercise can be high-intensity politics, even though it is usually of far lesser interest to voters than it is to politicians. State lawmakers use it to rig voting districts to the advantage of whichever political party is in control: Republicans are doing it now just as Democrats did it for decades before them, when they were in the majority. The politics are more muted locally, though the process can get messy, as it very much did when Palm Coast went through redistricting in May and June until the Palm Coast City Council cleaned up the mess created by the redistricting commission it had appointed.
County Commission Chairman Alan Peterson attended several of those city redistricting meetings to educate himself on what to do–and what not to do. Lesson one: don't appoint a commission.
Craig Coffey, the county administrator, was the master of ceremonies at Tuesday's meeting. County staff had prepared six redistricting plans. In less than an hour, county and school board members had voted to pare down the list to three with hardly any disagreements or contention. The public gets to weigh in on the three proposals at two public hearings, on Sept. 6 (at 5:30 p.m.) and Sept. 7 (at 9:30 a.m., both at the main chamber of the Government Services Building). The county and school board will meet again on Sept. 21 to to select the final boundaries.
The county's 2010 population is 95,696. The five districts must be well-balanced, with populations ranging between 18,182 and 20,096. Only one district falls in that range–that of county commissioner Milissa Hilland and school board member John Fischer, but barely, with a population of 18,201. The most unbalanced district is that of commissioner George Hanns and school board member Sue Dickinson, with a population of 12,436. Here's the breakdown by district:
County District
County Commissioner
School District
Board Member
Current Population
1
Alan Peterson*
1
Andy Dance
22,119
2
Milissa Holland
5
John Fischer
18,201
3
Barbara Revels*
2
Colleen Conklin*
21,200
4
Nate McLaughlin
3
Trevor Tucker
21,740
5
George Hanns*
4
Sue Dickinson*
12,436
*Seat up for election in 2012.
Total district population: 19,139. Optimum population for each district: 19,139.
By the time the two boards were done voting, they'd narrowed the options to Plans 4, 6 and 3, in that order of preference.
You can see all the plans in the powerpoint presentation below:
Redistricting matters little to local voters because they'll be voting no matter what, particularly in local races: all seats are at-large, meaning that all voters vote for all districts. It matters more to politicians–incumbents and potential candidates–because redistricting boundaries define who may run from what district. The five county commissioners and five school board members represent five districts. The boundaries are the same for the county and the school board.
Even though voters across the county vote for school board and county commission members from all five districts, candidates running for a particular district must live in that district. So redistricting has the potential to bump off a candidate from one district and put him or her in another, which could also affect that candidate's decision to run–or not run, depending on who's up for re-election.
Take the rumor that swirled around Jon Netts, the Palm Coast mayor, who, according to some county commissioners, was considering running for the county commission, but only if redistricting realigned boundaries to enable a run from Commissioner George Hanns's district. Netts had, in fact, asked Hanns whether he was planning to run again, Hanns said. Asked about that in June, Netts himself had said: "Who knows. Who knows. At this point I have no interest in running for the county commission. Who knows what tomorrow is going to bring. And I'm not trying to be coy, but right now it's not on my radar screen."
Netts happens to be in Commissioner Milissa Holland's district at the moment: he would never run against her, the two being close allies. But there's little love between Netts and Hanns, who have sparred publicly. And the $50,000 pay on the county commission is five times that of the Palm Coast council. Netts might have taken a shot at that district, and at Hanns, had boundary lines favored him. They didn't: According to the three plans the school board and the county commission picked on Tuesday, Netts remains in Hollands's district.