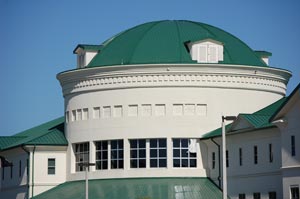 Around Easter Day on April 4, 2010, recruitment fliers signed by the Ku Klux Klan were distributed in two or three neighborhoods in Palm Coast. Residents found the fliers on their driveway. At a meeting between county and many elected city officials on April 13, Palm Coast Mayor Jon Netts, without mentioning the KKK by name, said he was concerned that the fliers were distributed. He suggested that the county and the cities author a statement denouncing the act and re-asserting Flagler's diversity. It wasn't clear at the meeting whether all government agencies would sign the same statement, write their own, or do nothing. Flagler County Commissioner George Haans, who also did not mention the KKK by name, directed his staff to write such a statement. The statement was written by County Communications Director Carl Laundrie and Deputy Administrator Sally Sherman, and approved by County Administrator Craig Coffey. It was not reviewed by the commission before it was posted on the county Web site on April 15. The statement appears beneath the following headline: "Flagler County issues statement on recent flyer in Palm Coast …." It was not posted on the commission's home page, but on the site's index of news releases. The statement follows.


The Flagler County Board of County Commissioners is proud of the diversity of people who choose to make Flagler County their home. Flagler County is enriched by its wealth of ethnic and racial diversity.
The Commission adheres to the First Amendment right of every citizen to speak openly and freely but every now and then that right is sorely tested.
Such an occasion occurred in the City of Palm Coast recently. A printed document left on driveways and dropped off door-to-door made disparaging remarks about our neighbors and friends.
The Flagler County Commission, as an elected body is entrusted by the voters of Flagler County to oversee County government, wishes to go on record denouncing the intolerance and thoughtless words of a few individuals.
The Flagler County Commission proudly endorses the work of countless residents who work toward establishing a harmonious community. County residents not only treat every individual with respect and dignity, but also take part in celebrating the diversity of cultures in the County by attending festivals put on by the various ethnic clubs and organizations to enjoy each other, the food, music and customs of many lands.
The Flagler County Board of County Commissioners proclaim that the County is a better place to live because of its diversity.