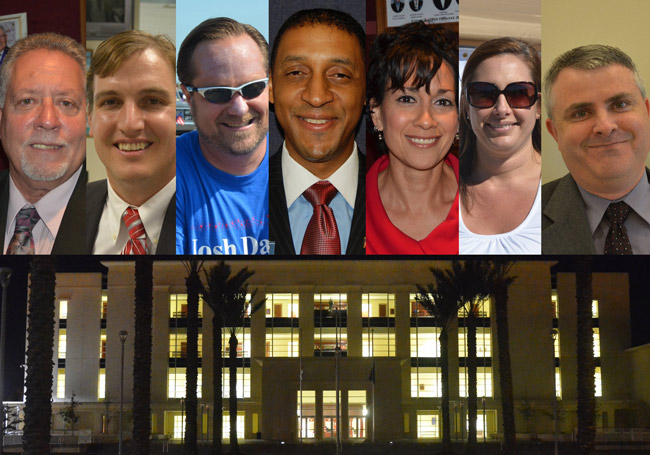 One of the lesser of the great Monty Python skits features Michael Palin and Eric Idle overdressed as a bewigged and accented magistrate and a lawyer walking out of the courtroom to the stately sound of brassy music. They then begin doffing the day's wardrobe and pretensions, revealing themselves as flaming gay men who could barely contain their lust for a parade of apparently gorgeous lawyers they'd sustained all day. "After a bit all I could do is bang my little gavel," goes Idle. That, from the cultural tradition that gave us Shakespeare's homicidal suggestion about what to do with all the lawyers.
In Flagler County, the wings aren't getting doffed. They're getting primmed and powdered, the flying circus of the moment being a mostly humorless election for county judge. No less than seven more or less local lawyers have thrown in their lot to contend for the $134,000-a-year Flagler County Judge seat Sharon Atack is vacating at the end of the year. That's one more lawyer than the six who ran for the four-county circuit judge position that opened in Flagler two years ago (Dennis Craig won it). The county judge position's jurisdiction extends no further than Flagler's borders.
Whoever wins this seat may be in it for a long time. Atack has occupied it since 1995. Her late husband held the seat for 14 years before he died of cancer. A county judge will directly affect the lives of thousands of residents in any given year. That makes it arguably the single most important election on the local ballot this year.
All registered voters in Flagler County may cast a vote in that race come Aug. 14, or during early voting, regardless of party affiliation: it's a non-partisan race. Unlike, say, the school board race, whose candidates pretend to be non-partisan on paper while behaving like party hacks any other time, judicial candidates do a better job of hiding their political preferences.
The candidates are Don Appignani, Craig Atack (Sharon's son), Josh Davis, Marc Dwyer, Sharon Feliciano, Melissa Moore-Stens and W. Scott Westbrook. If none of the candidates wins with 50 percent or more of the vote, then the top two vote-getters will head to a run-off in the Nov. 6 general election.
Each participated in the FlaglerLive interview, an original set of 14 questions supplemented with follow-ups. Lawyers–these lawyers, anyway–know their English. They know how to turn the occasional phrase, as when Dwyer wrote of how his father's temperament informed his: "His natural coolness which I inherited, and the example of patience he set being married to my fiery Mother for 51 years is mostly responsible."
And they can think, often past cliches and rehearsed answers, though there were quite a few of those. Most of the candidates pretended not to have prejudices, which ranks them in a rare class of their own in the history of humanity, and most said that the salary had little to nothing to do with their desire to run (Appignani was the exception: he was candid enough to say that at his age, nearing 60, the pension, rather than the salary, had something to be said for it). All but one refused to assess the other candidates, as asked. Westbrook was the exception, providing a cleverly critical verdict on each of his opponents to contrast his qualities against theirs.
The candidate's complete answers have been provided, edited only for style. They were asked about their temperament, their judicial philosophy (few answered that one), their experience in civil law, their ego ("Perhaps only an egotist can assess the scale of his or her own ego," Feliciano said), their strategies dealing with litigants or defendants representing themselves, how they intend to weigh witnesses' credibility, and so on. They are free to add to their answers if they so choose, but not to edit out anything once the answers have posted.
Each Candidate has his or her own page. Pull up to a mug of dark roast and click through: