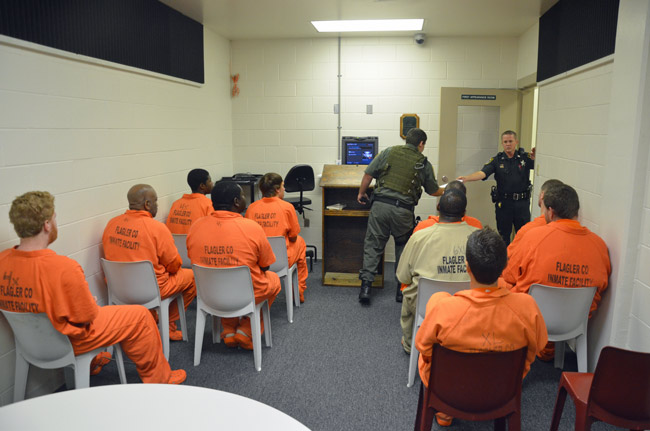 Here's where things stood at the Flagler County jail this morning: there were 148 inmates in a facility built for 132. Of those, 128 were men, including two juveniles, and 20 were women. The building went up in the early 1990s, when it held 30 to 40 inmates, and when weeks could go by without a single woman being jailed. The place wasn't built for women. Nor was it built for boys.
In the felony cell block, five inmates reclined on cots in a cell made for four. (The cell block was on lockdown for most of the inmates there, who had refused to make their beds and properly clean up by the morning's inspection. So they couldn't mill about the common area.) In the women's cell block, built for 14, there were 18 cots, plus one in a corner on the floor. Women facing felony charges should be kept separate from women facing misdemeanor charges, but the jail doesn't have that luxury.
Several women played cards at a table near the middle of the rectangular-shaped dorm. Unlike guards for felony and misdemeanor cell blocks, who could operate from within a secure area, separate from immediate contact with inmates, the jail guard on duty for the women shared space with them, the line demarcating inmate space from guard space marked by yellow tape on the floor. Call it one of several design flaws in a jail with several such flaws, reflecting expectations that are either outdated or that have been overwhelmed by numbers.
Lobbying for Expansion
Those problems have led Flagler County Sheriff Don Fleming to re-start a serious discussion, halted for several years by the housing crash and diminishing tax revenue, on either expanding the jail or building a new one.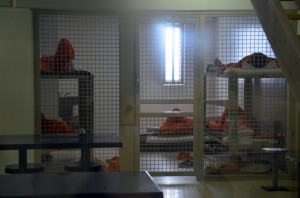 The Flagler County Commission is making a jail expansion the centerpiece of its proposal to voters if the commission succeeds in placing an extension of the existing half-cent sales tax on the ballot come summer or fall. A jail expansion would cost from $10 to $15 million, not including the additional cost of running the larger jail, which could add $3 million in recurring annual costs. Absent that sales tax extension, it would be very difficult for the county expand the jail, and absent new revenue, in addition to that sales tax (which can't be used to pay for ongoing operations) it would be impossible to pay for the recurring costs.
A jail, of course is not a school or a park or a paved street: it's not visible to most residents, though it's usually taken for granted. Most residents don't know what kind of challenges the sheriff, his jail director and her staff of 48 sworn officers and 10 full-time civilians are contending with at the jail, so it's up to the commission and the sheriff's office to convince voters that an expansion is necessary.
Undesirable Bench-Warming
Becky Quintieri, the jail director since 2008—and a civilian member of the jail staff for two decades—took a reporter on a tour this morning to illustrate what the sheriff and Circuit Judge Raul Zambrano had spoken off at a joint meeting of the county's governments on April 10: overcrowding is not just a matter of stacking additional cots or piling in an extra inmate per cell, or of navigating corridors that have become storage areas.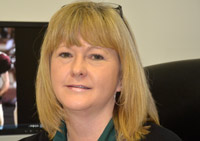 The intake zone—where suspects get their very first look at the inside of the jail, where they're processed, searched, booked, changed into orange jumpsuits—was expanded just a few years ago, with improved holding cells and greater room for a crucial part of the operation: inmates tend to act out the most when they're being booked in. But the four holding cells are usually used up by other inmates who must be kept separate from the rest of the population for various reasons. There are no other places to isolate them.
"That means I have no cell to go put that person in down there in the booking area," when a new inmate first gets to the jail, Quintieri said. "So they're sitting on a bench. Hopefully they're cooperative."
Contrary to some perceptions, it's not a warehouse for low-grade, non-violent offenders, although the overwhelming majority have yet to be tried or sentenced. Of the 148 inmates in jail this morning, 115 are there on felony charges (including the juveniles), awaiting trial. Just two are sentenced felons. All but five of the remaining inmates (26 of them) are there on misdemeanor charges, awaiting trial or, more likely, the plea bargain or trial diversion program that, for most of them, will keep them out of jail.
Separation Anxiety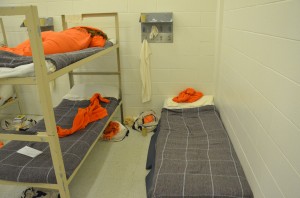 That's just the raw numbers, which don't get into more intricate issues. Women have to be kept separate from men. Misdemeanors have to be kept separate from felonies. There are several individuals facing sex offense charges. They have to be kept separate from the rest. Two suspects facing murder charges also have to be kept separate. Both of them are high-profile suspects: William Merrill, who shot and killed his wife and faces a manslaughter charge, and Paul Miller, who faces a second-degree murder charge for shooting his neighbor to death. Inmates punished for breaking jail rules have to be isolated. Inmates detoxing from drugs or alcohol must be kept separate. Inmates who have assaulted deputies or guards must be kept separate.
The list goes on. The daily challenge is figuring out how to make it all work, without mixing inmates in such a way that it would endanger their safety or the staff's, or go against state standards of incarceration.
"It's kind of a shell game we play here," Quintieri says. "That's what my supervisors do every day is figure out who are the lesser of two evils to move out," when additional inmates are brought in and not enough are leaving. That's in addition to the shell game in court, where Flagler County Judge Sharon Atack and Zambrano, public defenders and prosecutors go through their own dance steps to (prosecutorial book-throwing aside) minimize burdens on the jail, where it costs $92 a day, or $33,500 a year, to house an inmate. That's almost the cost of a first-year teacher in public school.
Coddling Fallacies
Quintieri is familiar with the argument that inmates should not be coddled and their comforts expressly minimized, whether through overcrowding or by setting them up in tents, the way Arizona's Joe Arpaio, a sheriff who prides himself on retrograde techniques such as tents and humiliation as a punishing tactic, has done. She's not impressed with the approach, which she says would cost just as much in supervision and possibly more in litigation: overcrowding causes fights. Fights are costly on many levels, including overtime for deputies who must take the injured to hospitals, medical bills the system must bear, the always present risk of inmate litigation, which runs up its own bills quickly, and the possibility of additional charges on the inmates who fought, which would only add to their time in jail—at $92 a day to taxpayers.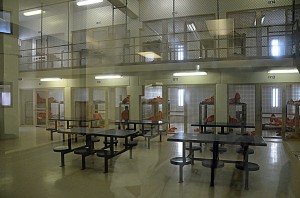 Exporting inmates is not an option: "Another county isn't going to take my problem inmates," Quintieri says, and with a local jail, where most of the inmates are awaiting trial, transporting inmates to and from court is costly, and becomes costlier when a deputy has to log miles and overtime to go to another county for the shuttling. The jail has eliminated its library in order to make room for one efficiency: a pseudo-courtroom, where inmates sit in rows on chairs, as if in a makeshift church, facing a computer screen and a camera, which, when live, is a direct link to the judge at the courthouse. That has saved the cost of in-person arraignments without diminishing the court's role. But one benefit is the source of another constraint: the room is also the only one that inmates can use to meet with their attorney. When the makeshift court is in session, meetings are difficult. (The library is gone, but inmates still get paperbacks through donations to the jail. Hardbacks are not accepted because the cardboard binding can be turned into a weapon.)
What Other States Are Doing
On the other hands, there hasn't been serious issues at the jail for several years, other than routine problems that would happen in any jail regardless of its size or amenities (fights between inmates, inmates assaulting guards). Fleming takes pride in the way his jail has been run on Quintieri's watch, with Capt. Sam Ferris supervising the uniformed officers. But the point Zambrano and Fleming made to local government officials was that the jail's accommodations can only go so far as the population of the county begins to creep upward again, and incarceration rates—while low for Flagler—add pressure to jail more people.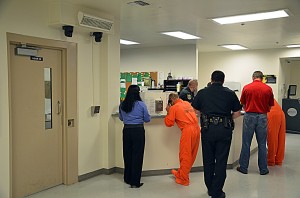 It's not that the lock-'em-up mentality isn't changing. Several states, and ironically all of them led by Republicans who once championed harsh sentencing laws, are softening their laws to reduce the number of people going to jail and prison. Oklahoma, for example, last year passed a law that lets non-violent offenders doing five years or less get out after 90 days, spending the rest of their sentence under GPS tracking. In Texas, non-violent drug or property crime offenders have seen their probation reduced to five years, from 10. In Alabama, since 2011, felons who violate probation—a common problem in Florida—serve a maximum of 90 days in prison. In Louisiana, since last year, first-time non-violent criminals can go on parole after serving a quarter of their sentence, down from a third.
Ohio, South Carolina and Mississippi have all adopted softer sentencing laws since 2008. Florida is not there yet, and there has yet to be a movement, whether led by local governments or by state legislators, to reform laws that would relieve the pressure on prisons and jails. So it's up to judges and local jail administrators to deal with the resulting consequences—the "shell game" Quintieri described within the jail, and the hat-passing to taxpayers that the sheriff and the county commission are enacting now.