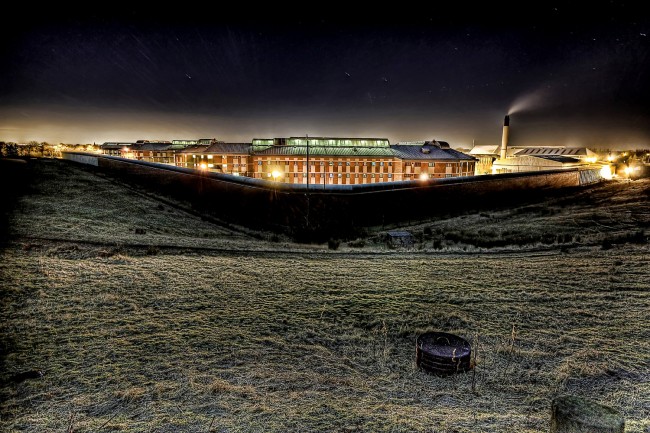 Ian Carroll writes of the picture he took above: "Since I got into photography in Nov 2008 I've found myself in places I really shouldn't be. Why is this? Is it my desire to capture the unique images that others haven't yet done? May be. What ever the reason, I get a buzz from it. When I took this shot it was so dark I didn't notice that little hut just outside the prison wall. I reckon that would make excellent cover to grab a close up of the wall. I can just picture the texture of the wall now! I was pressed right up against a barbed wire fence to capture this angle. I'll attempt a close up tomorrow night so check back here! BTW, I've never heard the sounds of a prison at night before, or, even thought it would have sounds. As I stood there on the hill side over looking the prison, the sound of the bitterly cold wind was broken up with distant cries and whaling…almost wolf like sounds. Not a nice place." See his photostream.
Carroll's reflection about the sounds he heard reminded us of Nabokov's description, in Bend Sinister, his 1947 novel, of "the usual nocturnal sounds peculiar to great prisons: the occasional akh-kha-kha-akha yawn of a guard, the laborious mumble of sleepless elderly prisoners studying their English grammar books (My aunt has a visa. Uncle Saul wants to see Uncle Samuel. The child is bold.), the heartbeats of younger men noiselessly digging an underground passage to freedom and recapture, the pattering sound made by the excrementa of bats, the cautious crackling of a page which had been viciously crumpled and thrown into the wastebasket and was making a pitiful effort to uncrumple itself and live just a little longer."
And of course this from Tom Wolfe's A Man in Full, the 1998 novel rich in set pieces that put a mirror to some of America's more severe pathologies, including its prisons. This is from Chapter 15, "The Rubber Room," with the young idealist Conrad Hensley–the only character Wolffe doesn't satirize–now in prison: "Conrad sat on the concrete floor of his cell with his back against the wall, his knees drawn up, his arms around his knees, his head down, his eyes closed, letting the whole absurd symphony run through his head, trying to keep out every thought. . . Buh huh huh huh bubba boooooo uh-oo000000000000, the long soft ripe soupy notes of Grover Washington's saxophone . . . Scrack scrack scrack scrack scraaaaaaaaccccckkkkkkk~~th, the grinding screech of the attic fans . . . Motherfuckin' motherfuckin' rnotherfuckin' motherfuckin', the motherfuckin' chorus of one and all . . Thragooooooom thragooooooom, the roar of the toilets flushing. . . Glug glug glug glug glug glug glug, the sucking noise they made when they finished flushing . . . and then motherfuckin' inotherfuckin' motherfuckin' motherfuckin' all over again."
Tom Wolfe's latest novel, Back to Blood, set in Miami and centered on immigration, will be published in October.

Following are the daily booking reports for the Flagler County jail, as provided by the Flagler County Sheriff's Office. The jail is located at 1002 Justice Lane in Bunnell, and can be reached at (386) 586-4860.
Last week's bookings reports are here.
To search for inmates, past or present, on the sheriff's website, go here.
To send mail to inmates at the Flagler County jail, the envelope must be addressed in the following manner:
Inmate Booking Number (RE: John Smith – 07-000000)
1002 Justice Lane
Bunnell, Florida, 32110
Visits at the Flagler County jail are limited to one hour. A maximum of two people may visit per hour. However, only one person will be allowed into the visitation room at a time. Children under the age of 12 are not permitted to visit. Children 12 to 17 are permitted to visit with an adult who is on the visitation list, and must be immediate family only. A Birth Certificate to prove relationship is required. Photo identification, such as a drivers license is required of each adult visitor. Visitors must arrive 15 minutes before the appointment time or they will not be allowed to visit. All visitors are subject to search. See the full visitation brochure here.

Feb. 16-17, 2012
Flagler County Jail Bookings, Feb. 16-17, 2012

Feb. 15-16, 2012
Flagler County Jail Bookings, Feb. 15-16, 2012

Feb. 14-15, 2012
Flagler County Jail Bookings, Feb. 14-15, 2012

Feb. 13-14, 2012
Flagler County Jail bookings, Feb. 13-14, 2011

Feb. 10-13, 2012