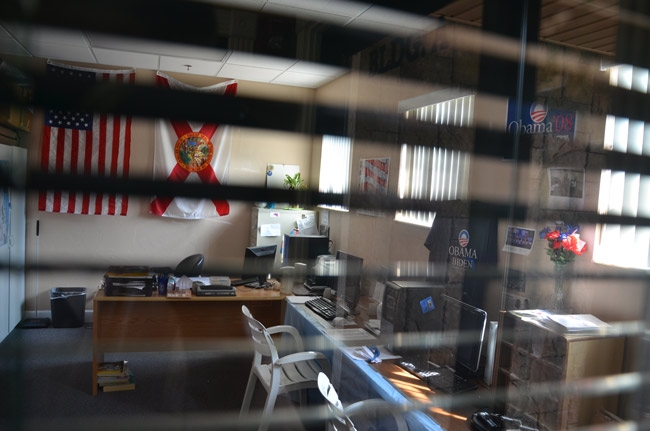 Past due on its rent since late last year, the Flagler County Democratic Party is getting evicted from the office it's rented on Hargrove Grade in Palm Coast since September 2007.
Dan Parham, chairman of the Democratic Executive Committee, and Doug Courtney, as co-signers on the lease, were personally served eviction papers filed in Flagler County Circuit Court by their landlord, Marketable Enterprises Inc. They're personally liable for the charges.
Democratic Party members have been divided over the validity of keeping an office, Parham said, and the membership has been slow to contribute money for routine expenses. "There are people who didn't like the idea that we were spending money on the office," Parham said. "Because of that, there were not contributions coming in, and so because of that the finances are not where they should be." The group has less than $100 in its till.
"It's not the way you want to look, and I'd much prefer that we didn't look this way," Parham said. "We're going to look like a rinky-dink organization, and it's going to be harder to get people to work with us."
Others in the party see the eviction as reflective of Parham's lack of organizational and managerial skills. There's been friction between the executive committee Parham chairs and the Flagler County Democratic Club that operates under the committee's umbrella. So club members who see their organization as more vibrant than the committee have been less eager to come to Parham's aid.
The timing of the eviction, during a major election year is not helping, though Democrats aren't the only local political organization having its issues this winter. Tea party activists are agonizing over dwindling numbers. And two days after the Democrats got their eviction notice, one wing of Republicans sued another—the Republican Executive Committee and its chairman, Nancy Prizer—over internal disagreements about who belongs in the organization.
The Flagler County Democrats' office at 1 Hargrove Grade is a one-room nook in the larger office building. Rent is $334 a month. The last time it was paid on time consistently goes back to last summer. Since then, it was paid on time only in September. July, August, October and November rent was late, incurring an extra $100 fee each time. On Jan. 13, the landlord sent Parham and the Democrats an $869 bill and a three-day deadline to make good on it to avoid eviction proceedings. The bill wasn't paid, and eviction proceedings started.
Parham said he'd know more next week whether the Democrats will continue to have that office. He'd prefer to keep it. Others are opposed. Divisions within the party have resulted, Parham, said, in part from his attempt to keep a tight rein on rules and procedures because of new state laws that easily penalize political groups that don't follow the rules.
"The game has changed somewhat and there is a real, real threat to try to catch us doing something wrong," Parham said. "The state party has been very explicit to come up with guidelines that we basically impose on ourselves" to ensure that no lawsuits are filed by the opposition—the type of lawsuits that could create problems for the president campaigning for reelection in Florida. "It doesn't have to be something that's sustained. All they have to do is create some kind of stalling tactic, tie you up in court."
Having an office gives the local party more visibility and a focal point for people looking to get involved, Parham said (even though the Hargrove Grade location is not itself visible or much of a focal point: there is no random traffic going into the industrial and commercial zone. Unless people have business there, they don't drive by, nor are there the sort of shops or eateries that may attract random traffic. "I do not think not having an office is really going to hurt with what we're trying to do as far as actually going out and doing things," Parham said. "Where it will hurt is, it removes a place where people who are not involved and they're looking to get involved–they'll  have a more difficult time finding us."
The office is designed to help the local Democrats achieve their primary goal: to get more Democrats elected. That's not been going well. Parham was disheartened by Democrat Holsey Moorman's defeat in the last Palm Coast City Council election, which Parham blamed on lack of interest among Democratic voters. But he's been less successful at getting qualified candidates to run for many offices.
Most local elected offices are controlled by Republicans, who have majorities on every local government except the county commission. Few Democrats are contesting Republican seats (though Republicans are engaged in free-for-alls for those seats), which diminishes activists' involvement and contributions. Democrats hold just one constitutional office—that of the Supervisor of Elections. Democrats have few hopes of holding on to that office. Even Parham concedes that Kimberle Weeks is in "very, very, very deep trouble" if she doesn't get support from both parties. Given Weeks' abrasive relations with the county commission in the past four years, that support is not there. Three Republicans are running for the position.
"I'm not a person who just likes to run people. If a person doesn't have what it takes or appears to have what it tales, all you're doing is shuffling paper as far as I'm concerned," Parham said.