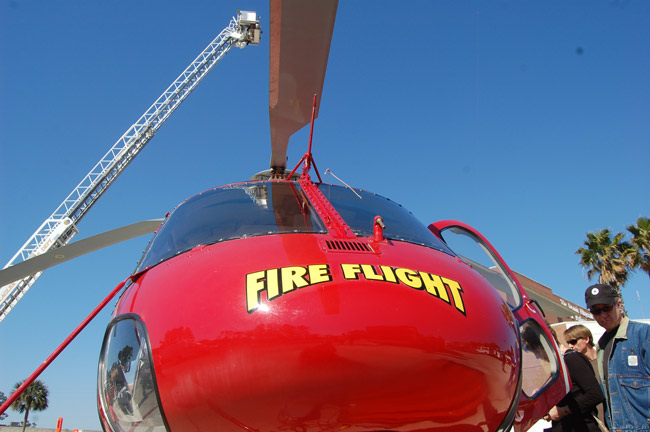 Last Updated: 2:01 p.m.
Flagler County Administrator Craig Coffey on three occasions at this morning's meeting of the county commission assured commissioners that they're not facing a crisis. The numbers he laid out and the many cautions he laid out say otherwise, including the need to cut more positions and reduce services.
The county is facing a $5.65 million deficit, or budget "gap," as the administration prefers to call it, in its 2012-13 budget. (That fiscal year begins September 1.) The deficit is $2.35 million larger than Coffey had estimated two months ago, in part because of additional costs the state is passing on to the county, and in large part because of yet another drop in property values (which reduce property tax revenue) and an accounting problem auditors picked out when they saw how the county had been budgeting its ambulance services over the years: the county was mistakenly budgeting on amounts billed, not amounts collected, resulting in a $1.3 million gap. That earlier gap was also based on providing cost-of-living pay increases to government employees, which would have cost $750,000. But that proposal was eliminated before today's discussion (otherwise the overall deficit would have topped $6 million).
"We're not in a crisis mode. This year like any other year we've got to make adjustments," Coffey said. But this time the county has few options to make up the deficit the way it has in the past–by looking for more efficient ways of operating. It's already done that. It's deferred buying new equipment, deferred capital projects, and cut government operations as much as it could. Now it's a matter of whether the county wants to keep existing services, and to do so, it would have to either find new revenue. It can raise a variety of taxes or impose new ones. It can use some of its reserves. It can cut existing services. Whatever it does, it cannot bank on an improvement in coming years.
"We can ride out the storm, but it's going to be a long storm, it's a four-year trend," Coffey said, cautioning commissioners against using too much of their reserves for recurring costs, and cautioning them about two proposed constitutional amendments on the November ballot (Amendment 4 and Amendment 3) that, if approved by voters, would cut future property tax revenue yet again while likely leading the state to shift more burdens to counties and cities. Coffey also explicitly recommended against nickel-and-dime belt-tightening. "I recommend you focus and say—what services don't we want to do, because that's what we've got to make, a basic service adjustment of what we provide," Coffey said.
"I will have to reduce positions, I don't want to go into details," Coffey said, estimating between seven and 10 positions overall. "These are positions that will have minimal effect on the level of service. Well, I won't say minimal effect. They will have an effect on the level of service."
Commissioners wrestled with the kind of identity they want for the county: should it stay what it has been, or should it become a "shoestring county," in County Commissioner Nate McLaughlin's words.
Ahead of today's meeting Flagler County Sheriff Don Fleming agreed to cut his budget by $1 million by essentially cutting police services significantly: he's not filling eight vacant deputies' positions, among other cuts. That reduced the county's gap by $1 million. "I tell you right out the gate I'm not comfortable with the sheriff cutting his budget by as much as he did," Commissioner Nate McLaughlin said.
Commissioners this morning also agreed to use at least $1 million from their reserves. That reduced the deficit to $3.65 million. Talk then turned to taxes and services: raising property taxes, imposing a new sales tax and cutting services.
This is where the discussion got "murky," in McLaughlin's words, for a couple of reasons: the county right now has a half-cent sales tax in effect. That tax expires in December. Commissioners would like it renewed. They want to bond the revenue and build a new jail (or a jail expansion). But the county and Palm Coast have not agreed on how to split the revenue. Flagler wants its share increased, diminishing Palm Coast's significantly over the life of the tax. That's what's kept the proposed referendum from making it onto the Aug. 14 primary election ballot. The county's last chance is the November ballot. Commissioners would like to see the referendum there. And commissioners agreed to that much (vaguely: they're not going to be clear about the revenue-sharing formula until a meeting on July 2).
But even assuming the proposal makes it onto the ballot and passes, the revenue can't be used for the county's operations–that is, to fill in that remaining $3.65 million deficit.
Half of that money (or close to $2 million) can be generated by yet another sales tax, what's called a "small county sales tax." State law gives Flagler County the authority to impose an additional sales tax of up to 1 penny on the dollar. It can do so not by going to voters in a referendum, but by a super-majority vote: at least four of the five commissioners must agree to the tax.
Barbara Revels, who chairs the commission, sought agreement from the rest of the commissioners on a blend of additional or renewed taxes. "This is premature for us to say," Commissioner Milissa Holland said, referring specifically to the renewal of the existing sales tax: she's uncomfortable making that decision before having a clearer idea on how its revenue will be split with Palm Coast.
Prodded by Coffey, commissioners then started to talk about actual services, including, for example, grounding the county's Fire Flight helicopter–an idea that got no support because of the number of lives the helicopter saves, and the invaluable fire-spotting and firefighting it's been doing over the years. The commissioners were more eager to limit its flight hours, however, and fly it "on an essential need only," in Commissioner Alan Peterson's words.
They talked about skipping the purchase of a new, $435,000 fire truck, to replace a 17-year-old truck (an idea Commissioner Alan Peterson favored, but that Coffey did not. "It's time," Coffey said of the need to buy the truck this year). Not buying the truck is still a strong possibility. So are staff reductions and health care costs. Commissioners went through a list of services they were not willing to cut, including contributions to social services. But there was agreement to consider some reduction in services at the Flagler County Library, such as the reduction in hours (which would reduce two full-time positions to part-time positions). The Council on Aging too will remain, for now, a county service, though it might be revisited.
"I'm not recommending any of these," Coffey said, emphasizing the commission's role in setting priorities so he could draft an actual budget, due next month.
By afternoon commissioners looked ready to cobble together cuts in some services (particularly the library), yet unspecified staff cuts, capital cuts (the fire truck), and a few other one-time savings, plus the use of $1 million in reserves, reducing the deficit to about $1.8 million. That means the commission would then pass a half-cent sales tax on top of the existing sales tax supplement. Assuming voters approve the sales tax referendum in November, and the commission passes the additional sales tax, it would raise the sales tax Flagler County residents and visitors pay to 7.5 percent. That option, revels said, would keep the county from having to raise the property tax.
At precisely 2 p.m., McLaughlin, apparently inspired by Peterson's concern over hundreds of thousands of dollars in social services numbers shifted from one column or another, remembered that it was his wedding anniversary.