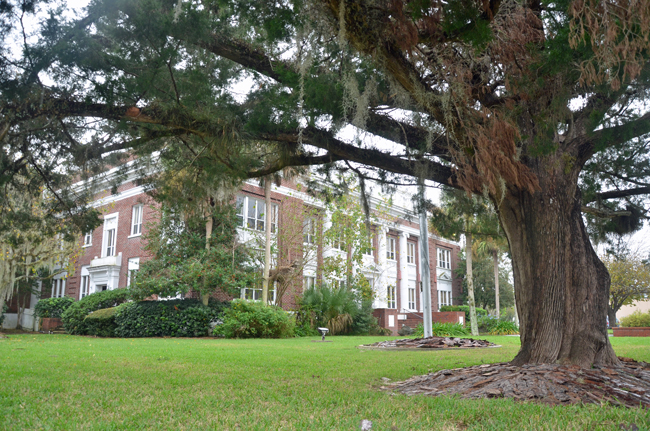 The Flagler County Commission voted on Nov. 18 to grant the old Flagler County Courthouse and annex to Bunnell at no cost, with some conditions. The Bunnell City Commission voted 3-2 on Nov. 25 to accept the 49,700 square foot building. Read the full story of that acquisition and its implications here.
Built in 1926, the old portion of the building is 87 years old and comprises 13,300 square feet. The annex was built in 1982, and consists of 36,400 square feet. Both sections are ins serious disrepair.
During their discussion Monday evening, Bunnell city commissioners raised questions about the extent of the problems within the building, most notably the potential presence of mold and leaks. Except for one commissioners, none had walked through the building recently, accepting it from the county sight unseen. A Bunnell city official took FlaglerLive through the building the afternoon of Nov. 22, making possible the following photo gallery, the first such comprehensive, public look inside the building since it was evacuated in 2007.

For best viewing, skip the slideshow and click on the first image itself, which will display in large format and resolution, then click through the remainder.
[nggallery id=106]