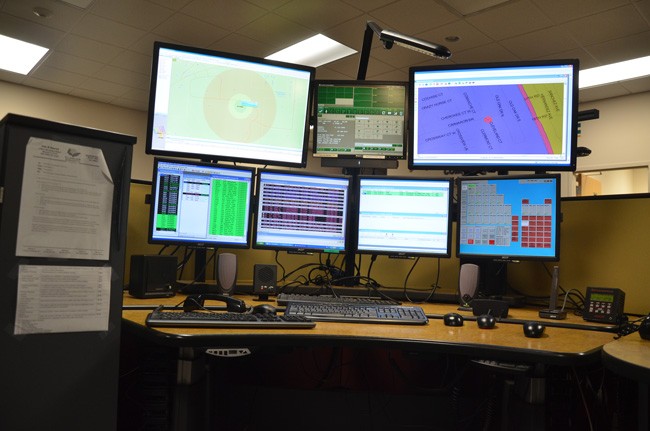 When Flagler County's 911 system went dark for 24 minutes at midday Tuesday,  technicians were at work on a $267,000 upgrade, the first in about six years. The problem was traced to conflicting IP addresses and fixed.
"We've been assured by AK Associates," Kevin Guthrie, Flagler County's Emergency Management Services director, said Friday, referring to the contractor who provides the 911 system to Flagler, "that that won't happen again. They've done extensive testing since to include five rounds of testing, and the problem hasn't happened again." The roll-over glitch, too, has been fixed: when the 911 system fails or is overwhelmed, calls are supposed to roll over to administrative lines. It didn't work on Tuesday because the conflict involved the 911 lines and the administrative lines.
AK Associates and Emergency Management have focused since on preparing to kick-in the upgraded system, scheduled for Feb. 4. Callers won't notice a difference. But there will be a difference in sharper, more precise dispatching as the upgrade will allow dispatcher to more quickly identify the origin of cell calls, which now account for nearly twice the volume of land-line calls.
An AK Associates technician and dispatchers demonstrated this afternoon how once a cell call dials 911, a screen initially displays a map of the cell tower where the call was routed, then, within instants, displays a map showing the exact location of the call's origin, enabling the dispatcher to relay that information to police or firefighters even if the caller is either unable to formulate the address or, as is often the case with visitors, unaware of it. All calls will also now be recorded onto a single database, rather than two previously, depending on which of the system's 10 trunk lines the call came through. That makes searching for calls easier. The system as a whole will also be more stable, Guthrie said.
---
Adjusting to the cell-phone age, with a goal to implement text-to-911 capabilities for the deaf and speech-disabled in the near future.
---
The system may raise Big Brother questions, but not to worry: "This is not NCIS and its not CSI," Gurthrie said, "we're not going to be able to ping a phone. We do not have ping technology. We don't have ping capability. What this is, I think what should put people's fears at ease is, this is a system when they call us, and they need us, then now we have better accuracy location to find them should they not be able to give us a specific address. This happens all the time. Somebody will call 911 from their cell phone, let's say at a 4th of July event, and they're not from this area, they say I have no idea where I'm at. We try to get them to find an address on a building because that's the best possible geographic location, give us the address of the building in front of you. Well, that might not be possible. At least now we have a better x-y coordinate of where that caller is calling from."
The system is paid for with an $83,000 grant from the E911 State Board, with the balance taken out of local dollars generated from the monthly 40 cents fee levied on every phone line. The fee revenue, about $37,000 a month, pays for the 911 system's personnel. Left-overs are invested in capital improvements such as the 911 upgrade. The 911 system is under the administrative arm of the county's Emergency Management department, but its dispatchers are sheriff's office employees. There are four dispatchers and a supervisor on each 12-hour shift. (Some of the desks, with their walls of computer arrays, are equipped with a treadmill or a stationary bicycle, enabling dispatchers who must sit there for a dozen hours periodically to exercise either for the sake of exercise or to stay alert.)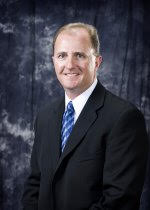 Gov. Rick Scott cut the 911 fee from 50 cents a month to 40 cents as part of his rolling pledges to cut taxes, even though Florida's 911 fees were already among the lowest in the nation, and some counties' 911 systems were to be hit harder than others by the cuts, though the 911 board made subsidies available for those that would be—but for one year only. Flagler's system has been sound, though Guthrie said "we could potentially see a funding issue."
As this upgrade goes forward, Emergency Management is exploring the next improvement: text-to-911 capability. Alachua is already exploring the system with a state grant. Guthrie said he's trying to add Flagler to that grant.
"People might say, well, why in the world would I want to text 911?" Guthrie explained. "Imagine you're in a building or whatnot and you have an active assailant. I use the word active assailant, a lot of people use the word active shooter, because shooter means somebody with a gun. Active assailant could be somebody with a knife, a stapler, a weapon of opportunity. So you're underneath your desk in your business and you can't talk, but you can text. So one of the things we're going to be looking at in Flagler County in cooperation with the sheriff's office is exploring text to 911 capability."
The Federal Communications Commission last August adopted an order requiring all cell or text messaging providers to enable users to text 911 in an emergency by the beginning of 2015. The FCC based its decision in part on the new realities of the communication age as 70 percent of cell phone users text, and texting is now widely used by the 48 million Americans who are deaf or hard of hearing—a fact especially relevant to places like Flagler where elderly populations dominate—or the 7.5 million Americans with speech disabilities, who cannot readily communicate with a dispatcher in a 911 emergency.
Last August the FCC reported that more than 100 emergency-911 call centers serving portions of 16 states and two entire states (Vermont and Maine) were accepting emergency texts, with some reports of lives saved because of the technology.
"That's something we're going to take a very, very serious look at in the next year," Guthrie said.