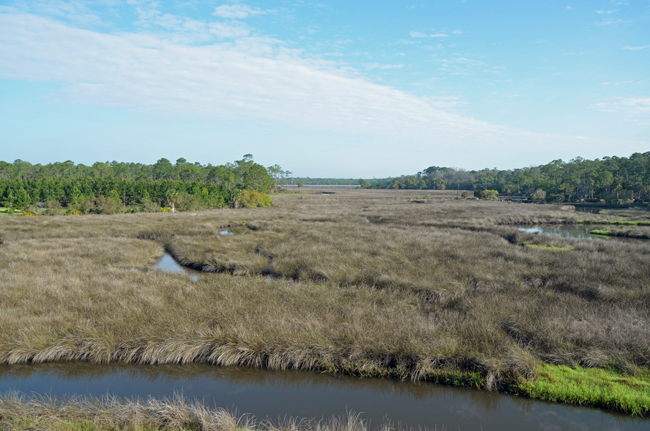 The Flagler County Commission on Tuesday gave its approval to a pair of proposals to build and run cottages for tourists and researchers at Princess Place and the River-to-Sea Preserve in Marineland, with an eye to expanding the cottage industry through other county parks. County Administrator Craig Coffee has been talking for several years about capitalizing on the county's environmental assets through "nature-based tourism."
The twin proposals would result in three cottages at the Princess Place Preserve costing $390,000. Those would be built with a combination of grant and county dollars (all but $60,000 of the county's contribution would be in-kind, through labor and equipment). The county would build an additional 10 cottages at the River to Sea Preserve in Marineland, shouldering most of the nearly $1 million cost through a $400,000 loan, a hoped-for $150,000 grant from the Tourist Development Council, park fees $300,000) and donations.
The three cottages at Princess Place are expected to generate $41,175 in revenue and cost the county $39,500 in operating costs. The 10 cottages at River-to-Sea would generate $189,000 in 2015, and cost $160,000 to run. In all, the county would net less than $35,000 from both operations, assuming that current cost projections are accurate, and assuming that optimistic occupancy rates of 40 to 60 percent hold up.
"I'm not going to tell you you're going to get rich off these things," Coffey said. "We are going to treat this like a business," Coffey said, but he did not want to call the operation an "enterprise fund"–that is, an autonomous government fund that's expected to break even or turn a profit, without drawing on taxpayer dollars.
"I don't want to set up an enterprise fund that doesn't pay for itself. I've seen a few of those in my time," Commissioner Frank Meeker said, referring–without saying so–to Palm Coast's enterprise funds set up to run the city's golf course and tennis center, both of which have been money pits. (Meeker, however, was part of the Palm Coast City Council that set up those funds.)
"We aren't truly setting up an enterprise fund, we're not setting up like a tennis center or a golf club," Coffee said.
"Well, that's what it looks like," Meekers aid. "I need these numbers to be wholesome because I don't want to spend taxpayers dollars on something that's going to lose money over the long term."
Still, the commission gave its go-ahead. "As far as the concept goes, everyone is very enthusiastic about this," Hanns said.
The cottages at Princess Place would primarily be used by researchers and environmental experts—the Guana Tolomato Matanzas National Estuarine Research Reserve, the Florida Department of Environmental Protection, the University of Florida's Whitney Lab in Marineland, among others. The county can only sustain three cottages at Princess Place, based on the preserve's current infrastructure. "You could knock out three fairly easily, doing 10 would take some time," Coffey said.
When not being used for research, the cottages would be rented to visitors at a higher rate, to offset their cost. Over time, additional cottages would be added. The three initial sites would be available for corporate retreats and family reunions, among other uses. "The initial cottages and all future cottages will strongly represent Flagler County's commitment to developing a strong eco-tourism base," the proposal's executive summary states.
"Overall, this is a drastically different approach that seeks to offer unique research opportunities and expand tourism offerings by generating county 'non-property tax' revenues using a basic business model," the summary states. "This approach is scalable and has the ability to be a countywide model for other county parks, shaping how nature-based tourism recreation is created, financed, and maintained. This in turn could lead to a stronger countywide park system that offers many types of amenities, in a variety of natural settings, at a higher level than would otherwise have been available had we not pursued this paradigm shift."
The 10 cottages at River to Sea would not be as restricted in their use. "I'm not looking to build rustic stuff, I'm looking to build highly marketable stuff," Coffey said.
Guiding principles, inspired by the National Park Service, include a limited footprint, eco-friendly design and architecture, creating a "sense of place," connecting with the research community and educating guests in innovative practices.
Coffey stressed that the initial projects will be testing the market for that sort of cottage, describing the approach as "putting our toes in the water, but we're not jumping in with a gazillion units."
Mark Martindale, who directs Whitney Laboratory in Marineland, lent his support to the project–he spoke to the commissioners through a brief phone connection–saying his operation often doesn't have the capacity to house visiting scholars and students. River to Sea would provide "a huge opportunity for scientists such as myself to attract the great minds of the country and around the world into Marineland."
As for unfair competition undercutting local hotels, Coffey dismissed the possibility. "Totally different experience," Coffey said. But Commissioner Nate McLaughlin, who chairs the Tourist Development Council–half of whose membership is made up of hoteliers–worries that the idea may raise different questions there.
"To me there's no downside," Kurt Allen of Marineland Dolphin Adventure said, as the cottages will broaden his attraction's appeal and reach by giving visitors a way to stay longer than a day's visit, for example.