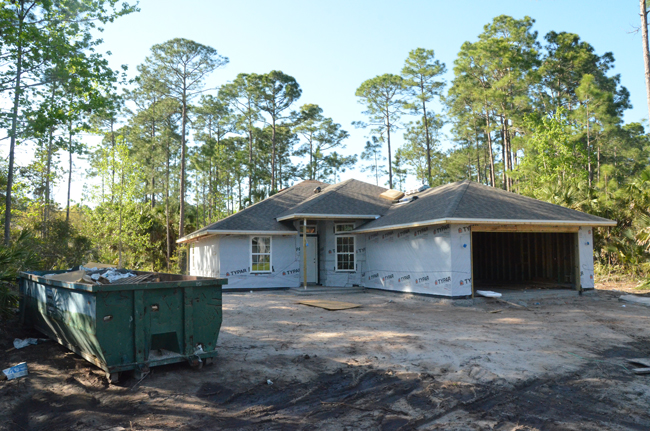 It's not an illusion: New construction continues its steady growth in Flagler County during the first quarter of 2014 according to a report presented to the county's Economic Opportunity Advisory Board this morning.
Jason Delorenzo, government affairs director of the Flagler County Homebuilders Association and a Palm Coast City Council member, said the first quarter of this year saw an increase in the number of single family home building permits issued for the same period in 2013.
"There was a 29 percent increase in the first quarter and we are getting continued encouraging numbers," Delorenzo said.
In the first quarter of this year, 126 construction permits were issued for single-family homes in Flagler County, most of them in Palm Coast. Bunnell issued just one permit, Flagler County had 34, and Palm Coast issued 88. Flagler Beach reported three permits, but Delorenzo said the figure did not include all of March as the city's final numbers aren't yet available. By the end of the first quarter in 2013, just 89 single family home permits were issued in the county.
"We have experienced nice growth over the last four years," Delorenzo added.
The housing industry was the mainstay of Palm Coast's and Flagler County's economy until the housing crash, starting in late 2006. Because of the county's disproportionate dependence on construction, when the bust took place, the county's unemployment rate soared. New construction provides local jobs and supports the local economy, and helps explain the sharp increase in net jobs in the last unemployment report. Delorenzo said new construction in the first quarter brought in $13.8 million dollars in local revenue. The 126 single family homes supported 352 jobs paying $10 million dollars in wages and another $2.5 million dollars in taxes and fees to local governments, he said. The numbers are based on home builders' estimate of what economic activity each new home generates.
Commercial construction also fared well in the first quarter. Commercial construction value for the first quarter totaled $491,625 as a result of the 18 permits issued in Flagler County. The county issued two permits for commercial construction in the first quarter.
"Some of these permits are being issued for interior alterations which means businesses are expanding," Delorenzo explained.
New commercial properties in Palm Coast include a Verizon Store, valued at $300,000, which is under construction on an outparcel at the Kohl's location on Palm Coast Parkway. Nearby, a new McDonald's restaurant is going up, valued at $800,000. Town Center on State Road 100 will be adding a $715,000 Dollar General Store, which will be one of the largest stores in the franchise chain.
DeLorenzo told the board that the homebuilders association continues to see a growing interest in Flagler County both nationally and internationally. He said traffic associated with the association's annual Parade of Homes was 100 percent higher this year than last year.
"We had inquiries from people representing 42 states and 25 countries," he said. Inquiries came from Brazil, Turkey, Chile and German internationally as well as Canada.
Residents from other states also are weighing in on Flagler County's real estate. Delorenzo said the top number of inquiries come from within Florida followed by New York, North Carolina, Ohio and Georgia. "New homes and businesses mean jobs which is important to a community that is dependent on construction," he said.