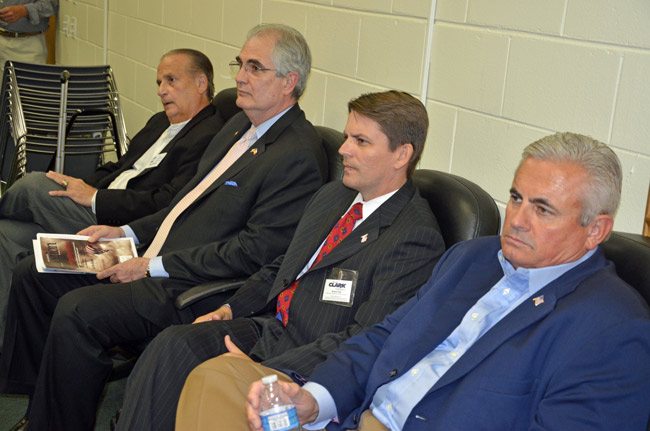 They were all pro-life, pro-guns, pro-prayer, pro-business, and pro-Ronald Reagan. And they were all anti-Obamacare or anything Obama-related, anti-taxes, anti-regulations, anti-RINOs (Republican In Name Only) and anti-Washington, even though every single one of the six all-male candidates was trying to convince an audience of about 70 that he should be their man in Washington.
The candidates for the newly created 6th congressional district, which includes all of Flagler County, appeared before the Flagler County chapter of the Ronald Reagan Republican Assemblies of Florida Monday evening at the Palm Coast Community Center in their first pitch for the group's endorsement (and money). The two Democratic candidates—Flagler County's Heather Beaven and Volusia County's Vipin Verma—were not invited, since the organization endorses only Republicans.
"There's a lot of new candidates, there's a lot of candidates that are talking about getting in this race that aren't here tonight," said Craig Miller, who so far has the money ($100,000) and speaks like the pack's front-runner, "but I am proud and enthusiastic with the candidates that are stepping forward, all of these folks, and willing to serve the people of district 6. What's comforting to know is that we're going to have a fiscal and social conservative representing congressional district 6 in the next U.S. Congress."
It was telling that Republicans are taking it as fact that the race is essentially to be decided in their Aug. 14 primary, with whatever Democrat they may face in the Nov. 6 general election a mere formality. They may be right: the district is conservative, its voting population is 83 percent white, and its median age is around 45 in an election year when the youth factor may not be as enthusiastic as it was in 2008.
Monday's was the candidates' first joint, public appearance in Flagler County, providing a clearer look at the make-up of what will be one of the most competitive races in the region: Among Republicans, the race won't be decided by the candidates' stance on issues. Based on the way they're presenting themselves, they have virtually identical positions, with each candidate trying to out-right the others on the conservative spectrum. Rather, the race will be decided by demographics, personality and experience.
In its earliest definition, the Republican race pits two Volusia County candidates—Craig Miller and Fred Costello—battling two St. Johns candidates—Richard Clark and Ron DeSantis. That opens the possibility that to win, a candidate must win over the Flagler vote, which is positioned to be the swing voting block: Miller and Costello will presumably win the majority of the Volusia vote (which accounts for 51 percent of the district's population), Clark and DeSantis will win the majority of the St. Johns vote (27 percent of the district's population), leaving the Flagler bloc (14 percent of the district's population) as the x factor.
Redistricting created a more cohesive congressional district that includes all of St. Johns and Flagler counties, most of Volusia County, and a most of Putnam County. John Mica, the 10-term Republican from Winter Park, represented Flagler for the past decade. He's choosing to run in another newly created district, against Republican incumbent Sandy Adams. That's opening the Flagler district to a small stampede of candidates (more may yet jump in).
Miller spent his life in the restaurant business, going "from the dish room to the board room," as he likes to put it (and to put it often). He was CEO of Ruth's Chris Steak House and served as chairman of the National Restaurant Association, and  lost to Sandy Adams in the Republican primary two years ago. He's wealthy and speaks of his career as training ground for all the issues facing politicians: immigration, health care and job creation among them. "I've worked on every domestic issue on the front line," he says. "I'm a service minded person. I've been in the service industry my whole life." But he also complained of "too many people who have made a career out of politics" while vying to be a politician himself—and calling for the very government he's seeking to run to "just stand down and get out of the way."
Costello, a wealthy dentist—"I'm going up to Washington despite the fact that I'll take a huge cut in pay," he says, though a congressman makes $174,000 a year, not including very generous benefits—was mayor of Ormond Beach for eight years and has been in the Florida House of Representatives for the past four. "Everyone in this room is probably going to be mad at me for something I'll cut," he promises, slapping around the Obama era to his audience's delights: "That's Obama care, that's the executive orders, that's all the nonsense that's going on up there." He was also generous with the kind of absurd generalizations that please crowds ("there's nobody more pro-life than I am") and brandish his Second Amendment credentials: he and his wife, he said, both have concealed carry permits, though he specified after the meeting that he was not carrying just then: his size, he says, makes it unnecessary. Costello is the tallest of the candidates.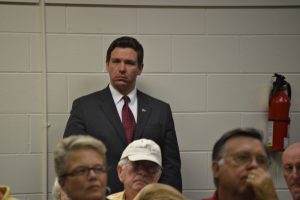 DeSantis is a Navy veteran who likes to make much of his military days, serving in Guantanamo Bay (not, normally, a badge of honor, considering the endurance of that prison on the fringe of American law, and Obama's broken promise to close it), as an adviser in Iraq and as the unapologetic husband of a trophy wife–Casey Black DeSantis, the ex-TV anchor who left Jacksonville's WJXT to host a TV golf show. "I'm a veteran, I'm a citizen, I'm not a politician," DeSantis said before launching mostly into an attack on the Obama record, which forms the heart of his self-published book on the same subject, rather than a definition of his positions.
"He recently said," DeSantis said of Obama, "that the wealthy, quote, take so much from the country and that they need to give back to the country in the form of higher taxes. Just think about that type of world view. He's saying that somebody like a Henry Ford or a Steve Jobs takes from the country." Or: "He also thinks that the only way to give back to your country is by paying taxes to the federal bureaucracy." Of course, Obama said no such thing on either count. DeSantis was referring to a recent radio address by the president where Obama said: "We don't envy success in this country, we aspire to it. But we also believe that anyone who does well for themselves should do their fair share in return, so that more people have the opportunity to get ahead — not just a few."
Hyperbole and distortion is the stuff of politics, whatever the party, particularly before carnivorous audiences hungry for red meat. Some distortions stand out more than others, suggesting candidates' looseness with facts.
Richard Clark, a resident of Punta Vedra Beach, is in his second term on the Jacksonville City Council. He told the assembly that he runs a commercial cleaning company with 150 employees. "I'm a private sector guy, I have been my entire life, so I understand what it's like to balance a budget," he said. And he knows, he assured his audience, how to stand up to Democrats and "the liberal media."
"It is not easy to stand up when the world descends upon you, in 2009, when no one knew how bad it was going to get, and the liberal media and the RHINOs came in and said, raise our fees, raise taxes," Clark said. "No, that's fundamentally wrong." Echoing others' words that evening, Clark noted that he'd take a dim view of conservatives who don't toe the line: ""I've stood up not just to Democrats but to those Republicans who've lost their way too," he said.
There were two additional Republican candidates: Raul Espinosa of St. Augustine, and Bill Kogut of Flagler County. Both are the latest to jump into the race. Neither made a serious impression Monday evening, though Kogut ran in the Republican primary for a U.S. Senate seat in 2010 and garnered 9 percent of the vote (against Marco Rubio's 85 percent). Espinosa is a procurement specialist: he heads an organization that ensures fairness in landing federal government contracts, and spent much of his time Monday speaking about making that process fairer. He was speaking to the wrong audience: hard-right Republicans aren't turned on by government contracting these days.
Kogut spent much of his time speaking about his years in New Jersey, running a tavern, then a liquor store, then trying to move the store's address and running up against the Democratic Party machine. He spoke of running for Senate and winning that 9 percent of the primary vote while spending just $1,000, seemingly underscoring his low-cost viability as a candidate. "My shoulders are big and large," he said.
The Flagler chapter of the Republican assemblies won't endorse the congressional candidates. The chapter limits its direct endorsements to candidates in strictly local elections. But its delegates will participate in the state organization's endorsement process. Ten counties have chapters in the Ronald Reagan assemblies.
The Republican congressional candidates do it all over again Wednesday evening at the Flagler County Realtors Association building on State Road 100, where the Flagler County Republican Club is hosting a candidates' evening.