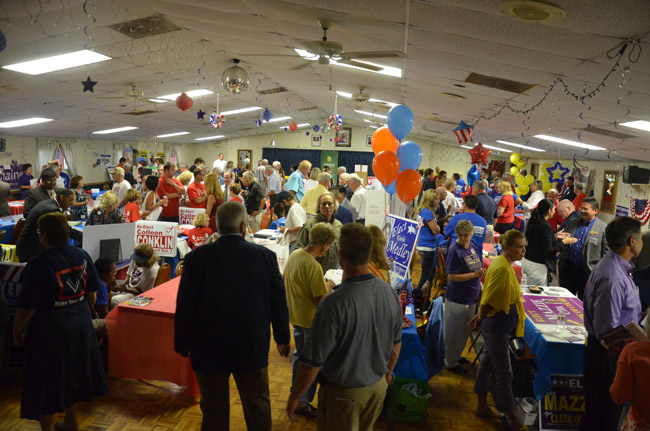 The Flagler County Chamber of Commerce & Affiliates, the Flagler County Association of Realtors and the Flagler Home Builders Association will host the Flagler Votes Forums October 17 and 24.
The forums will take place at the Knights of Columbus hall, 51 Old Kings Road North from 6 to 8:30 p.m. each night. A social hour with cash bar and snacks will be held before the event to allow guests to meet candidates informally. Tonight's forum will be broadcast live on WNZF, with David Ayres hosting.
Here's the line-up for Wednesday, Oct. 24 at the Knights of Columbus:
5-6 p.m.:  Social and drinking hour.
6:10-6:25 p.m.:  County Court judge candidates (Melissa Moore-Stens and Craig Atack).
6:30-7:05 p.m.: Florida House of Representatives, District 24 (Milissa Holland and Travis Hutson).
7:10-7:50 p.m.: State Senate, District 6 (Kathleen Trued and incumbent John Thrasher).
7:55-8:35 p.m.: U.S. House of Representatives, District 6 (Heather Beaven and Ron DeSantis).
All candidates have been invited to attend. These forums are free and open to the public. For more information, call the chamber at 386/437.0106,  or like Flagler Votes on Facebook. For more details about the ballot, early voting and voting locations, go here or see below.
Here was the line-up for Wednesday, Oct. 17:
5  to 6 p.m:  Social, drinking hour.
6-6:25 p.m.:    Supervisor of Elections (Republican Trey Corbett and incumbent Kimberle Weeks).
6:30-7:30 p.m.: Flagler County Commission (Herb Whitaker and incumbent George Hanns in one race, Abby Romaine and Frank Meeker in another).
7:35-8:15 p.m.:  Flagler County Sheriff (Jim Manfre and incumbent Don Fleming).
The same evening, Democrat Heather Beaven and Republican Ron DeSantis, candidates for Congressional District 6, which covers all of Flagler County, met for their only debate of the election season at the DeLand High School auditorium. See a full account of the debate here.

Flagler County Voting Flier, 2012 Elections