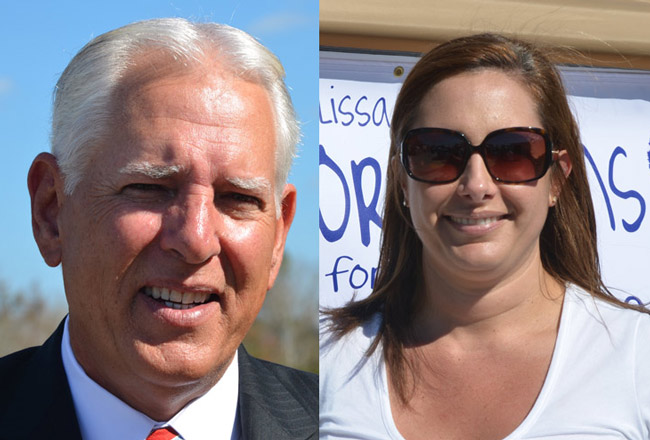 The races for Flagler County Sheriff and County Court Judge have drawn the most candidates among 11 countywide elections this summer fall, not counting mosquito and gated-community districts. The sheriff's race features three Republicans, including incumbent Don Fleming, two Democrats and a write-in. The county judge race, to replace retiring Judge Sharon Atack, features seven candidates.
Not surprisingly, the campaign fund-raising so far is concentrated between those two races, which together account for $91,185 of the money raised, or 78 percent of the $116,630 raised in all 11 contests. (The figures don't include the congressional race which extends across four counties, including Flagler. The money in that race already dwarf all others.)
The sheriff's race alone adds up to $46,300 raised, with Republican John Pollinger the leader by far: he's raised $25,565. The county judge race adds up to $44,885, with Melissa Moore Stens in lead with $29,262 raised.
The amounts can be deceptive: very large proportions of the fund-raising is self-funded. For Stens, $24,010 of her pot, or 82 percent, is actually a loan to herself, leaving just $5,251 raised through others, including $500 from her firm, Williams and Moore. Her donors include Daytona Beach Police Chief Mike Chitwood ($50) and John Polllinger's wife Janet ($80).
Pollinger isn't loaning himself any money. He's making straight contributions to himself–$19,000 so far (including $500 from his wife), or 74 percent of his total. Ray Stevens, a Republican candidate in the sheriff's race, began his campaign with a $2,500 contribution to himself in the period ending last September, and another $3,000 in the period ending on March 31, so $5,500 of his $7,785, or 71 percent of the total, is actually from himself as outright contributions. Karl Tozzi, a Democratic candidate in the sheriff's race, loaned himself $3,000 of the $4,000 he raised, while Jim manfre, another democrat (and an ex-sheriff), loaned himself all but $280 of the $2,100 he's raised.
Aside from Marc Dwyer, the same holds true for other candidates in the county judge race. Craig Atack, considered to be a leading force in the race simply because of name-recognition (his mother, and his father before her, will have held that seat for more than three decades), raised $9,285, second to Stens, but $5,750 of that (or 62 percent) is a loan to himself. He had 25 individual donations (his own excluded), compared to 59 for Stens.
Josh Davis has raised $2,034, two-thirds of that in loans to himself. He had just three contributors. Sharon Feliciano raised $1,900 from six contributors, with $650 of that from herself. Don Appigiani raised $329, with $250 of that from himself. Scott Wesbrook raised $825, with $250 of that from himself. Mark Dwyer, who ran for circuit circuit judge two years ago, has raised $1,250 so far$750 of it from Deborah Williams, who runs Lady Deborah's, a janitorial service in Palm Coast.
Unlike circuit court judge races, such as the one that elected Dennis Craig two years ago, which extends to voters across the 7th Judicial Circuit in Flagler, Putnam, St. Johns and Volusia, only Flagler County voters take part in the county judge race. It's a non-partisan race, which means that come the August 14 primary, all registered voters get to cast ballots in that race. Should none of the candidates garner just over 50 percent of the vote, the top two vote-getters will face each other in the November 6 general election.
In the sheriff's race, Pollinger, despite the huge amount he's contributed himself, has the largest number of individual contributors. That may or may not be an indication of the broadness of his support: it could also be an indication of stronger, early fund-raising efforts, which other candidates could match later. While Pollinger raised the most money of any local candidate next to Stens, he also spent the most: $23,346, leaving him $2,219 at the end of March. (An earlier version of this story had miscalculated Pollinger's net total by not taking in account money raised in 2011.)
When Pollinger first announced his candidacy, the word from rival Ray Stevens was that, as in 2008, Sheriff Fleming was having a "friend" run in the race to split the vote and deny Stevens the victory. (Stevens ran as an independent four years ago, winning 20 percent of the vote. Fleming beat Manfre by less than 2 percentage points.) Pollinger and Fleming denied the notion, and Pollinger's fund-raising and spending suggest that he's in the race to win rather than to be anyone's strategic pawn.
He has so far shown a flair for showmanship that translates in popularity, too: he announced his candidacy in front of the county's administration building in January in a flurry of well-choreographed supporters, many of them already wearing Pollinger shirts (Stitch Art Inc., the Bunnell business, took in $4,400 from Pollinger's campaign to make his shirts). And at the county fair, he thought nothing of standing up in front of several dozen people in a judged karaoke (Westbrook was one of the judges) to sing Lee Greenwood's very saccharine, very popular "God Bless the USA."
For all that–and for all his numerous troubles–Fleming has raised $6,850, none of it leaned, including several $500-checks (one of them from Stephen Alexander, she Sheriff's Office's attorney). Fleming has spent virtually none of the money.
The only other race that approaches the sheriff's and county judge contests in interest (from candidates) and money raised is that for supervisor of elections, with five candidates, including incumbent Kimberle Weeks, who have raised a combined $4,500, and with Republican Trey Corbett at the top ($1,700, mostly raised from four donors) followed by Pam Richardson ($1,575, two-thirds of it loaned to herself). The clerk of court race has incumbent Gail Wadsworth raising $14,760, but $10,000 of it a loan to herself). Her challenger, Ken Mazzie, raised $1,486, most of it from donors.
Aside from the $1,712 raised by Republican Herb Whitaker in his county commission race against Democrat George Hanns, only nominal amounts have been raised by candidates in county commission and school board races, while Tax Collector Suzanne Johnston and Property Appraiser Jim Gardner are running unopposed.