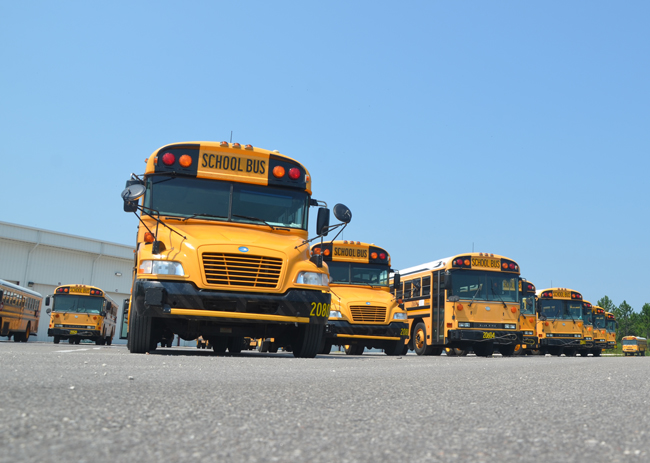 Hundreds of Flagler County school district students' arrival to class was delayed today as some 21 school buses at the district's west-end depot on U.S. 1 were the target of serial vandalism, allegedly by a quite drunk 26-year-old woman who took her time breaking into buses and damaging property.
One thing worried transportation officials particularly: the woman allegedly removed the radiator caps on several buses, opening the possibility of foul play with the radiators–the dropping of sand or sugar or other damaging substances. Most of the buses were not sent on their morning runs, sending drivers scrambling for alternative buses at the district's main depot.
"Some of the buses were late this morning," Jan Pannullo, the transportation department's safety specialist, said, though in early afternoon the department didn't yet know clearly to what extent delays affected children. The affected buses transport elementary, middle and high school students. "Some of them might not have been late at all," Pannullo said.
Some 700 students were on the late buses. But the lateness did not affect actual classes: they were late for breakfast, but all the buses managed to get to the high school in time for the first bell at 8 a.m. with one exception, a bus with about 28 students, which arrived just after the first bell, Pannullo said.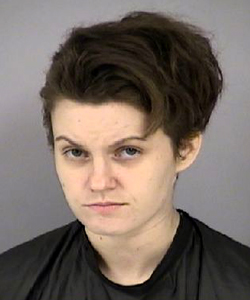 For the afternoon run home, there are no expected delays, Pannullo said. She hadn't yet confirmed whether every bus at the affected depot had been cleared to make its run. But if not, there were enough spare buses lined up to ensure a smoother afternoon run. Just after noon at the depot, the buses were all lined up in their parking spots. The depot was quiet.
The suspect, Rachael Mitroski, who's now at the Flagler County jail, drove her 2005 red Pontiac into the bus depot (at the intersection of U.S 1 and Royal Palm Parkway at the southwestern edge of Palm Coast), parked her car behind the garage, and, according to a police report and video surveillance from the scene, went from bus to bus, opening various compartments and electrical panels. She removed 15 radiator caps in all.
Dip sticks were also removed, so were emergency triangles (the reflectors placed emergency scenes as reflectors), some of which, strangely, were placed in front of buses as if to signal that they were disabled. Some were broken. Brooms were found on the roof of buses. Trash cans were dumped. Emergency doors and windows were opened. The buses' batteries were loosened from their sockets.
Several semi trucks that belong to the district's adult education program are also parked at the depot. One of them was broken into, or entered, and attempts were made to remove the radio. The attempts were not successful. On the ground near the garage, workers found a blue umbrella with loose change in it, and an empty bottle of liquor.
Normally, the buses are all out of the depot by 7:30 a.m. Not this morning, as they were worked on most of the morning to ensure that they'd be in condition to be used later.
When she was found out, Mitroski was reportedly heavily intoxicated. She asked some of the bus drivers for a ride in their car.
A Bunnell Police Department officer responded to the scene at 5:45 this morning. Mitroski faces a criminal mischief charge for causing damage of more than $200 (but less than $1,000). She's being held on $500 bond. Pannullo said she was not employed by the transportation department.
Mitroski's arrest report lists her address as 3791 Winterhawk Ct. in St. Augustine. She is also listed as unemployed in her jail log.
For the school transportation department, this morning's vandalism was another unfortunate incident that compounds a back-to-school period wracked by parents' complaints because of overcrowded buses and altered routes designed to save money. Those issues have since been worked out. The vandalism was out of the district's control (though it's not clear how the suspect drove into the depot during the night through a gate that's normally locked), but at many bus stops this morning, it looked like one more inexplicable delay, again placing transportation officials on the defensive.
The district might have lessened anger and criticism, and relieving pressure on the transportation department, by posting an explanatory notice about the vandalism on its website. It did not do so.