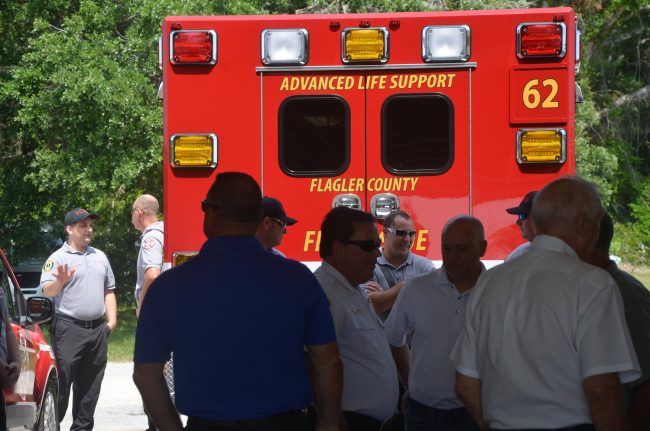 For cities and neighborhoods, the closing of a fire station can be like the closing of a post office or a school, a blow to the neighborhood's identity. It's one reason Bunnell for so long resisted closing its one fire station, why Flagler Beach resists still. But after a slow struggle and several failed attempts Bunnell found a way to close its station and have it too, by transferring it to the county's fire department, saving over $100,000 a year, and gaining better ambulance service in the bargain.
None of Bunnell's city officials saw the closing of their fire department as a loss as they gathered earlier this month at their (former) fire station to mark its transfer to Flagler County Fire Rescue. Not even Bunnell Mayor Catherine Robinson, to whom heritage is very important.
"Progress is a double-edged sword, and this is one of those double-edged swords, but the good news is they didn't close it, it's still here," Robinson said, standing next to the renamed fire station—which retains the name of Bunnell. "That was for me. I take it it was for me," the mayor said of the name. (It wasn't, exactly: the station in the Hammock says "Hammock," the station in Espanola says "Espanola," and so on, but the name matters.)
"I guess we're just kind of passing the gavel over to the county in a celebratory way," Robinson said. "They worked very hard to upgrade the building, fix things that needed to be fixed that we probably were not aware of, that weren't directly on our radar. They've done a good job about spending the time, effort and resources to make it professional and what they need here for us. Of course we're excited to have the ambulance here. That's certainly going to improve the transit time for our citizens in Bunnell but also to the West Side, so that gives me some comfort."
The transfer, which ceremonially took place on May 18 but has been in effect since at least April 1, when the county added an eighth ambulance to its fleet, will have a beneficial ripple effect far beyond Bunnell, particularly because of the central location of the station and its additional ambulance.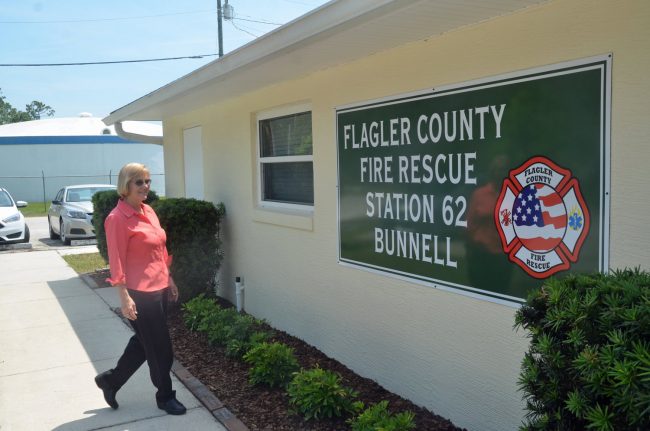 The station will improve response time "especially in the city of Bunnell," Flagler Fire Chief Don Petito said. "What that does is it relieves the pressure of the units in Palm Coast and the units on the west side. It'll definitely relieve pressure on the station at the airport because now that station was the one running here in Bunnell and helping out the west side. So that station will have a lost less to do and cover more of the south side."
The county bought the new rescue for $219,000 last October. It went in service on April 1 out of the Bunnell fire station, bringing the total number of 24-hour rescues to eight, from six just three years ago. There are two rescues on the west side: at Espanola and St. Johns Park. There are two in Palm Coast (at St. Joe's Plaza and at Clubhouse Drive and Palm Coast Parkway), two on the beach side—in the Hammock and in Flagler Beach—and two in the central portion of the county, at the airport and in Bunnell. For Bunnell, response time has been cut by about three minutes. For the entire county, coverage has been vastly improved, with fewer needs to shift ambulances around when one or two are called to a scene.
The transfer enabled the county to keep in service Bunnell's 2006 tender truck that carries 3,000 gallons of water (a standard engine has 1,000 gallons). It was re-laddered and re-striped, and overhauled by the county's fleet department. The fire station's bay area had been—like an old house's garage– loaded wall to wall with equipment. Every piece of equipment was inventoried and triaged—either to be kept, surplussed or trashed, including a 1999 fire truck. The bay now is a vast open space.
The station has a full kitchen, two bunk rooms, and a new room the county built for firefighters' gear where bunker gear is stored so it's away from trucks' exhaust: it reduces the incidence of cancer.
There's an added element of heritage preserved for Bunnell's station.
"I started my career here as a volunteer 32 years ago, and now I'm going to finish here," says Battalion chief. Jamie Burnsed, a Bunnell native. "I'm pretty excited about it. I say I'll finish here: if they let me retire when I can retire, I'll finish here. It's pretty exciting. We really like it."
Richard Bennett, a battalion chief on another shift, also started there as a volunteer and has returned, a point of pride for the mayor: she's his mother in law, so the transfer brings him a few miles closer. "So there's that circle of life kind of thing that goes on. I understand that," Robinson said.
For Bunnell Fire Chief Ron Bolser, the end is not quite the end: he's "pretty happy to be retired," he says, but he remains on the volunteer rolls whenever needed.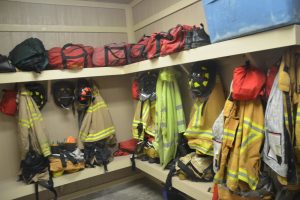 County commissioners, of course, are all too glad for the results of the merger. "When I first read this I said my God, this is a win-win, everybody benefits from this, even the employees that were here," County Commission Chairman Greg Hansen said. "The real key that to me made this a win-win is service to the community."
Between rumored take-overs and formal offers of a merger, there's been periodic talks of merging Flagler Beach with the county's fire services—strong rumors in 2010, a more formal offer in 2013—but there's never been true appetite for a merger on the island. As for Palm Coast, any suggestion of a merger draws scorn from the city, whose fire department is as Sparta with the county's Athens. That Peloponnesian rivalry simmers on reliably: notably, not a single Palm Coast official, from the government or fire services, was at the ceremonial transfer, nor were Flagler Beach officials, even though constituents from across the county, especially in Palm Coast, will benefit.
For now though, County Administrator Craig Coffey is happy with the way things turned out with Bunnell. "It's not only going to help Bunnell but Palm Coast and relieve pressure on all the other stations," he said, "and it's great to work with a city on partnering on the best ways to provide service."