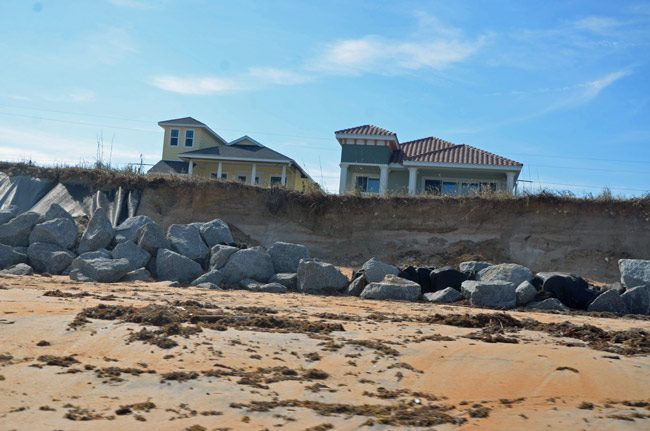 Flagler County fared well in the last legislative session, securing $13.3 million (to be split with St. Johns County) for dune restoration, among many other appropriations for road projects, education, culture and the arts and more. Much of the credit goes to the county's legislative delegation: Sen. Travis Hutson and Paul Renner.
But just because the Legislature approved the appropriations doesn't necessarily mean the money will flow to Flagler. Much of it surely will. But the local governments and organizations in line to get the money will not bank on it until Gov. Rick Scott is done using his veto pen. He hasn't yet started using it, having only today received the $82.4 billion budget, minutes after noon. But expectations are that he will not spare it.
The reason: lawmakers dealt Scott a few severe blows, refusing to enact the governor's requests for $100 million for Visit Florida, the state's tourism-marketing agency (the Legislature allocated $25 million) and keep funding Enterprise Florida, the state's private-public economic development agency. Closing-out dollars aside, lawmakers essentially scrapped Enterprise Florida, terming it corporate welfare. Scott had also sought $618 million in tax cuts. He got only $75 million. He called for $200 million to repair a dike around Lake Okeechobee. He got nothing.
Scott used the losing battles as an effective marketing ploy for himself, turning the losses into public relations victories as he campaigned across the state with one eye on his rising approval rating and another on his likely run for U.S. Senate in 2018. His popularity rising, he can now pay back lawmakers who defied him, through his veto pen. Chief in his sights is House Speaker Richard Corcoran and the lieutenants who pushed through Corcoran's priorities. One of those lieutenants was Renner, whose success in the House could end up costing Flagler, should the governor decide to be vindictive.
"I have a lot of options," Scott said today in Orlando, according to the News Service of Florida. "I can veto it. I can veto a section or any line. I'm still reviewing it."
Time is not irrelevant. The budget must be in place by July 1 to avert a shutdown of state agencies and disruptions to local budgets. Scott has 15 days to sign or veto. Last year he was done in four. If he vetoes a substantial part of the budget–education leaders, including Flagler's, are calling on him to veto a massive education bill that favors charter schools at the expense of traditional public schools and barely increases per-pupil funding (and decreases it, once inflation is calculated)–lawmakers would have to pass a revised budget. Every day he takes shaves a day from lawmakers' timetable to get that done. One possibility is his veto of the entire budget, which would require a special session, but would also give Scott another chance to push for his projects, including Visit Florida and Enterprise Florida.
Here's a look at the appropriations Flagler County secured, based on the 452-page appropriations bill and a Senate Conference Report that breaks down appropriations by counties.
Most substantial was the $13.33 million allocation for dunes repairs in response to Hurricane Matthew. Those dollars are in addition to previous emergency allocations. They are to be used to match up to 50 percent of the total costs, with the balance covered by federal or local funds. The money will be distributed by the Department of Environmental Protection.
Flagler County may also receive $150,000 for its retired-judge program, enabling the hiring of retired judges to help with existing judges' backlogs. Of that, $100,000 has been designated specifically for an additional county judge for a year, in Flagler.
The Flagler County school district's adults with disabilities program, which had been eliminated two years ago and restored last year only after intense lobbying by the local school district, is again in the budget: $536,000. Flagler is one of 16 counties that will see renewed funding in that regard. The district is also getting $1.32 million in School Readiness money, which subsidizes child care for parents who work at least 20 hours a week, $1.7 million for the county's voluntary pre-kindergarten programs, and $1.35 million in workforce education dollars.
The budget also funds $50,000 for what will eventually be the Bunnell by-pass, a connection between Commerce Parkway and U.S. 1, curving around the east side of the city. It includes $1.6 million for the design and construction of a relocated runway at the Flagler County airport (that $12.1 million project is under way), and $1.32 million for work on Old Dixie Highway's stretch from U.S. 1 to I-95. And it includes almost $3 million for road projects on County Road 304 and County Road 205, among other infrastructure allocations.
Flagler Beach made out well, securing a $450,000 appropriation for improvements to its sewer plant. And local cultural organizations got modest grants: the school-district's Flagler Auditorium ($15,000), the Palm Coast Choral Arts Society ($1,000), and the Flagler Beach Historical Museum ($2,500). And Easter Seals of Volusia/Flagler, a non-profit, got $100,000 for its program for the developmentally disabled.