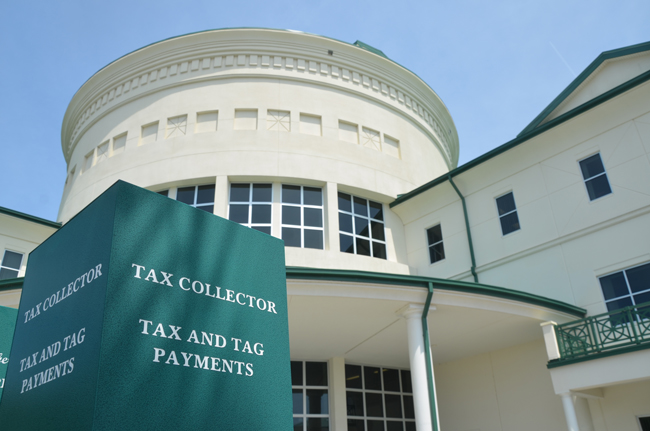 Two weeks ago today–on May 21–the Flagler County Commission had scheduled its first budget workshop of the season. It was abruptly cancelled. Craig Coffey, the county administrator, contacted commissioners and told them that the financial numbers he was going to present to them had suddenly been upended by the discovery of a much wider deficit than the $1 million he'd originally anticipated.
Various figures were bandied about. By some accounts, the county was out $10 million. By others, $7 million. And still others–the numbers commissioners had heard from Coffey directly–$3 million to $4 million, not including the $750,000 cost of what Coffey had hoped would be the first 3 percent raise for county employees in four years. That's a large sum in a $65 million budget that, according to people familiar with the developments of the last two weeks, sent the administration into crisis mode, hat in hand.
For county government, what should have been a somewhat easier year, relative to the last four since the economic depression began, is turning into what may be the hardest since 2008. Planned outlays, from raises to a new fire engine to the filling of deputies' positions at the sheriff's office, appear to be off the table, with decisions about potential layoffs, cuts in services or tax increases, hinging on policy decisions that will be left up to commissioners at the worst time: in the thick of an election season, with four of the current commissioners either seeking re-election or election to higher office.
Commissioners and the administrator will conduct a subtle–and possibly not so subtle–dance as the administrator will stress the policy role of commissioners to find a way out of the crisis, while commissioners, eager to deflect blame, may wonder why they were suddenly in the midst of an unexpected budget crisis other local governments are not contending with, at least not with the severity of Flagler's–and why it took an audit to reveal some of the serious challenges. Whatever the source of the surprise, every commissioner's political opponent has been handed free ammunition.
Last week, the deficit was cut by $1 million when Flagler County Sheriff Don Fleming agreed to shave that amount from his budget–the equivalent of a 5 percent cut–without layoffs. "I said to him," Fleming said, referring to Coffey, "how can you come to me at the last minute and say you're down $4 million? But I'm a supporter. I play the game." There will be no raises at the sheriff's office this year. Fleming said a 6 percent cut in pension costs last year and paying off a lease early helped produce the $1 million, along with eight deputies' positions he will be leaving unfilled. "It puts a strain on our budget, but we do our share," Fleming said.
By today (June 4), Coffey said, the gap was at $2 million. "We haven't heard what Craig is going to propose in order to try to balance the budget," county commissioner Alan Peterson said on Saturday. Coffey plans to submit a plan to commissioners by Wednesday, giving them time to study his options and recommendations and ask questions or request more information ahead of next Monday's budget workshops, when the proposals–and the extent of the problem–will be more publicly unveiled.
On May 4, Coffey had sent a letter to all the constitutional officers–the tax collector, the property appraiser, the sheriff, the clerk of court, the supervisor of elections–asking them to "present a below level budget of up to 5 percent to accommodate potential cost of living adjustments and help with our collective revenue declines." That letter was written before the bad numbers hit the administration.
It was based on the assumption that county tax property revenue would decline by $2 million based on a 5 percent drop in property valuations. Days later, Coffey learned that valuations had dropped by just over 6 percent, adding almost half a  million dollars in revenue losses.
There were other shortfalls, some of them expected, some of them not. The economic development budget, for example, was paid out of reserves last year. That's just over $400,000. Reserves can't keep carrying the burden of recurring costs. A helicopter pilot is returning from duty in war zones in December. He has to be paid $160,000 in retroactive retirement, in accordance with the Servicemembers Civil Relief Act. Medicaid accounting may be costing Flagler County much more than it originally projected, now that the state is demanding that Flagler fork over $334,000 more than the county had budgeted. The state is making similar demands to most counties, which have–with Flagler–joined a suit against a state, disputing the state's numbers. Just those three items add up to nearly $1 million in unexpected outlays.
There's more. A state audit of the county's books showed that Flagler County had for years based its EMS budget on ambulance billing (which includes billing of patients flown on Fire Flight, the county helicopter) rather than on what the county collects from ambulance transports.
"That's probably the biggest thing I could point to as far as revenue change," Coffey said, without specifying a number. But it's in the millions, and it could enlarge the actual gap, because it was money the county used, on paper, to plug holes going forward. That money is not there.  "I don't know until I look back at the figures," Coffey said, when asked to provide a specific amount. "It's not necessarily part of the $3 or $4 million, but it's less money that you have to work forward, as far as rolling forward and plugging a gap. Usually you always had some of that rolling forward, and we've lost that cumulative effect."
Every dollar increase in the cost of gas also resulted in half a million dollars' increase in county costs, though gas prices have eased in the last few weeks.
"What we tried to do is, we've plucked some holes, cash carry forward over the years, so eventually that only works for so many years," Coffey said. "That's kind of where we're at. Those are kind of one-time revenues, and the economic downturn has lasted longer than we anticipated. We've made some major adjustments probably about four or five years ago, and now we're going to be faced with making adjustments again. Either we make adjustments in service, or we're going to have find ways to raise revenue. It's a decision about what do we do as a county: what's our service level, what services are we in, what do you want to provide."
Especially when there's only so much the constitutional officers can do with their budgets, most of which are either set by the state or driven by fee collection.
Kimberle Weeks, the supervisor of elections is proposing a $30,000 cut in hers. Gail Wadsworth, the clerk of court, is submitting a level budget. "I'm going to go back and talk to them, but they probably can't cut 5 percent," Coffey said.  "That's where we're at is, our departments can't all cut 5 percent short of major changes in service. That gets back to are you going to fund it at a certain level and fund the service right, or are you going to get out of the business? The departments, I asked them to come up with up to 5 percent reductions if you can find them."
Suzanne Johnston, the tax collector, in previous years would collect more fees than she had expenses. "The county is more interested in the amount of money I don't spend," Johnston said Monday, "because then they get to use that money." But over the last few years, even as Johnston has cut costs, the fees she's collected have not generated the sort of profits they once did. The county has collected $700,000 less in the last few years from the tax collector's "left-over" budget. And it can't look to the tax collector this year for extra cash, Johnston said. Or for cuts in her operating budget to create some profits. "I really don't see how, but I'm always looking at things," Johnston said.
Same story with Jay Gardner, the property appraiser, who cut his budget 8 percent last year (yielding the county some dollars) without getting so much as an attaboy, Gardner said. "I'll be lucky if I can cut half a percent this year," Gardner said.
Raises in the traditional sense may not be feasible, but "there's a different ways to attack that," Coffey said. "You can do a one-time stipend of some kind, which doesn't obligate the county moving forward, but still provides some relief. You can do a staggered type of stipend, and those are things we'll look at. But again, it creates pressure to an otherwise already pressure situation."
Reserves currently stand at $7 to $8 million, Coffey said, but he will not be recommending their use too heavily.  "There is no new normal. There is no normal. We're just going to have to make some tough decisions," Coffey said.    "It was my hope, it was their hope," meaning the commissioners, "that we were kind of at the end of some of these tougher decisions but we're not, and it is what it is, and the only thing I can do is be as truthful and open to them and say, here it is. If you tell me to cut, I'll cut. If you tell me to come up with a different revenue sources, here it is, but you've got to vote for that too. These are big policy decisions."
Despite the crisis, Coffey and his deputy, Sally Sherman, both left town for the annual Florida City and County Management Association's conference, which took place all of last week–May 28-June 2–in Bonita Springs on the Gulf.
Coffey defended the trip. "With today's technology you don't really leave," he said. "I probably sent a million emails back and forth throughout the whole day, I was working on the USDA grant. I actually got a grant to cover my training through employment folks, whatever. Sally got a grant last year. So we can go to these things half price, we've been able to the last two years," keeping them economical. "I'm responsible for a lot of this stuff, I think I've got to keep my skills just as sharp  as a firefighter or somebody else in the field and I've got to continue to learn and grow to help through these situations."
The firefighter remark was not coincidental: last weekend several Flagler County firefighters were in the Czech Republic, taking part in an international competition–and winning it for the third time in four years, a feat Coffey recognized at this morning's county commission meeting–in part under the guise of getting more training, though the firefighters got no county money for this year's trip, which was paid for through fund-raisers.
When the crisis first broke, commissioners said, Cofey was genuinely disturbed. "I was upset," he said, "because I really care for our employees and I believe personally they deserve a raise. They work very hard, we have a ton of special employees, and when that's in jeopardy that doesn't make me feel very good as a supervisor."