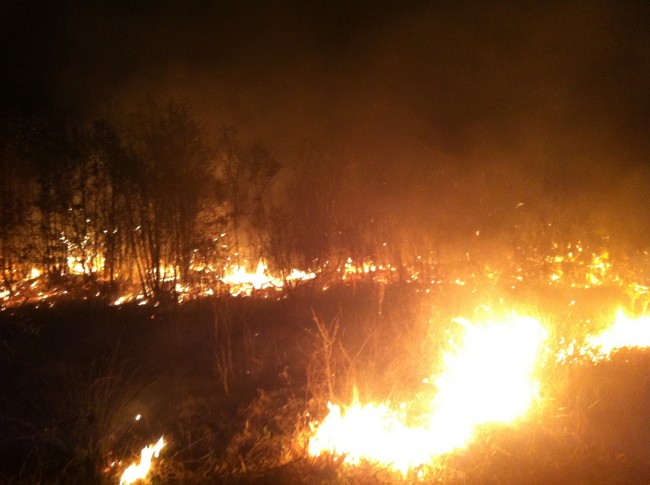 Flagler County firefighters were spread thin all day Saturday, fighting a total nine brush fires across the county, the result of lightning strikes two days ago that triggered slow-burning smolders that have been surfacing in the last 24 hours. The fires, most of which are still smoldering, were small: the largest was about 20 acres. They are all contained, and no residences have been threatened.
But the county's Fire Flight helicopter was churning from fire to fire all day, and crews expect to be fighting more fires Sunday, or continuing to contain ongoing fires. "When they're all separated like that it kinds of spreads us thin," said Don Petito, the county's fire chief. The Bunnell Fire Department joined county crews on some of the fires. No one has been injured.
Here's the rundown of fires by location:
A fire started on Friday off State Road 11, seven miles southwest of Bunnell. That fire was the largest, about 15 to 20 acres. Crews were fighting it yesterday and today (April 29 and 30) until dark, keeping it in line. There were five firefighter units on that fire. Each unit is at least two firefighters.
Another fire further out on State Road 11, almost at the Putnam County line, consumed about 3 acres. The county's Fire Flight helicopter did a lot of work on that one because it was difficult to reach from the ground, but had—and was—contained.
There was a roughly six-acre fire off of Old Haw Creek Road, toward US Route 1.
Firefighters also battled a brush blaze along the high-voltage powerlines between County Road 304 and SR 11. That fire consumed about 3 acres. The fire was not under the powerlines, whose right-of-way is cleared and kept free of most but grassy vegetation, but inside the wood-line alongside the powerlines.
There were three fires in the Espanola region, all fairly small: one was about an acre, one was about two acres, and one was little more than a tree stump struck and charred by lightning.
In addition to those fires, firefighters were keeping an eye on two other smoldering locations, including the bog fire at Old Brick Road that's been burning for weeks. Like many of the other fires, those fires are not the sort that generate high flames or burn a lot of fuel. Firefighters would typically see such flames initially, when they get to a scene; they contain them, then work with the helicopter to ensure that the fire stays within the lines the firefighters establish, to prevent the fire from leaping beyond them.
"The helicopters actually did a lot of work on all the fires, keeping them in check so we were able to work them," a top-ranking firefighter who worked every active fire location throughout the day and into late evening Saturday said.
None of the fires was close to residential areas except in Espanola, and even there, the fires were very small and well contained, posing no danger to residents.
The lightning strikes from the storm two days ago started the fires, several feet underground. It takes a day or two for the fires to declare themselves above ground. The Fire Flight helicopter conducts a twice-daily patrol of the county during fire season, detecting brush fires far earlier than in the past, when, in the absence of a helicopter, fires would grow large and difficult to contain before firefighters would get to them. In the current instances, by attacking fires early, firefighters are essentially preventing more serious, break-out fires.
A burn ban has been in effect for most of the past five months, and remains in effect.
Firefighters expect to continue battling—and containing—brush fires all day Sunday.
More images of the fires below.