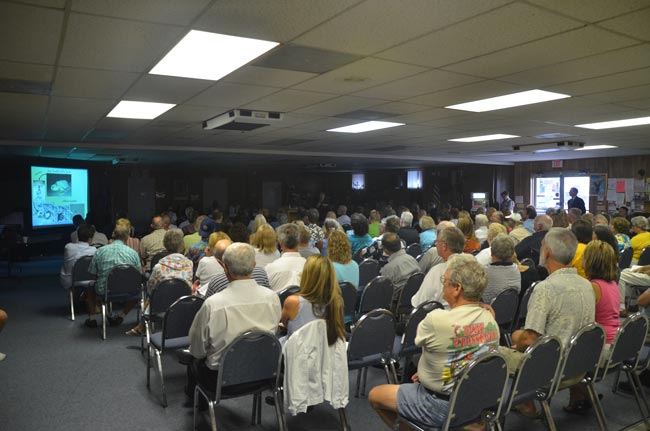 Woody Allen would have called it "Everything You Always Wanted To Know About Beach Erosion But Were Afraid To Hear," though Flagler Beach's three-hour town meeting on the town's most critical asset had no one laughing. The beach, after all, is diminishing by most measures. And the town has been debating this very issue for years, without a viable proposal yet in sight (at least not one government agencies are willing to execute and pay for), let alone a permanent solution.
Nor was one with any chance of winning broad agreement presented Tuesday evening as 110-odd people at the Disabled American Veterans building heard six presentations that restated what's been stated before, numerous time: there is no single solution to beach erosion. There are no guaranteed solutions, either, even when they're implemented. Most experiments don't yield the results hoped for. It takes more than an innovative idea to get it implemented. And even when an idea is accepted, or permitted, its implementation takes time, it's expensive, and sources of money uncertain.
"We have issues here and they should have been taken care of five and 10 years ago when we had meetings like this." Jamie NeJame  said, ridiculing the very government agencies he was addressing after they'd made their presentations. "Most people in order to get things done they go out and do it."
The four government agencies represented around the table, not including Flagler Beach City Commissioner Steve Settle, who chaired the meeting, took something of a beating once the question and answer period opened as residents vented against beach renourishment, seawalls, rock revetments, dredging, and lengthy, costly feasibility studies. The U.S. Corps of Engineers took the brunt of the beating because of its permitting and feasibility timetables (four to seven years just for the typical study), leading Jackie Keiser of the corps finally to plead: "We're not here to destroy the environment, the beaches or anything else. The people in these jobs, we want to help you." She urged those who'd spoken angrily to "please use that anger as passion" toward common solutions.
Florida has no beach-saving department. It has several agencies with a vested interest in what happens to the beach, but those are competing interests which end up complicating the search for a solution, if not intensifying the problem. Four of those agencies made presentations to the assembly Tuesday, each illustrating its mission and, implicitly at least, conceding that those missions sometimes undercut each other: the Corps might permit something only to be stalled or halted by the Florida Department of Environmental Protection. The Florida Department of Transportation wants to protect the beach, but only to the extent that it protects its roads (namely, State Road A1A), even if the solution will actually accelerate erosion, as seawalls usually do. The Florida Fish and Wildlife Conservation Commission is concerned with preserving the beach to the extent that it saves sea turtles. It has no broader powers.
Studies cost money. Flagler County is partially paying for a feasibility study for beach preservation, through bed tax dollars, but in conjunction with state dollars that may soon run out because Gov. Rick Scott is opposed to beach initiatives that involve renourishment. He is squarely on DOT's side: seawalls to preserve roads, or moving the roads.
"If we remove the rocks tomorrow, you will have no A1A," the DOT's Alan Hyman said in answer to a common complaint about Flagler Beach's dreaded granite rocks, dumped along portions of beach after severe erosion events several years ago.
Dick Holmberg of Holmberg Technologies presented his system of underwater, sand-filled tubes that serve as beach rebuilders as a ready solution that could be installed on about three miles of beach and cost around $4.5 million (the price tag for a similar project in Saudi Arabia). Holmberg has a following in Flagler Beach, but has received little support from the U.S. Corps of Engineers, which would have to permit the project. Corps representatives were at the meeting. They said they've worked with Holmberg but asked for information that he did not provide, and so have not moved further in studying his technology's viability locally. (Holmberg disputes the corps' claim.)
The meeting started at 5:30 p.m. It ended at 9 p.m. By then more than half the room had emptied. Jane Mealy, the Flagler Beach city commissioner, had wanted to hear more alternatives than those presented. Only two of four "alternate solutions presentations" (as they were billed on the agenda) were actually presented. Two others were scheduled, but their presenters didn't show. Mealy said she'd have to hear from them before talking decisions. "The government agencies didn't say anything I haven't heard before," she said.
The meeting had drawn representatives from every local government (including Palm Coast Mayor Jon Netts, who serves on the Florida Inland Navigation District) except Bunnell and the school board. Barbara Revels, the county commissioner, had the final word at the podium. She advocated for a beach management plan and urged the assembly to "keep the pressure on our state and our federal agencies to continue to fast-forward our projects." Particularly when Flagler County may be left holding the funding bag.