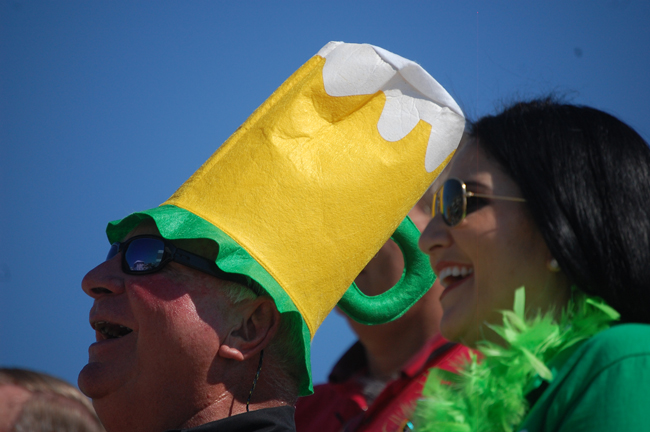 It's entirely Irish to keep migrating, and occasionally to be booted out.
Palm Coast's Irish Social Club used to run its St. Patrick's Day Parade on Old Kings Road beginning in the middle of the past decade. Then Palm Coast pulled one of its inexplicable edicts: no more parades beyond Town Center. The Irish sank their sorrows in a parade-less party at the Elks Lodge last year, then had the bright idea, last November 8, to ask Flagler Beach to be their latest Ellis Island.
Alice Callahan, the club's leader, made her pitch to the city commission last November, the commission approved, and on Saturday, floats, politicians, unelected titles and parade fans gathered under the kind of sunshine that would fry most Irish skins in minutes for the city's toast to St. Patrick. (The fifth century missionary is the patron saint of Ireland and most breweries around the world.)
The parade bleachers included the school board's most Irish member (who happens to be a Flagler Beach resident), Palm Coast's mayor, Jon Netts, county commissioner Milissa Holland, a couple of fire chiefs, a police chief and some of the sheriff's underlings. Don Fleming, the sheriff, was not present: he's not big on parades, and he was getting ready for his wedding at Halifax Plantation later that afternoon, where some of the same cast of characters was to gather again, with many more. Here are a couple of scenes from the parade.