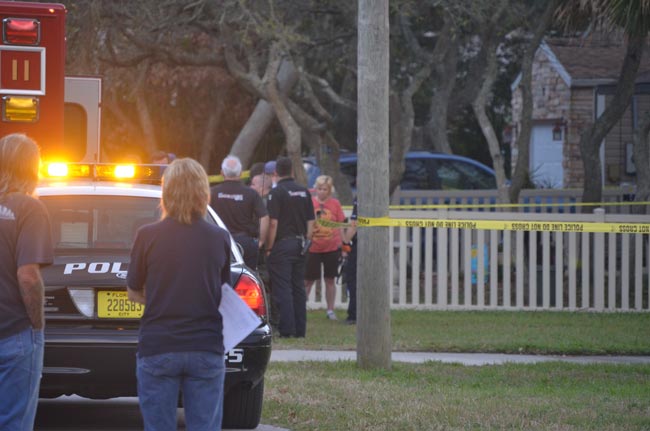 Last Updated: March 15, 10:32 a.m.

Thursday update: Paul Miller, the man who shot Dana Mulhall Wednesday evening, has been set free. See the story here.
March 14–A man is dead, another is in custody, arrested by Flagler Beach police, after a shooting described as methodical and deliberate shattered the calm of South Flagler Avenue this evening, just after 6 p.m.
Very little is known at the moment, except for a few details: the fatal incident evolved from an argument between neighbors: the residents of 1336 and 1340 South Flagler Avenue. The suspect shot the man on the front porch of the brown house, inside a light brown picket fence, at 1340. They may have been arguing about a dog.
Several neighbors either heard or saw the incident: they're giving statements and being interviewed by Flagler Beach police and the Flagler County Sheriff's Office.
"Basically I was sitting inside my office at my computer and I heard five, slow gunshots," Jon Denny, a homeowner who lives two houses north of the crime scene, on the opposite side of the street, said. "It sounded like a small caliber, a .38 or a 9mm. Because they were so slow, pop, pop, pop, a second in between, it sounded like construction." But Denny is familiar with guns, he owns several guns. He briefly looked out the window, and didn't notice anything out of the ordinary until police cars arrived. "I didn't hear any shouting, nobody screaming, none of that stuff."
Denny moved to Flagler Beach from Southern California, where shootings are a bit more frequent. "I may see the occasional car pulled over but I've never seen anything happening here, it's been quite nice," he said.
Neighbors further up the street were concerned about their children, on hearing of a shooting, but authorities said there was nothing to fear, the suspect being in custody.
South Flagler Beach Avenue was closed to traffic, including pedestrians (except residents) between 13th and 14th Street shortly after 6 p.m., and remains closed as of 7:50 p.m. Authorities were awaiting the medical examiner, who must release the body of the victim before it can be moved. (The medical examiner arrived at the scene at 8:45 p.m.)
The victim was a landscaper well known around town, who'd lived in the small, 1,000 square-foot house on Flagler Avenue more than a dozen years after moving there from Maine. He counted Linda Provencher, the Flagler Beach mayor, and her husband, among his friends. "A wonderful, wonderful guy," is how Provencher described him, shocked to hear of the shooting. "He's very non-confrontational. Very laid back. A nice guy."
Carla Cline, a neighbor on Flagler Avenue, some five or six houses north of the crime scene, had been friends with the victim for the 12 years she'd lived there. I've never seen him ever outside of slightly frustrated at silly things," Cline said. "But never violent. Quiet, nice." She said he was a hunter, a fisherman, a landscaper. "Anybody would tell you, he was a cool, nice, easy-going guy."