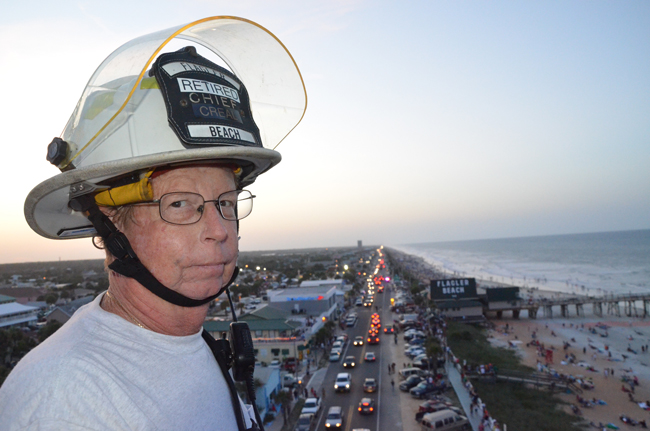 Flagler Beach City Manager Bruce Campbell said Friday he was not aware, except by hearsay, of issues relating to alcohol, marijuana or porn in Acting Fire Chief Robbie Creal's past as an employee of Flagler Beach, and does not consider it an issue, even though alcohol issues were central to the firing of several firefighters in February.
Campbell also said he had not verified Creal's certification to be a fire chief—or to command fire scenes—which may not be current according to law. Both matters are clouding an interim appointment that was to give the city a breather during a difficult year for the Flagler Beach Fire Department, and again raising questions about the viability of the department.
Commission Chairman Steve Settle was not aware of the interim chief's past issues, either, but defended Creal's appointment, as did Commissioner Jane Mealy, who was familiar with Creal's past but said it was not relevant to the present, since he had never been criminally charged. But the city had suspended him, and he soon resigned after that suspension in 2002.
"I know nothing of his past except four or five or six city managers prior to me he resigned," Campbell said of Creal. "I don't know the reasons for the resignation. I've heard things over the years but I hear things about everybody. Having said that Robbie has been a mainstay with our department even after his resignation."
Defending the Creal appointment, Settle said he didn't know of too many people who didn't have issues in their past that may raise questions.
"If he's got a past history," Settle said, "I will assume that the city manager believes that that is put behind him and he's capable of doing what he's charged of doing. Once we find that he's not capable of doing that, we'll take action, but I firmly don't believe that's going to happen. If acting chief Pace was comfortable with that appointment and Bruce was comfortable with that appointment, I have to say I'm comfortable with it right now until I learn something that would currently influence my opinion as far as his capabilities."
Certification Matters
Campbell appointed Creal, 62, as acting fire chief following the state attorney filing a first-degree misdemeanor charge of obstructing justice against Bobby Pace, the former acting fire chief. The charge stems from an investigation that alleges Pace destroyed evidence pertinent to the falsified records of a probationer granted more community service hours than the probationer actually logged at the Flagler Beach Fire Department. Pace signed the time sheets in question. The probationer had his probation revoked as a result, and is now in prison until 2015.
Creal was appointed because he is the only individual left at the fire department who has experience enough to be chief and who, Campbell said, has the necessary certification. The certification matter weighed heavily in the decision.
But a check of certification records at the Flagler Beach Fire Department, through records maintained by Florida State Fire College, the state agency that oversees and maintains firefighters' certifications, suggests Creal has no current certifications.
As of 26 days ago—and according to a new law that went into effect that day—volunteer firefighters without certification are no longer allowed in Florida to be at fire scenes as firefighters other than in support functions in the "cold zone," where there are no imminent dangers. They may not be in the "hot zone" without a Firefighter I certification, and they cannot be in command of a scene. Incident command is considered a hot zone, because the incident commander is directing people to be in the hot zone. Creal, as the chief at a scene, would be the incident commander.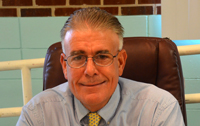 Campbell did not verify Creal's certification documents but he said Creal, City Commissioner Marshal Shupe—a volunteer firefighter who spends much of his time at the fire house—and Pace had all assured him that Creal was certified. Campbell said late Friday that Creal was "digging all that stuff up," and that Creal was confident that he had his proper certifications, but he conceded that there may be confusion about the new certification law (as there has been around the state, for many firefighters and volunteer firefighters). "If that's the case, we're going to have to circle back and right a wrong," Campbell said.
Late Friday, Creal wrote in an email: "I am looking for my certificate of compliance. It may have been left in my personnel file at city hall. I have found my Firefighting 1 certificate that was issued by the Bureau of State Fire College in January of 1975. "
A Gutted Fire Department
The Flagler Beach Fire Department has few options. It has been gutted by firings and Pace's suspension, leaving it essentially with little choice but to reach back to Creal.
The former fire chief, Martin Roberts, and his assistant chief, Shane Wood, were fired in February after an attorney's investigation determined that Roberts drank alcohol at a Christmas party before responding to a call, and that Wood had stored home-made alcohol at the station and sipped from it. Jacob Bissonette, another firefighter, was also fired over the home-made alcohol allegations, though neither firefighter had more serious issues in his record.
Pace remained on the job after the Flagler Beach Police Department filed its charges against him over the destruction of evidence allegations, raising questions about Campbell's double standard. Similar questions are raised by Creal's appointment.
"What someone may have done or what someone may be accused of, that was never provided to me in any formal fashion that said it's true or not. It's all been hearsay," Campbell said.
But Creal's issues with the city are not hearsay. They're documented in city and police department memos and investigative papers.
Creal was Flagler Beach's fire chief for 26 years until his suspension and resignation in 2002. He was suspended in late August that year after a drug test proved positive for marijuana use, and never returned to work as an employee, choosing instead to use accrued medical leave time (he had a medical issue) then retire when he became eligible four months later.
"That was 10 years ago," Creal said in an interview Friday. "I was going through a very rough time in my life, my step father was very seriously ill, and I did kind of let things get away for a very short period of time, but I feel I have redeemed myself over the past ten years." Creal then and now had a reputation as an easygoing, well-liked and reliable firefighter. His record had been termed exemplary until the 2002 issue.
The drug test in 2002 was part of a police investigation by the Flagler Beach Police Department that started when the sheriff's office asked for help looking into allegations surrounding then-Flagler Beach volunteer firefighter Robert Lee Vega. Vega was subsequently found to have molested a boy younger than 15 and to have possessed child pornography. (Vega served eight years in prison and is now on probation in Sarasota.) Marijuana stems were discovered in Creal's garbage (his domestic garbage left curbside for pickup, he says, not a garbage can at work), promoting the drug test and further questions about Creal. Witnessed told investigators that Creal provided alcohol and marijuana to underage junior firefighters over a period of seven years, used marijuana himself and allowed underage children to view porn on fire department computers.
The issue might not have raised as many questions today had it not paralleled the same sort of matters that led to subsequent firings.
Commissioners' Reactions
Commissioners Jane Mealy and Kim Carney said they're not in a position to tell Campbell how to run his administration, as the city charter forbids commissioners from meddling. "We don't have anybody else," Carney said of Creal. "We have nobody with seniority or experience."
Carney over the past few months sought to encourage the commission to consider involving the county's fire department in Flagler Beach, either taking over some operations or all of them to save money. The commission rebuffed the suggestion.
"I did my best at trying to look at alternatives and I didn't get there," Carney said. "Now they have to live with what they've got."
Campbell said he considered seeking some temporary help from the county, which would have "lent" a lieutenant or some personnel to help Flagler Beach through its current difficulties.
"It's something that I looked at even back in January but chose to go this way and again chose to stay within Flagler Beach this time," Campbell said. "But it is something that I weighed, absolutely. It's the obvious. We could probably go to any surrounding agency because of the mutual aid, fellow agencies, we would all try to help one another."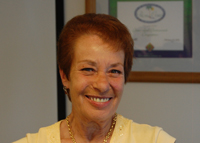 Asked if the latest issue with Pace made her rethink her opposition to looking at an alternative way of running the fire department, Mealy said no.
"I believe that Robbie knows how to dispatch his staff and maintain the department in the interim until those issues are resolved," Mealy said, attributing his issues to a distant past. "I'm not the one bringing those issues forward, you know. Do I wish it would all go away? Of course I do, and Bobby Pace hasn't been found guilty of anything, so I'm not going to judge until this investigation is over."
Volunteer Acting Chief
Creal has agreed to be acting fire chief as a volunteer for now, and said he would be willing to remain so for the duration of his tenure. Campbell also plans to reorganize both fire and police departments, eliminating the chief positions and replacing them with captains, which will require prospective applicants to apply for the job. The commission will be looking at the salary schedule of the new positions in a meeting next month.
Meanwhile, officials sought to reassure residents.
"We still have a real good corps of both career and volunteer people here," Creal said, with three career (or paid) firefighters on the job, three volunteers who have been converted to paid firefighters to fill in for those fired or on leave, and 22 or 23 volunteer firefighter-paramedics ready for work. But the certifications of at least some of those volunteers is now also in question, as would then be their eligibility to fight fires.
Summing up the latest matter—Pace, not Creal—Campbell said Friday: ""I feel bad because to me this is just another black eye for Flagler Beach, and I don't like that. That's what concerns me. You can keep beating the crap out of me all you want, but let's not place any more undue hardship on our city around this subject any longer. It's time to move on."

Bruce Campbell Memos on Bobby Pace Matter
Bruce Campbell Memos and Other Documents in Pace-Creal Matter