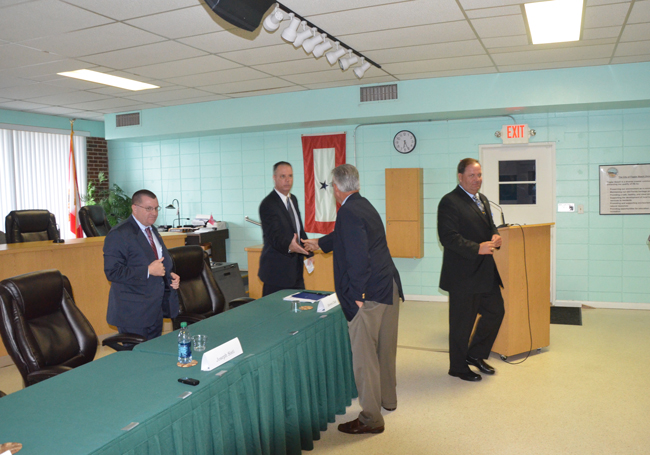 In a mixture of the formal, the informal and the social, Flagler Beach got to meet the three final candidates for the top cop post in town Thursday evening: Steve Clair, Matthew Doughney and Joseph Sisti sat on a green-draped table, taking turns at a podium to make 10 to 15-minute presentations to an assembly of some 35 people, including all five Flagler Beach city commissioners and the mayor.
City Manager Bruce Campbell presented the candidates and described why, as they were reduced from a list of 10—eight of whom were interviewed—eliminations proved difficult, as each choice was compelling.
The evening over, City Commissioner Joy McGrew said he was right. "I'm glad I'm not in Bruce's shoes," she said. "I hope he picks the one who first Flagler Beach."
"They each bring a lot of experiences, a lot of personal training, and seem to have some interesting goals for the city, and can bring our police department forward and our city forward," Commissioner Jane Mealy said. "So he's going to have a lot to weigh."
The choice will be made by the week of the 13th. The Bunnell Police Department is doing the candidates' background checks, to avoid having Flagler Beach officers conduct the checks.
The evening format was simple, Campbell said: each candidate would speak, but there would then be no question and answer period, at least not formally. Campbell said that even though the evening was initially designed to introduce the candidates to the commission, the commission doesn't hire the police chief. He does. (He renamed the position from "chief" to "police captain," reducing the salary from $70,000 to $58,000.) But after the formal presentations, a "social hour" was to unfold, giving people in the audience and the candidates a chance to mingle.
The presentations actually stretched quite a bit longer than 10 minutes: they started a little after 5:30 and ended just before 6:30 p.m. Here's a summary by candidate.
Steve Clair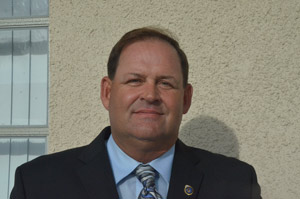 Clair's family moved to Florida in 1969 from New Jersey. He graduated Mainland High School, spending most of his youth in Flagler and Volusia. He joined the army—special operations—and at one point worked under cover in Germany on anti-terrorism operations. Back Stateside, he went to the Police Academy and was hired in 1991 by then-Sheriff Bob McCarthy, serving 23 years in the department, working his way up from deputy to major (a rank he attained three years ago). Dive team member, K-9 handler ("for the longest time I was the only K-9 in the county"), member of the SWAT team, planning the budget, selecting and hiring personnel, contract negotiations with collective bargaining units: his tenure at the Sheriff's Office included stints fulfilling each of these responsibilities. He helped develop policies and procedures and wrote grants.
He said he's had "hundreds of classes and thousands of hours of training," including executive and homeland security training. In 2010 he attended the FBI Academy in Virginia, one of just four individuals from Flagler to do so. "I went there as an underdog. Most of the guys who went there had master's degrees and doctorate degrees," he said. "I went there as a high school graduate." Nevertheless he shined in assessments.
Some of his first priorities as Flagler Beach's captain would be to provide direction to the agency, address morale and re-evaluate policies and training. He wants a reputation of friendliness for the department, "and work on relationships" whether it's with surfers, fishermen or downtown businesses. He believes in the broken window theory, which posits that the moment a minor matter develops in a sector, it must be addressed through a partnership between officers and the community. He'll seek federal grants for community policing such as neighborhood watch programs. "I want to involve public works, the mail carriers and everyday citizens" to the point where those individuals would be calling in tips when they see something out of place. "I'm very passionate about law enforcement, I'm very passionate about Flagler Beach maintaining the old charm," he said. He is himself involved in a series of community groups in town.
Matthew Doughney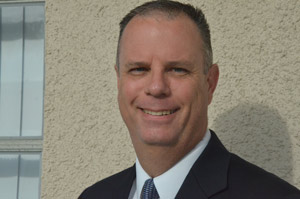 Matthew Doughney started by congratulating the other two finalists. He moved from Levittown, N.Y., some 30 years ago. He is the son and grandson of a cop, and the father of a son who will soon "move on in the family tradition." ( He has two teen-age boys.) He joined the Air Force in 1984 after college. "Adversity and diversity," he said, have marked the past quarter century of his life. He started as a part-time officer at the Daytona Beach Police Department in the heyday of special events. "I started at the bottom and I worked my way through the ranks," working patrol, motorcycle unit, the street crime unit, he said. He attended the Southern Police Institute in Louisville, Ky., through a scholarship, where he was voted class leader. "I put myself through college while I worked shifts," he said, some of them with Chief Jeff Hoffman of the Bunnell Police Department (and very soon, of the Sheriff's Office: Hoffman starts there Monday).
Doughney spoke of his experience with special events, with fractured communities, with quality of life issues, and of his familiarity with "coastal policing." He was the police chief in Avon Park for two years, what he described as "the toughest two years of my life," where he worked to eradicate members of the department who were tarnishing the community as a "disgrace to law enforcement," tainted as they were from corruption. He cited Ronald Reagan's idea of leadership: to get his employees to do the most. "You can't lead from behind a desk in law enforcement," he said, pressing his willingness to be in the streets in a patrol car, on a bicycle or a motorcycle.
"The future is not about me, the future is about we, the future as a department, the future as a community," he said. He underlined his intention to work with commissioners, the city manager, members of the community and others—to "be approachable." As cops, he said, "officers that are working 24 hours a day, seven days a week, they are the ambassadors for this community," he said. He noted his willingness to move should he get the job. "Please don't consider me an outsider," he said. "Just consider me that friendly neighbor down the road that you haven't had the opportunity to meet yet."
Joe Sisti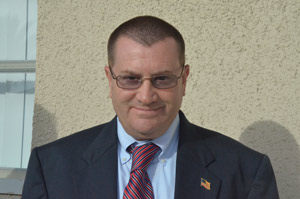 Joe Sisti, a graduate of Mountain State College and an investigator with the State Attorney's Office with 27 years' experience as a law enforcement officer, was the final candidate. His mother has lived in Flagler Beach for a couple of decades, he is "a regular CVS shopper" who frequents local restaurants and lives just a matter of  minutes from the city, he says. He started his police career at the Flagler County Sheriffs's Office (and credited himself for giving Clair his start at the Sheriff's Office). Also starting under McCarthy's tenure, he was the first deputy promoted through testing, he said, reaching the rank of captain in charge of the uniform division. He helped create a 16-week training program for new officers, started a bike patrol unit, became a certified courthouse security officer, implementing that program at the old courthouse. He got extensive training in hostage negotiating, working through "five successful negotiations, preventing the loss of life. It needed creativity and some quick thinking."
At one point he had to train 26 deputies in a matter of months to preserve their certification, when it was discovered that the certification was close to lapsing. He was responsible for the public information office. He was deputy of the year twice in his career at the sheriff's office. In 1998, during the wildfires, he recalled the fires starting near his home. After a 26-hour shift,  he got home to a house without electricity, and got in bed. The sheriff called him. There was an executive order from the governor to evacuate the county. Sisti was placed in command of the evacuation. "We had to deploy literally hundreds of local, state and federal police officers to include the national guard. I couldn't have done it without the supporting staff," he said. "I'm happy to say that we were able to evacuate the county successfully, and I think it took us eight or nine hours." He recalled the more localized evacuations of 2004 when four hurricanes struck the state. "I have done evacuations and emergency preparedness for many disasters Many. I am fully capable," he said.
He then became the assistant police chief at the St. Augustine Police Department, where he said he was called in to "turn around" that agency, a job he said he accomplished. He highlighted his tenure there because of the city's similarities with Flagler Beach, down to its special events such as First Friday (in St. Augustine, it's Music Under the Stars). When the city commission sought to eliminate the assistant police chief's position, he joined the State Attorney's office under then State Attorney John Tanner. There, he spends "a lot of time fixing the mistakes police officers make in their reports." He said he plans on doing the same thing in Flagler Beach. "I know what needs to be fixed" he said. "I have excellent interviewing and interrogation sills," he said, describing his experience at the State Attorney's office as making him a "well-rounded" police officer. Currently he teaches leadership and management at St. Johns Community College in St. Augustine.
When it was over, the first person to leave the room, as it turned out, was Dan Cody, the long-time Flagler Beach Police Chief, who is retiring. (He soon walked back in.) Cody said that regardless of who Campbell will chose, the city will be in good hands.