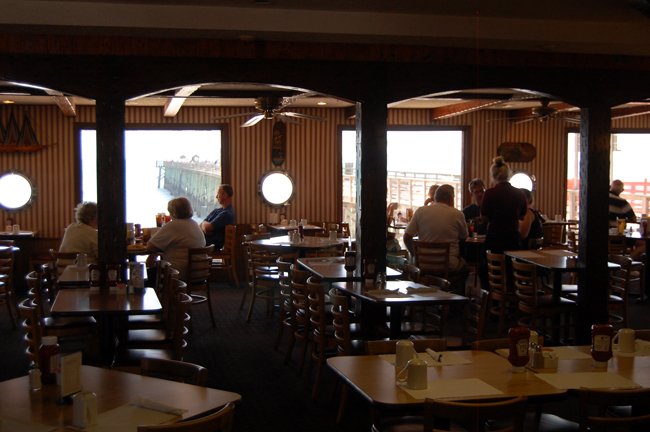 The Pier Restaurant in Flagler Beach may be part of the city's iconic image. But for years, the restaurant has been an anemic greasy spoon that happens to have a fantastic ocean and pier view. The city owns the restaurant property but hasn't been capitalizing on it. It's leased to Katalin Meyer until 2012. Meyer, who's let commissioners know that her heart isn't in the business anymore, has been sending mixed signals since 2006 about her intentions, pledging then — even as a St. Augustine entrepreneur looked set to assume the lease — that she wouldn't give it up until 2012 only to begin negotiating with Ormond Beach restaurateur Raymond Barshay late last year.
Barshay owns the popular River Grille in Ormond Beach, where contemporary American cuisine mixes with Southern seafood and the usual fried and beer-battered appetizers of casual bars. Barshay now looks like the man who'll take over the Pier Restaurant, possibly this year–in spite of, rather than with the help of, a city commission quite confused over what to do with the restaurant and how to do it. That was the result of a 90-minute discussion (to put it generously) at the commission Thursday evening, even though one other local business–Carolyn Casper's Flagler Fish Company–wants to have a crack at the property as well.
But Barshay has the inside track: Meyer is willing to negotiate with him and not others, giving him what looks to other prospective businesses like an unfair–but entirely legal–advantage.
The city itself has bumbled through the process of figuring out who would take over the restaurant, issuing a "white paper" late last in spring that described the property and putting out what looked, in all but name, like a request for proposal from prospective buyers. The city advertised in a few places for parties interested in either assuming the restaurant's lease or lining up to take it over in 2012. It got barely a few nibbles. All along, Barshay was waiting, his proposal already formulated. On Thursday, commissioners debated again how and when to put out an official RFP, to give other businesses a chance, much to Barshay's exasperation.
"I've been here a number of times," he said, "I keep hearing that, I'm not trying to be difficult about it, but I've continued to hear that and little has come out of the woodwork."
One business that did come out of the woodwork is the locally-owned Flagler Fish Company. "I think what we're seeing tonight is a lot of unknowns," Casper said. "As a resident here in town, raising a family, and the reason we moved here and why we live here, we want to see what's best for Flagler Beach. What is best for Flagler Beach? Been waiting 20 years for the lease to come up, not us personally, because we haven't lived here that long, but many residents have. Instead of rushing into something, possibly having your hands forced at this time, whether we end up in the space, Mr. Barshay ends up in the space, or somebody else, what is best for the city? I think there are a list of unknowns and I think you need to take the time to establish what will make the city money, what does the city want? Perhaps the city should form the lease in their mind what's best for them: This is what we're offering, who's interested? There's not going to be a short line of people that are interested in that space. I can guarantee you that."
But there was less than a short line of people when the city advertised the space in spring, although the city didn't advertise it broadly: ads went up in Jacksonville, Orlando and Tampa, briefly.
Another resident asked the commission pointed questions: "Have you done your due diligence? Have you found out what the daily cash receipts are, coming in and out of that restaurant? Do you know how much cash flow goes in there? Do you know what the gross income is on a monthly basis?" The answer, on all counts, is no.
Meanwhile, here's what Barshay is proposing:
Take over the existing lease and assume its various terms for the two years remaining on it.
Enter into a 10-year lease, with option to renew three times in five-year increments.
First year lease: $35,000. Subsequent years' amounts to be negotiated.
Additional rent based on 1 percent proceeds of sales above $1.2 million in first two years, going up to 2 percent in third and fourth year. In the fifth and all subsequent years, extra rent would be based on 2 percent of sales above $1.5 million.
Barshay would invest $400,000 to $500,000 in the property in exchange for being allowed to renovate interior and exterior, :"so long as it is generally in keeping with the character and nature of the building."
It'll be up to the city to deliver the building in compliance with all building and city codes.
Outside seating will be provided, including uses of certain "common areas" of the pier.
Barshay, whose operation would also sublease the bait and tackle shop at the pier, looks to incorporate that shop and the toll-taking for the pier into a single operation to maximize profits.
In a previous letter to the commission, his vision for the restaurant included bringing "a vision and personality to life that marries the history of Flagler Beach with the casual feel of a charming coastal community." The restaurant would have decor "theming" focused on all-day and evening dining with a menu that "embraces local and regional tastes (new southern) but is also well seasoned with favorites/styles from New England, New Orleans, The Islands, Italy and other tempting offerings we will continue to find and develop."
In other words, a River Grille at the pier, minus the boat-docking. (The River Grille enables boats to dock up to the restaurant.)
The commission agreed, unanimously, to let City Manager Bernie Murphy negotiate with Barshay on those terms. That means no requests for proposal. It also means virtually shutting out, for now, other prospective businesses interested in the property.
"If we don't come to terms with Mr. Barshay," Commission Chairman John Feind said, "we will certainly be putting out an RFP for people to come and take over the thing. But that's not the case now because only one person has the option to buy that business right now. And he's asking us, if he buys the business, he's asking us to extend the lease. He doesn't want to put hundreds of thousands of dollars in, and then be thrown out in two years. That's what we're talking about now. There's no final decision made. We're going to negotiate, Bernie and our attorney will negotiate. If we can't come to terms, then we will go out for an RFP when the time is up."