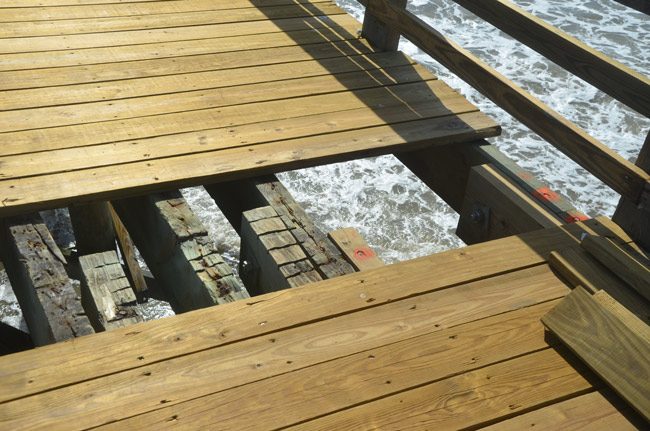 Working on it since last year, when he was the engineer in charge of post-Hurricane Matthew repairs, Bruce Neu has come to know the Flagler Beach Pier almost as a friend.
At least he talks about "the old girl," as he put it, as if it were. And what he told Flagler Beach City Commissioners about the pier's long term prospects was not reassuring, even as he could not give them an answer as to its short-term prospects: the pier will be closed until further notice, again, barely three months since it had re-opened after Hurricane Matthew lobotomized 160 feet of its end and shut it down for eight months.
"The repair work is under way, but we cannot recommend that the pier be opened up until we're sure that it's snug and sound for, obviously, for safety reasons," Neu told commissioners last week in a 15-minute assessment that sounded like a doctor discussing an ailing patient. "The old girl is hanging in there. I was trying how to equate this–I look at it like it is a heart, and we're probably at the earliest stages of congestive heart failure. We've done a lot that we can. We can try to hold her together. But eventually we're going to have some tough decisions that have to be made regarding that pier."
Neu said had the year's repairs not been done after Hurricane Matthew, "my guestimation is you would have lost at least another hundred foot of pier." Which wouldn't have left much of a structure that could be called a pier, as much as a rickety jetty.
As it is, Hurricane Irma, however less severe it proved to be in Flagler, walloping the county more from the west than from its seaboard, did its share of new damage to the pier, including digging out up to three feet of stabilizing sea floor around the pylons at the very end of the pier. It also did damage to the structure itself, some of it not yet necessarily diagnosed, though much of it has been.
Last week and the week before Neu brought in a Logan Diving and Salvage crew to look at the pier's pilings and underside, and brought back in Construct Company Inc., the contractor hired to repair the pier after Irma, meeting with their officials not only to go over a work plan, but also to immediately do some emergency work back when Hurricane Maria was churning in the distance off the east coast. Officials were worried about a one-two punch. That did not materialize.
"Even from the beach with binoculars it doesn't look bad," Neu said of the pier. "Except for the fact that there is some fairly significant damage to a lot of the cross-bracing on the last hundred feet or so of the pier. It's broken, we have pictures where the brand new timbers that were put in, in some cases were snapped just like a popsickle stick. The tie rods, the fasteners that were used, that are like an inch and a quarter stainless steel, all-thread rods that are normally straight, were actually bent, with the wood gone. So it gives you an idea of the impact of the surf. We also found out that we have pile caps, which is the cross-piece of wood that lays across the fingers of the the tops of the pier, a lot of the brackets that we installed last year that were, again, stainless steel, they had snapped as well."
City Manager and Neu on different occasions went to the edge of the pier in calm conditions, but nine days ago, when Neu was at the end of the pier as Hurricane Jose was passing far to the east, "we could feel the movement of the pier," he said. "The reason the last hundred feet of the pier is wobbling is because the crossbracing that we put in is no longer there, so basically you've got stilts out there that with the wave action are wobbling."
And based on the information from Logan Diving, numerous jobs have to be done to get the pier back in shape. It's not even clear how exposed the pylons at the end of the pier are: some of the more recent pylons, built in 2009, are 20 feet deep. That much is known. But there are no existing plans that anyone could find about the older pylons. So no one knows how deep they are, and therefore how vulnerable they now are from sand having been eroded. Neu is hoping the tides will bring back some sand.
On top of the pier, some wood planks at the end of the pier were lost when a kiosk was ripped off its base, though that's not a major repair.
Meanwhile, he's describing the work ahead as a "a multi-phased approach," but is not giving a timeline. "Everything that's out there needs to be re-tightened because it's been banged up, shifted and moved and everything else," he said. That work, he noted, should be done on an annual basis whether storms hit or not.
Commissioners are obviously concerned about when the pier would re-open. But Neu said "everything is piecemeal stuff as we go along and find things that need to be done, so it's a matter of getting the material, getting them here, and of course the weather." Only after doing all the work, "we can assess when we can open the pier."
Introducing Neu to commissioners, Newsom said "he might as well be an employee," and assured Neu that "we're not going to make this an annual event." But based on Neu's diagnosis, optimism about the pier's remaining years is itself eroding.

Logan Diving's Post-Irma Report on the Pier
Click to access FLAGLER-PIER-POST-INCIDENT-SAFETY-INSPECTION-REPORT-HURRICANE-IRMA-17Sept17.docx-sca-draft.pdf