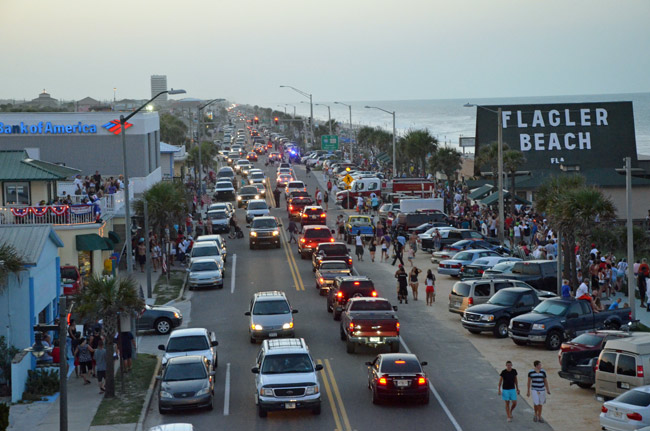 Flagler Beach wants to keep its taxes low but find new ways to generate money. The latest idea: lining city streets with parking meters and charging something like $1 an hour.
The proposal, City Manager Bruce Campbell said during a Thursday evening Flagler Beach City Commission meeting on the matter, in language atwitter with dollar signs, "is a big, big opportunity for our city from a revenue generation standpoint." He projects up to $3 million in new revenue over five years, not counting what meter-maids could bill, generated with the help of electronic kiosks whose upfront capital cost–$207,000—is high, but would be paid for readily.
But the proposal has the city and the commission divided. The split isn't about to be immediately resolved, especially after what transpired Thursday evening, so commissioners decided to do what they usually do when faced with a controversial proposal and their own lack of consensus: they appointed a committee, with hopes that some results could be produced by May. But Thursday's evening was an indication of the difficulty of the committee's task, and past commission history is also an indication that the matter will eventually force the commission's hand regardless of the commission's findings. They gave a sense of where they stood Thursday evening.
Flagler Beach is in the middle of a contest—one of those many contests drummed up by magazines or organizations—that has readers voting on America's "coolest small town." Commission Chairman Jane Mealy seized on the contest to make her point.
"We've been asking everybody day by day by day to vote us the coolest town," Mealy said. "Putting up parking meters to me kind of detracts from coolest town. I grew up in New York City. We had to walk around with dimes and quarters in your pocket. When you go to a restaurant and you see, is it time? Is it time? Is it time? That's not fun." She added, in response to Campbell's and Commissioner Joy McGrew's suggestion that Flagler Beach has evolved enough to be like other cities that do charge for parking: "We are not Myrtle Beach, we are not Jeckyll Island, we are not Cocoa Beach. We are not any of these places. That's why I moved here instead of any of these other places, so let's keep that in mind."
Putting up with paid parking is also not why Dennis Bayer, a Flagler Beach attorney known for his lunchtime surfing, moved to town from Fort Lauderdale, or what Carolyn Marlow, for 21 years the owner of the Golden Lion restaurant on A1A, wants to contend with as she and her large staff depend on tourism to keep her business viable.
"I find it's almost incongruent and surreal that we're in the running for the coolest small town in the country, and we're talking about a big city parking meter bureaucracy with meter maids and trolleys and trams," Bayer said. "To me it just doesn't match. It's really not the image I think that most people think of when they think of Flagler Beach. And I really think, with all due respect to the city manager, that the lifespan for these electronic kiosks is going to be greatly reduced in the ocean environment." He also cited his colleagues, all of whom work at his Flagler Beach firm but live elsewhere, so they would not qualify for the in-town discounts. They eat in town, they fill their car with in-town gas, but they'd end up paying $16,000 a year in parking. "It just doesn't make sense," Bayer said, describing it as a financial hardship for businesses that are already taxed at higher rates than residents.
Not much later Sandra Mason, a recent candidate for the commission with a particular interest in environmental issues, said: "As I listened to the folks speaking tonight, nobody wants to pay for parking, nobody wants to have their business have to build a parking lot, nobody wants their taxes to go up, and nobody wants to decreases services. So good luck with that one." But she called the discussion on charging for parking an "excellent first step."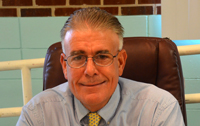 The commission had no intentions of settling the matter Thursday night. It was a workshop, centered on a proposal developed by Campbell. The idea is to get people to park their cars in one spot then spend the rest of their time in town walking around. But it's also about making money in a city strapped for cash. A $1-an-hour fee is by no means the only option. The city could charge a graduated fee based on where cars are parked, with spots nearer the beach costing more. It could give Flagler Beach residents a pass, or charge them less, or charge them none at all. It could involve merchants and vouchers. It could include a trolley or a tram to shuttle people from South Flagler Beach to downtown. Campbell wants to ensure that paid parking in one segment of the city doesn't drive people to park their cars in rights-of-way elsewhere in the city. But the heart of the proposal is a metered system. (See Campbell's full presentation below.)
"With the estimates that we made over the first five years we would bring in over a million and a half dollars in net revenue," Campbell said. "If you add enforcement revenues with that over the first five years, it could be up to close to $3 million, $2.7 million in net revenue." Acknowledging resistance to charging along A1A, he added: "I'm not trying to say that we should or we shouldn't have paid parking up along A1A, but big, big revenue potential in terms of numbers and spots, and we all know that." That would raise revenue up to $3 million without enforcement costs.
He continued: "Paid parking is a great revenue possibility for us. Yes we have to balance it with the balance community, yes we have to be fair to Flagler Beach residents, but very, very important from a revenue standpoint, particularly when we think about maintaining our beach, not to mention the needs we have to improve that beach area, particularly with our erosion conditions and that sort of thing. The other thing I'd throw out there that I'd be willing to bet, is that after we get some history with this revenue, we could probably bond those revenues if we wanted to do something along the beach maintenance standpoint."
Mayor Linda Provencher had a list of questions, among them the difference in charging, say, Flagler Beach residents different from charging out of towners. And if Flagler Beach residents were to park free or at a reduced rate, that would significantly lower the estimates in revenue, although the city doesn't have a clear understanding of who is parking where. The city is working on acquiring those numbers, to better understand how much it could rely on out-of-towner revenue.
City Commissioner Joy McGrew was characteristically blunt, and bluntly in favor of parking charges.
"I don't want my taxes to go up," she said. "A family from Ocala decides they want to come to the beach for a day. They pack their food, they pack everything they need, their animal, their alcohol, their kids and they drive over here and they go to our beach, and they have a blast, and I'm glad it's there and I'm glad they can do that. But they leave their beach, they have their dog, they have their kids, they don't necessarily eat in our restaurants, they didn't fill up their car with gas in our town, but they do call our police of they need them, they do have our lifeguards there if they need them, but we're paying to have that person from Ocala or Seminole or Marion or I don't care where: they come to our beach and they enjoy our beach, and we're glad they're here. I don't want my taxes to keep continue to go up and up and up and everybody gets a free ride. So that's where I'm coming from. When I was looking at this and when I said that Flagler Beach has come of age to do that."
Commissioner Steve Settle liked what he'd just heard from McGrew, but was adamant about one thing: "I don't know about any of my colleagues, I in raising this question never, never perceived that Flagler Beach residents were going to have to pay for parking. Never thought about that. It's always been assumed that the purpose of what we were doing was to equalize the free market. Flagler Beach taxpayers are already paying for that, so we're just trying to bring some equilibrium to the free market system, that's the purpose to even be thinking about this."
Some 40 to 50 people showed up at the meeting, 18 of whom addressed the commission. They roughly broke down this way: eight were clearly opposed, five were clearly in favor, and the remaining five either had new suggestions or did not deem to fall on one side or the other. Among the suggestions (by Ted Johnson): move city hall to the old Food Lion shopping center, raze its current structure and erect a big, four-level parking lot in its place. "Yes it's ugly, but it's functional," Johnson said, calling it a "futuristic" move.
Carolyn Marlow, owner of the Golden Lion restaurant on A1A for 21 years, remembered the days when Flagler Beach did away with its draw bridge to build the current "monstrosity," as a bridge to beautification, too. That still hasn't happened, Marlow said. "In my eyes, our business has been opened 21 years. Parking problem is brought on by the people sitting here, I'm sorry to say. We approve things, we have workshops, we talk about it over and over again and we let everybody do whatever they want to do, and now we have a problem. Now we're trying to rectify that problem, but the first thing that shouldn't go is tourism, because I don't know about any of you, but that's what pays my bills, it also pays my staff's bills, it pays everybody's bills in Flagler Beach because we're a city of tourism."
Marlow added: "Do we want to be red-light city, Palm Coast? Do we want to have it splattered all over the papers that we're putting parking meters? I don't think so. That will do more damage in one little idea that the commission and the city comes up with, than what we've been trying to do for the last 20 years, and that's make this a viable place to live. We have one economy, and it's tourism. We can splash in the paper that we're going to make $600,000, but we're really not going to make $600,000, and I don't care, we haven't done the math before Joy, it's time we do the math on this. There are a lot of expenses that didn't get talked about."