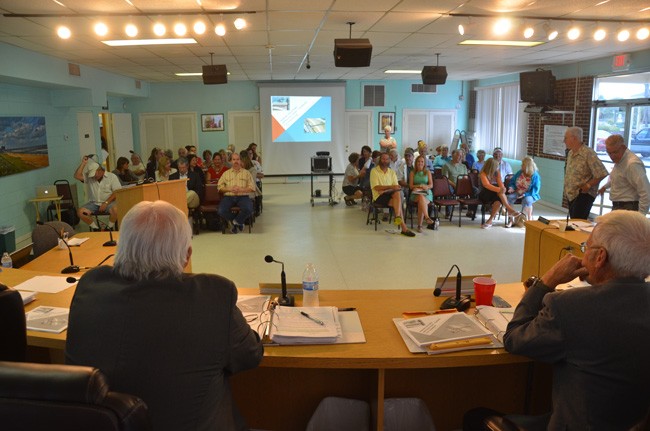 A proposal to impose paid parking on vast new swaths of Flagler Beach is likely dead shortly after its arrival at the Flagler Beach City Commission Thursday. What happens next is unclear. But some commissioners warned residents and businesses that, absent the projected revenue from paid parking, the city may be looking at raising taxes or fees to cover what some of its members see as the city's increasing burdens from visitors enjoying its beaches. Others proposed continuing the discussion–a discussion that, in essence, stretches back to the 1980s–and involving more residents and business owners.
"We're done, we're finished," Mayor Linda Provencher said, referring to the six-member committee that spent two years to come up with the recommendation it presented tonight. "Do whatever you want, we're never meeting again. You can only go around and around so long."
That was not just a reaction to the commission's uncertainty about what to do next, but to the public's clear rejection of the committee's central proposal.
Don't borrow a page from South Florida. Don't risk alienating Flagler Beach's tourism. Don't risk hurting businesses that depend on the precarious economic recovery to keep going. Don't double-tax residents. Don't ratify a proposal that lacks expert analysis and harder data.
In short, don't impose a paid parking regime on Flagler Beach, the commission heard–with near unanimity–from members of the public, business owners and representatives of the county chamber and tourism office during a special meeting Thursday evening.
The commission had just heard a summary of the two years of work by a six-member parking committee the commission appointed in 2013, along with the committee's recommendation: instituting a broad-ranging paid-parking system that would make every parking spot on State Road A1A, from 5th Street North to 7th Street South, paid parking, along with paid-only lots and other paid-only segments of the core area of the city. Paid parking would be suspended between Oct. 15 and February 15.
"Bottom line we were undiscovered and we have been found and more are coming," Roseanne Stocker, who chaired the committee, said before commissioners and an audience that grew to about 60 people, with almost every seat in the chamber filled. "How do we manage it?"
That plan would convert close to 700 parking spaces into metered spaces. It would cost the city $1.2 million in up-front costs and create a parking infrastructure—physical and bureaucratic—that the committee claims would generate between $400,000 and $800,000 a year for the city, once the system is in place. Those figures are based on committee members' estimates rather than independent analysis or any sort of studies: the committee had no budget to conduct such studies or involve expert analysis.
One after the other, members of the public, including the head of the Chamber of Commerce, a county commissioner, a representative of the county's tourism office, several business owners and several residents rejected the recommendation on numerous grounds. Little by little, what had been presented as a thorough analysis of the city's parking needs and revenue potential was perceived by critics as lacking substance, reliable evidence or justification. Even the assumption that parking is a problem, outside of certain, limited days, was questioned.
It also became clearer that the committee's option was not necessarily going to resolve what parking problem may—or may not—exist, as the plan does not presume the addition of a vast new inventory of parking spaces. Rather, the plan would merely convert existing parking spaces to paid options, and presume that because the meter is running, parking spots would experience greater turn-over.
In all, 18 people spoke, nearly half of them business owners or representatives of business concerns. All but one were opposed to the proposed option. (The lone dissenter suggested expanding the paid-parking boundary from 10th Street North to 10th Street South.)
"I hope we can work toward other methods" of generating revenue, Barbara Revels, the county commissioner and a business owner in Flagler Beach, said.
"I'm a South Florida refugee," Dennis Bayer, an attorney whose practice falls in the proposal's paid-only zone. "I came here from South Florida because I didn't want to pay for parking." He noted that two out of three votes on the committee for the contested proposal were from city employees who would get to build a bigger bureaucracy, and who are not directly impacted by the consequences of paid parking. The financial assumptions are also shaky, he said, speaking of the "very precarious recovery." Paid parking could affect business just enough to make the difference between success and failure. He proposes a two-hour limit on parking, but not a paid system. He was applauded.
Frank Gromling, who owns Ocean Art Gallery on A1A, spoke of the cars that park for hours in front of his business, knowing that their owners are off to the beach or to other businesses for hours on end. It may seem like a problem, but, he said, "I worship those cars because they're here," he said. In the greater scheme of things, that's what matters, Gromling said.
"People need to help share the cost of what it takes to maintain a playground," Commissioner Joy McGrew said. "We do need to do something. I'm tired of having my taxes as a resident taxpayer continue to go up because a family drives in from Ocala." McGrew's tax bill has not gone up. It has, in fact, gone significantly down over the years: it was $5,600 in 2004, including $943 for her Flagler Beach portion. It was $3,620 last year, including $820 for her Flagler Beach portion, according to property appraiser and tax collector records.
But she was not necessarily recommending Option 4. Rather, she was hewing toward some sort of paying system, but with a blend of options. "There's a mix and match that could be done," she said.
"There's as many unanswered questions in the report as there are answers," Commissioner Steve Settle said. He open the door to a referendum on the issue, leaning though he did, he said, toward McGrew's position.
Commissioner Jane Mealy was not with that position. "I don't believe these numbers," Mealy said of the projections of big revenue down the line. "I just can't see where a town this side is going to bring in the kind of numbers that were shown." She added, in reference to New Smyrna Beach's shift to paid parking: "I don't see New Smyrna Beach being Flagler Beach at all." She's not opposed to improving the parking situation, but, she said, "I am opposed to paid parking probably from the get-go."
Commissioner Kim Carney said that if public opposition to paid parking persists, she would vote for a tax increase come budget time. "I do not believe it is a sin to pay for parking," she said, noting that she's never made a decision on whether to visit one city or another based on whether there's paid parking there or not. But she also proposed requesting that county government buy parking lots in Flagler Beach. "It's their responsibility," she said.
Commission Chairman Marshall Shupe seemed closest to where the commission might go in the future when he described himself between Option 2 and Option 3: a very limited amount of paid parking in certain areas, namely city-owned lots, and more enforced time limits on free parking along A1A and elsewhere. "I really think we need to have more business people and more residents sit on this committee," he said, signaling public dissatisfaction with the committee's make-up, half its membership having been city officials.
In the end, the commission voted to accept the committee's recommendation, but to punt the committee report to the city administration for further point-by-point analysis. That motion passed 4-1, with Mealy in dissent. The committee itself was disbanded by unanimous vote.
One audience member who'd addressed the commission earlier described the outcome of the meeting as "clear as mud."