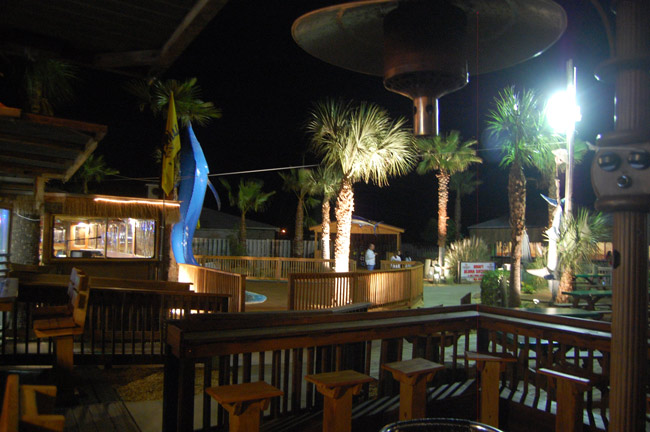 As it does with metronomic regularity, Flagler Beach's noise ordinance is raising a ruckus again as a few residents living near restaurants complain about hours of loud, live music. The Flagler Beach City Commission is listening to the complaints—and scheduling a workshop on Nov. 1 to consider rewriting that ordinance.
The latest edition of the noise ordinance controversy was triggered by a request on Thursday evening's commission agenda to rethink the scope of the ordinance and "drastically" reduce allowable sound levels from outdoor entertainment. The request packed the chamber at city hall for the commission's bi-monthly meeting with residents, businesses and their supporters. But commissioners were clearly in no mood to "reinvent the wheel," as Commission Chairman Jane Mealy put it, then and there, preferring instead to deal with the issue somewhat the way it did at the beginning of 2011, when Hurricane Patty's was the eye of that storm and a town hall meeting finally diffused the matter.
This time, attention is focusing on Johnny D's on State Road A1A.
Susan Corson lives on North Central Avenue. She's lived there 11 years. For most of those years, all was fine. The restaurant about 150 feet away from her property played music a couple of nights a week, but it was not an issue. Then the restaurant became Johnny D's, the new owner, John Davis, secured an outdoor entertainment permit. Music became a nightly event, and from 1 p.m. to 10 p.m. on Saturdays. "So the people who live near Johnny D's are listening to about 45 hours a week of outdoor music," Corson said.
She came prepared. She played a boom box to illustrate what music at 70 decibels sounds like (70 decibels is the limit for live music, though it need only sound like 60 decibels from a complainant's perspective, anywhere past the property line of the business in question). And she said that she'd considered moving. Her house was appraised at an excellent value. But then her realtor had bad news, as she heard it: "You're right behind a known, loud bar." Selling the house would be difficult.
To Corson, that's a violation of her property rights. She does not dispute the rights of the owner of Johnny D's to host music nights every night. She is not contending that he is in violation of the city's noise ordinance. But she is asking the city to change the ordinance, and she's making three requests: to place a moratorium on handing out outdoor entertainment permits; to reduce the allowable decibel levels in the noise ordinance; and to restrict or eliminate the allowance for amplified music equipment.
John Davis, Johnny D's owner, had anticipated the complaints and spoken first, not so much angrily as with unveiled irritation. "I am very concerned about the harassment I'm getting from some people about the outdoor entertainment," he said. Since he opened in February, he's had just one warning over the noise. No violations. Aside from the nearly $4,000 in sales taxes he's contributed in nine months, he said, "we have provided 20 jobs for Flagler County people"—a number that drew applause in the room–"we employ 10 and sometimes 12 entertainers, Flagler County people."
Davis said he'd invested $400,000 in the property, based on its potential as an entertainment venue, and that he was investing an additional $50,000 to $75,000 for a deck, to expand, and adding a wall for more sound-proofing. "I've been told with fingers pointed in my face that people are going to come up here and change this ordinance. Well, that's not going to make me sleep very well," Davis said. "I am very concerned that people can come up here and have you all try to consider changing an ordinance that will devastate me financially, devastate the jobs that I am providing. It's very concerning." He added: "Why do we have to keep rehashing this?"
That was the point the owner of Hurricane Patty made to the commission, after reminding them of the work she did—with commissioners and city staff—almost two years ago when her restaurant had been under the gun. "I knew that I could do business within that ordinance. And now we're talking about changing it," she said.
The business owners had support from the likes of Rusty Place, a frequent voice at commission meetings, who said: "If you don't want to hear music, don't buy a house behind a commercial building." He declared himself "amazed" that residents would complain about businesses doing what businesses do. "We need the businesses, we need the tax revenue, we need all that stuff."
But commissioners sensed that the crowd in front of them was not the malleable kind, at least not tonight. People wanted to speak their mind more than hear each other out. Commissioner Steve Settle urged the business community "not to challenge" Flagler Beach residents, who could turn out in droves. He told the businesses that they should not give the impression that they were not willing to work with residents. Another commissioner spoke for her colleagues when she urged them to shift the debate to another day. "I don't feel like listening to 80 different people talking about this ordinance," Kim Carney said. "I understand everyone has a right to speak, but I think this needs to go to workshop."
Carney also asked that the workshop be driven by data—data about actual numbers of complaints, data about decibel levels, data about what cops may and may not do, and how businesses can be protected from anonymous people out to harass them, whether they have justifiable reasons to or not.
Earlier in the meeting, ironically, the commission unanimously renewed the outdoor entertainment permits for three Flagler Beach businesses: Hurricane Patty's, Finn's and the Golden Lion.
The workshop on the noise ordinance is scheduled for Nov. 1 at 5:30 p.m.