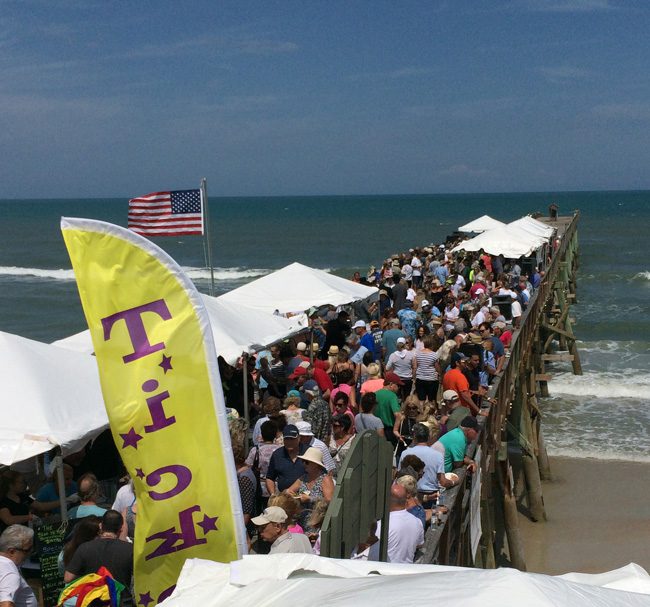 The 5th Annual Cheer at the Pier, a fund-raising event for the Flagler Beach Museum that mixes sun, fun, drinks and the gastronomy of nearly a dozen participating restaurants and bars, is scheduled for Saturday (April 14) from 2 to 5 p.m., at the ever-resilient Flagler Beach Pier of course.
Guests may enjoy "Sips and Samples" provided by local restaurants. Live entertainment is provided by Tie-Dye Road and Jim Lamb, Tropical Drifter.
Tickets are available at the museum daily from 10 a.m. to 4 p.m. with the early-bird price of $20 per ticket. Prices increase to $30 as of 4 p.m. on Friday the 13th. Walk-up ticket payers are encouraged to pay by cash or check (made out to the Flagler Beach Historical Museum) for speediest entry. Will Call and ticket sales at the pier will start at 1 p.m. Saturday. Tickets also available at the museum's website.
Participating restaurants include The Island Grille, Beach Front Grille, Breakawayz, Fun Coast Bartending, Oceanside Beach Bar and Grill, Tortugas, The Funky Pelican, The Blue Heron , Saltwater Croc's, Dahlia Mexican Kitchen, and America's Donuts.
For information, call event coordinator Denise Collins at (386) 283-0530 or Museum Director Teri Pruden at (386) 439-662.