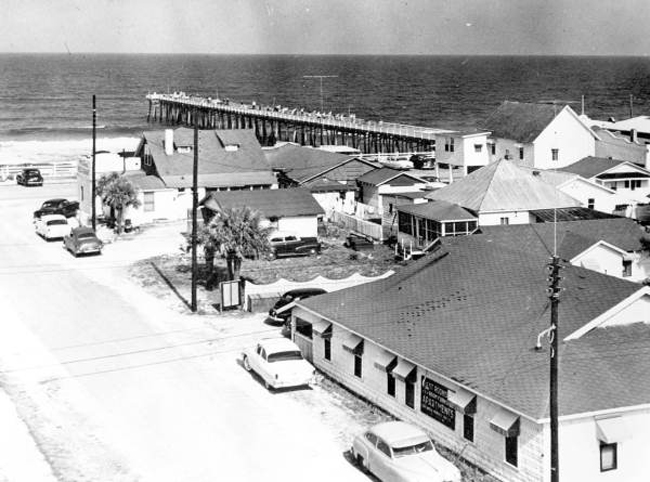 Just beyond the doors of the Flagler Beach Museum is the city's most iconic landmark: the Flagler Beach Pier. Historically since the mid-1920s, many community events in past decades have taken place on the pier, although more recently those have been geared just to fishing, surfing, or the also iconic 4th of July fireworks.
Now the museum will open a new chapter of history with a fundraiser May 31 (Saturday) from 3 to 7 p.m: "Jazz, Cheese & Cheer!" — on the Flagler Beach Pier.  Attendees can listen to Linda Cole & Co, enjoy small samples of wine, craft beer, cheese, & sweets while gazing at the best ocean view in town. Samplers can buy full glasses of wine or beer if they find a favorite.
"We want to raise funds to keep the doors of our museum open, of course. But we would also like to keep admission free," said museum director Teri Pruden. "Our Visitor Center and tourism resources are well known, but depending on the time of year, anywhere from 30-50 percent of our museum visitors are Flagler County residents and in our 14th year, we consider ourselves a community institution."  The museum provides an educational and recreational experience for over 8,000 guests annually with a special emphasis on hosting schoolchildren whenever the youth groups can be scheduled.
As of mid-May,  local businesses contributing cheese and libations included the Atlantic Grille, the Beachfront Winery, the BeachHouse Beanery, Blue, Flagler Fish Company, Fun Coast Bartending, the Funky Pelican, and Hi Tulip Café.  Discussions were ongoing with other favorite local restaurants and even donating museum members.
"Jazz, Cheese & Cheer!" couldn't take place without these great food and drink donations, but over 20   merchants county-wide are also helping support the museum with their cash and in-kind contributions. "As soon as we heard about this event, we knew it was going to be unique," said Douglas Jahn, owner of Palm Coast Heating and Air Conditioning, one of the top level sponsors. "I haven't seen any other events like this being held on the Flagler Pier before, so I'm sure the turn-out for it will be great, and we are happy to help the Flagler Beach Museum in any way we can," he added.
Pruden said the appeal of using the pier was high on the list of reasons to present this kind of an afternoon. "We would like to restore the historic presence of fun events for residents at this great natural  venue under the sun with music, sampling, and raffles, as the ocean waves lap at the pilings," Prudent said. "With that great Atlantic background, we anticipate a plethora of great facebook photo posts from 'Jazz, Cheese & Cheer!'."
First come-first serve tickets for the event can be purchased on May 31st for $25 under the pier's A-frame. Pre-purchase tickets for just $20, can be bought at Beachfront Winery, Blue, Eagles Nest Storage, and the museum which is open 10 a.m.-4 p.m. seven days a week. Or use PayPal at their website: flaglerbeachmuseum.com. For more information on attending or contributing, call (386) 864-1424.