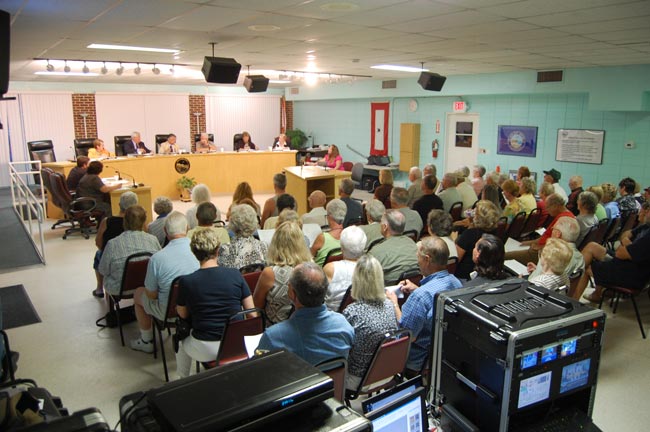 Faced with the relentless display, and the often noisy spectacle, of town residents beating the drums for Bruce Campbell as their next manager, the Flagler Beach City Commission looked poised to give in, six months after Campbell's application was first in a line of 140, and hire him, as Commissioner Steve Settle moved to hire him and Ron Vath seconded.
One commissioner did switch vote. "I will cast my vote for Bruce Campbell, I will support this position for the rest of my term," Joy McGrew said, joining commissioners Steve Settle and Ron Vath.
But the commission needs a four-vote majority to hire a permanent city manager. Commission Chairman John Feind, who did not speak before voting, cast his vote with Jane Mealy, and the attempt to hire Campbell failed again. That wasn't the end. The commission, after several other votes, eventually voted, 3-2, to hire Campbell as acting city manager beginning Jan. 2, at which time he'll be replacing the current acting manager, Caryn Miller. The commission also agreed not to discuss the matter of the city's next manager until January–not even whether to restart the process.
Two other motions had failed: An attempt by Settle immediately to replace Miller with Campbell failed, 3-2, this time with McGrew joining the opposition. A motion by Mealy to hire Gary Word as manager also failed, 3-2, with Settle and Vath in the opposition.
Many of the 70-some people in the audience reacted noisily, with a couple of yells of "recall" and other bursts of displeasure, causing McGrew to lecture the crowd. "Let us talk it through without the rudeness," McGrew said.
Bob Chase, recently becoming a standard-bearer of rudeness at city commission meetings, walked up to Mealy, grabbed her name-plate, and threw it in a trash bin on his way out the door. Two Flagler Beach city cops in the room did not budge.
The discussion then turned to whether to keep Miller as acting manager through the beginning of January and whether to start the hiring process all over again. That discussion then took a turn for the unexpected: Settle, pitching one attempted motion after another, proposed leaving Miller in her post until Jan. 2, then replacing her with Campbell as acting manager until a new, permanent
Before the original vote on the motion Settle put forward to hire Campbell (with Vath seconding), there was plenty of hyperbole along the way from a line of people speaking on Campbell's behalf, including one resident who compared him to Abraham Lincoln, who–the speaker said–had no experience when he was elected to Congress (as no one ever has experience when first elected) but went on to be president. The speaker unwittingly illustrated what the hiring process, which began six months ago, had become: an election, rather than a hiring.
"The reason we still have him is because he's not looking somewhere else," one speaker said, "because he wants to be here." It's equally likely that had he been looking somewhere else, he would not have made too many short lists because of what has held back his outright appointment in Flagler Beach: his lack of public government experience and what has turned into a political constituency.
Mealy made clear she would not switch vote as soon as she spoke, and noted–to boos—that she had received an equal number of emails opposing Campbell's nomination as fellow-commissioner Settle claimed he'd received.
There were some 70 people in the room. When Settle made the motion, about two thirds clapped. When Commissioner Ron Vath seconded the motion, the same two thirds clapped. At least a third, in other words, sat on their hands, clearly indicating that the Campbell fans were by no means dominating the room. But many of those who did speak stressed that a petition with a few hundred names on it, supportive of Campbell, should be an obvious indication of the support Campbell had.