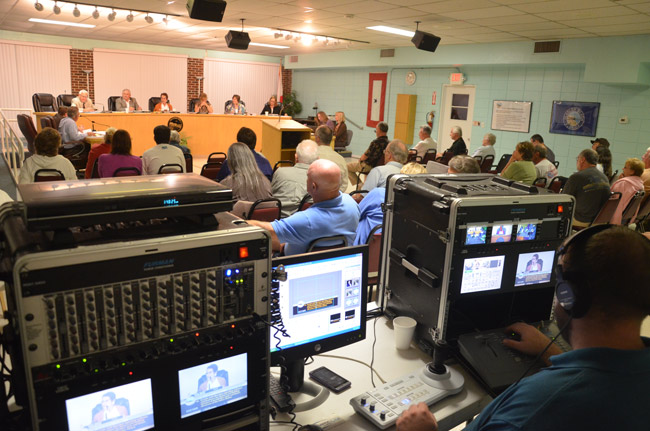 In a further sign of the internet's influence on older media, Flagler Beach will no longer be televising its meetings by way of Palm Coast's cable channel 199. To save money, and to move to live streaming of meetings, Flagler Beach will be broadcasting meetings through the web beginning with its Oct. 11 meeting. The switch is projected to save the city upwards of $7,000 a year.
Bunnell, which had never broadcast its meetings until this year, adopted a similar, live-audio streaming system earlier this year, for a small investment.
In Flagler Beach, the switch is a loss for residents who have no access to the web (though those residents are a dwindling minority), and who have relied on the twice-a-week schedule of rebroadcasts of meetings on cable until now. But Flagler Beach had never broadcast those meetings live: residents had to wait several days to watch the meetings on cable or, for those who did not have cable access, on demand through the web.
With the new system, anyone will have access to the meetings live, and–as is now the case–through meeting archives, which would be available immediately after the end of any given meeting.
Flagler Beach City Clerk Penny Overstreet negotiated the new deal with Fort Lauderdale-based BIS Digital, a company that specializes in the sale and servicing of digital audio and video recording equipment. It counts some 2,000 courtroom systems among the services it provides, as well as innumerable local governments.
Flagler Beach was paying Palm Coast TV, known as Palm Coast Municipal Access (or PCMA)–a division of the Palm Coast city government–$10,000 a year to video-record, edit, upload, broadcast and archive Flagler Beach City Commission meetings. Flagler Beach holds its meetings the second and fourth Thursday of the month. The meetings were then broadcast the following Monday and Wednesday. Palm Coast sent one technician to the meetings, who recorded the proceedings C-Span style, from gavel to gavel, with high-quality images and editing, and using several camera angles, including close-ups of commissioners and members of the public, when relevant. Palm Coast TV's team wins awards annually for its quality work, which also extends to numerous productions of community events, including Flagler Beach's parades and other special events. Flagler Beach meeting archives extend back to 2007 on Palm Coast's on-demand site.
In terms of video production, the new system will be a downgrade: there will be no tech in the room anymore, no close-ups, no high-quality, professional editing. There will instead be one fixed camera in back of the commission room that will record the entirety of the meeting from that angle.
But the new system was acquired for $8,720, and will cost just $3,500 to $4,000 in subsequent years. Currently, in addition to the $10,000 Flagler Beach pays Palm Coast, it also pays almost $2,000 a year for the equipment used, for a total of just under $12,000 a year.
For those who will not have access to the web, the meetings will be on DVD at the Flagler Beach Public Library, free, or available for purchase at $3 a DVD.
The link to the webcasts will be available at the city's website.