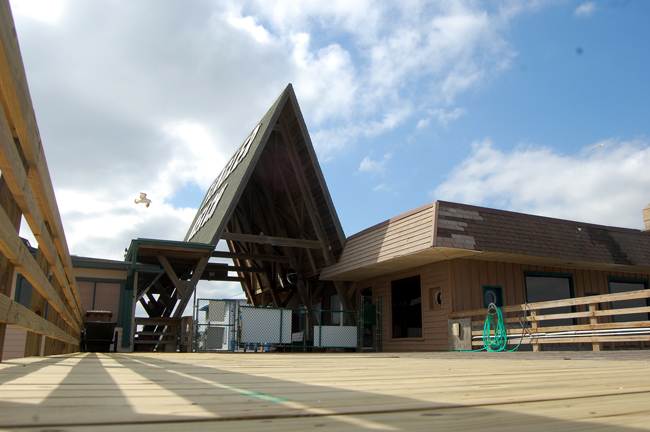 There will not be a $147,000, two-story lifeguard observation tower and storage room at the front end of the Flagler Beach pier after all. Flagler Beach commissioners were ready  to scrap the idea Thursday and go with what Acting Manager Bruce Campbell calls a "super-duper chair" further out on the pier. "We could do the whole thing for $10,000 or less, a lot less," Commissioner Ron Vath said.
Not that the city was going to be paying the brunt of the cost. A federal grant was picking up 80 percent of the tab. The city will now lose those $80,000 which it fought for years to get. And the city is already on the hook for $51,600 of its own, most of it for piling replacements beneath the pier that weren't part of the federally funded project, but that were made necessary because of it. ("Whether the tower itself because of the weight and all those conditions drove us to do that," Campbell said, "it's still a good thing that they were replaced and it's certainly not redundant in my mind.")
Should the city proceed with its "super-duper chair" and also build a separate storage area, as it is considering doing, it will likely end up paying $60,000 or more of its—or close to the federal portion of the original grant. Minus the guard tower.
The reason for commissioners' 180-degree turn: Ray Barshay, the prospective new owner of the Pier Restaurant, doesn't want the guard tower blocking patrons' south view of the beach, and commissioners don't want to lose Barshay over it, though they went through some contortions Thursday evenings to explain that their change of heart was driven as much by financial and logistical considerations as by the Barshay factor.
Commissioner Jane Mealy was more direct:  "None of us thought what we were doing to the value of the restaurant," she said. "I think it's kind of unfair some of the emails we're getting that we're spoiling somebody's 30 minutes of dining pleasure by taking away somebody's safety. I think that was jumping to the other end of the spectrum there. But we do have a valuable piece of property. We're not talking about the specific man who's looking to go in there now, but anyone else who was going to take that over, would say, why open a restaurant on the beach when you can't see it."
Mealy was referring to an email by Rodney Harshbarger, a local resident, teacher and Flagler Beach's junior lifeguard coordinator for the past two years who spent six previous years dispatching from six lifeguard towers along Volusia County beaches. "I hope to God that someone's view while they are eating for a half hour does not trump the safety of our swimmers or lost children," he wrote. "God forbid something ever happen whether it be a kidnapping or a drowning that could have been prohibited by having a tower in place." But Mealy, Vath and Commissioner Joy McGrew are already looking past the tower idea. They didn't formally scrap the project Thursday. They're waiting on additional information from their city manager. But the project as initially conceived is effectively dead.
It's a remarkable turn-around after the commission spent eight years considering the idea and chasing dollars for it.
The city has been talking about building a lifeguard tower at the front end of the city pier since 2003. The city tried repeatedly to get a state grant for the $100,000 project, promising to pay $20,000 of it. It got turned down, kept pressing for it, then won the grant early last year. Last March the commission voted unanimously to award a $60,000 contract to John Toft Construction to build the tower. One month later an engineering report recommended refurbishing 12 pilings beneath that section of the pier first. In September, the commission unanimously approved spending an extra $47,400 to reinforce the pilings. That brought the total cost of the project to $147,000. The pilings were refurbished. The deck was rebuilt and widened for the anticipated two-story tower. Then came the about-face.
One commissioner, Chairman John Feind, who'd lobbied for the federal grant, was furious—or as furious as the notoriously self-controlled Feind allowed himself to be.
"Why did we vote for this project way back when?" he asked, at first rhetorically. "Somewhere along the line at least three commissioners voted for this project. We knew what it entailed as far as basically what  we were going to have to do, how much we were going to have to spend." But he ridiculed the notion that the city would get reimbursed for any of the grant money. "I don't know why anybody would pay for a half a job," he said. Worse: the city's reputation would be such that future grant requests would be in jeopardy because of the about-face. "I'm very concerned about the position that that puts us in," Feind said. "I'm not going to do that again. I'm sorry. We've debated this, we talked about it, somehow or another enough people on the commission said this is what we want to do, this is where we want to go, and now today we're saying we're going to do something else. I think that's a very serious mistake."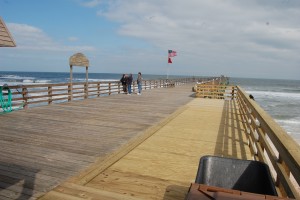 Thursday morning, Campbell convened a staff meeting he termed a brain-storming session on the guard tower that included Barshay (the prospective restaurant owner) and, in what appeared to be a sunshine-law violation, Mayor Alice Baker and Commissioner Steve Settle. Baker said Friday evening that Campbell had cleared hers or Settle's attendance with the city attorney, who said the two could attend and participate in discussions, even make suggestions in each other's presence, but not talk to each other. That's a novel interpretation of the law, which is designed to prevent elected officials of the same board to engage in any communal process on official business, even if they're not directly talking to each other. (Settle and Baker were in the meeting for only a short part of it.)
After the two-hour meeting, Campbell had several alternative options for the project. He'd drawn them up and matched them with the purpose of the original guard tower: not just to provide for a peripheral view of the beach and enable first-response commands to other guards on the ground, but to maintain all the equipment and safety gear in one location, provide storage for first response equipment, provide a command center, first aid, public access and public information.
Only the original location of the guard tower enabled all those goals to be met. Campbell's alternatives each had merit, but none provides the all-encompassing advantages of the original idea. One alternative is the "super-duper chair" out on the pier. Another, which he dismissed readily because of the lengthy and complicated permitting requirements, would be to drill into the dunes and build a tower there, off the pier. A third is to build an actual tower on the pier. He also proposed thinking about using surveillance cameras as means of observation.
As for equipment storage, first-aid materials and the rest of it, he suggested building a locker area where the tower was going to be built, or using the bait shop, which is no longer in operation—and which the prospective restaurant owner doesn't want to run—as the storing room, or having a mobile, four-wheel-drive command center such as a "concession stand trailer that you see at a fair with windows and door."
"Yeah," Campbell concluded, "we can accomplish one thing by doing that but we're going to have to go back and maybe massage the facility a bit in terms of taking advantage of an existing bait shop or moving the security guards to a different location, that type of thing. So is it viable? Yes."
Toward the end of the commissioners' discussion Thursday evening, the lights went out: their building lost electricity. A tree had fallen on power lines on State Road 100. Commissioners left a formal decision on the tower to another day.